Archives :: Career Tools :: Co-workers & Conduct
June 1, 2011
So I called my son, Steve, and I asked him, "Which course sounds better to you, 'Dealing with Difficult People' or 'Unacceptable Employee Behavior'?" Steve is a human resources specialist at a 2,000-employee company. He is not a member of the AIChE, but is instead a member of the ACHE, the American College of Healthcare Executives. Proof that the apple does not fall far...
http://www.chemengonline.com/career_tools/coworkers_and_conduct/Hire-happy-people_8098.html
September 1, 2007
The relationship between attorney and inventor is very important. A potentially valuable patent is involved, and the value of it is often dependent in large part on how well the inventor and attorney work together. It is very helpful if the chemical engineer as inventor has some basic knowledge of the patent system and what interacting with a patent attorney will be like, even before there is...
http://www.chemengonline.com/career_tools/coworkers_and_conduct/Working-With-A-Patent-Attorney_3362.html
August 1, 2007
Chemical engineers, whether directly engaged in R&D or not, routinely deal with situations that are new and different, not only to them, but to those in the chemical process industries (CPI) as a whole. Quite often, the way such situations are handled produces one or more patentable inventions. In the event that a patent is sought on the invention(s), the chemical engineer (inventor) will...
http://www.chemengonline.com/career_tools/coworkers_and_conduct/A-Primer-on-Patent-Law_3117.html
Get more from ChemEngOnline.com
Get email updates in your inbox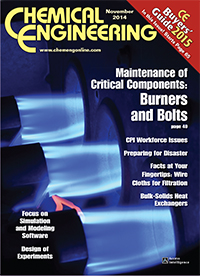 Our LinkedIn group is now over 33,000 members strong!

Join other CPI professionals from all over the globe and share best practices, expertise, concerns and more.
Provide feedback to Chemical Engineering Editors


Current members represent Worley Parsons, DuPont, SABIC, Fluor, Air Products, LyondellBasell, Nalco, Dow Chemical, Dow Corning, BASF, Jacobs Engineering, ExxonMobil, Shell, Chevron and more.



We also offer the following subgroup for more targeted discussions:

Search the Buyers' Guide
Facts at Your Fingertips (archive)
Back Issues