Archives :: Career Tools :: Writing & Presenting
December 1, 2012
What we look for Practical information. First and foremost, our readers look to us for practical information. These individuals want concise factual information that aids in solving real problems. They do not look to us for abstract theoretical treatises, vague general discussions or reviews of previously published material. In other words, we prefer and accept "how to" articles rather than...
http://www.chemengonline.com/career_tools/writing_and_presenting/Submitting-manuscripts-to-CE_9972.html
February 1, 2012
One of the reasons that Chemical Engineering will have the honor of celebrating its 110th anniversary this year is its longstanding reputation for original, noteworthy and unbiased articles that cannot be found anywhere else. Our internal policies help protect the magazine's reputation from a number of threats, but not without relentless tenacity on the part of the editors. Much of that is to be...
http://www.chemengonline.com/career_tools/writing_and_presenting/Prevalent-plagiarism_8944.html
October 1, 2006
Everyone knows that engineers are good with numbers. We can measure, calculate, tabulate, and report results accurately. But after you take pains to get the numbers right in your reports, sales brochures, or capital expenditure requests, readers in many cases misread, misinterpret, or just plain miss the figures that you want them to understand. Fortunately, several techniques are available...
http://www.chemengonline.com/career_tools/writing_and_presenting/Optimize-Your-Presentation-of-Numbers_2772.html
Get more from ChemEngOnline.com
Get email updates in your inbox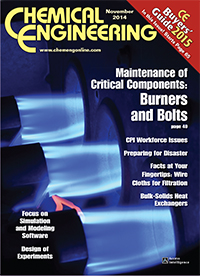 Our LinkedIn group is now over 33,000 members strong!

Join other CPI professionals from all over the globe and share best practices, expertise, concerns and more.
Provide feedback to Chemical Engineering Editors


Current members represent Worley Parsons, DuPont, SABIC, Fluor, Air Products, LyondellBasell, Nalco, Dow Chemical, Dow Corning, BASF, Jacobs Engineering, ExxonMobil, Shell, Chevron and more.



We also offer the following subgroup for more targeted discussions:

Search the Buyers' Guide
Facts at Your Fingertips (archive)
Back Issues