Archives :: Chementator :: Bioprocessing
September 1, 2011
A new yeast strain that could one day substitute for petroleum as a source of surfactants for detergents, soaps and cosmetics has been identified by researchers at the U.S. Dept. of Agriculture's National Center for Agricultural Utilization Research (Peoria, Ill.; ars.usda.gov). The yeast, not yet named, is a member of the Candida genus of yeasts and produces sophorolipids (a sugar-based...
http://www.chemengonline.com/chementator/bioprocessing/Green-surfactants-from-yeast_8414.html
August 1, 2011
In June, the U.S. Environmental Protection Agency (EPA; Washington, D.C.; www.epa.gov) announced the winners of the 2011 Presidential Green Chemistry Challenge Awards. Winners of the Challenge, which promotes R&D of less hazardous alternatives to existing technologies that reduce or eliminate waste in industrial production, are selected by an independent panel convened by the Americal Chemical Soc...
http://www.chemengonline.com/chementator/bioprocessing/Green-honors_8278.html
August 1, 2011
Graphene from dry ice Researchers at Northern Illinois University (NIU; DeKalb, Ill.; www.niu.edu) discovered a new method for producing graphene that involves burning pure magnesium metal in dry ice. The method, which is capable of producing large quantities of graphene in sheets less than ten atoms thick, is simpler than conventional methods for generating graphene, and avoids hazardous chemicals...
http://www.chemengonline.com/chementator/bioprocessing/August-Chementator-Briefs_8289.html
June 1, 2009
Hiroshi Abe and colleagues at Biochemical Group of Research Institute for Innovation in Sustainable Chemistry, National Institute of Advanced Industrial Science and Technology (Tsukuba, Japan; www.aist.go.jp) have discovered a strain of acetic-acid bacteria (which normally oxidize ethanol into acetic acid) that effectively converts highly concentrated (22%) glycerin into D-glyceric acid. The researchers...
http://www.chemengonline.com/chementator/bioprocessing/Another-potential-outlet-for-glycerin_4836.html
Get more from ChemEngOnline.com
Get email updates in your inbox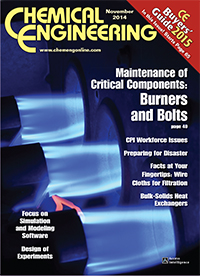 Our LinkedIn group is now over 33,000 members strong!

Join other CPI professionals from all over the globe and share best practices, expertise, concerns and more.
Provide feedback to Chemical Engineering Editors


Current members represent Worley Parsons, DuPont, SABIC, Fluor, Air Products, LyondellBasell, Nalco, Dow Chemical, Dow Corning, BASF, Jacobs Engineering, ExxonMobil, Shell, Chevron and more.



We also offer the following subgroup for more targeted discussions:

Search the Buyers' Guide
Facts at Your Fingertips (archive)
Back Issues