Archives :: Chementator :: Hydrogen
January 1, 2012
A group from the University of Canterbury (www.canterbury.ac.nz), and Industrial Research Ltd. (both Christchurch, New Zealand; www.irl.cri.nz), has produced hydrogen from ethanol via steam reforming in a non-thermal plasma reactor. The project is part of an Industrial Research concept called Hylink that proposes using H2 as an energy storage medium and carrier for remote-area power systems. Current...
http://www.chemengonline.com/chementator/hydrogen/Reforming-ethanol-into-hydrogen_8815.html
January 1, 2012
The Micro Auto Gasification System (MAGS) is a compact solid-waste disposal system that is designed for energy-efficient operation onboard naval vessels, in forward-operating military bases and in other isolated installations. Developed by the Office of Naval Research (ONR; Arlington, Va.; www.onr.navy.mil) and Terragon Environmental Technologies Inc. (Montreal, Ont.; www.terragon.net), the MAGS uses...
http://www.chemengonline.com/chementator/hydrogen/Waste-disposal-system-for-military-operations_8831.html
Get more from ChemEngOnline.com
Get email updates in your inbox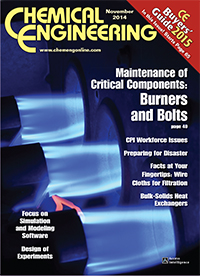 Our LinkedIn group is now over 33,000 members strong!

Join other CPI professionals from all over the globe and share best practices, expertise, concerns and more.
Provide feedback to Chemical Engineering Editors


Current members represent Worley Parsons, DuPont, SABIC, Fluor, Air Products, LyondellBasell, Nalco, Dow Chemical, Dow Corning, BASF, Jacobs Engineering, ExxonMobil, Shell, Chevron and more.



We also offer the following subgroup for more targeted discussions:

Search the Buyers' Guide
Facts at Your Fingertips (archive)
Back Issues