Archives :: Chementator :: Natural Gas
November 1, 2014
Last month, NET Power, LLC (Durham, N.C.; www.net-power.com) announced the completion of major project agreements for its first-of-a-kind power plant — a 50-MWth demonstration plant that will validate the world's first natural-gas power generation system that produces no air emissions, and includes full CO2 capture without requiring expensive, efficiency-reducing carbon-capture equipment. The...
http://www.chemengonline.com/chementator/natural_gas/Clean-power-demo_12321.html
September 1, 2014
Water and wastewater treatment are extremely important at liquefied natural gas (LNG) facilities and other industries that are blossoming due to the shale-gas boom. Engineering concerns are similar to those of other industrial water-treatment and power-generation systems, but with the added issue of adequate treatment for entrained hydrocarbons. With proper system design and operation, plant personnel can...
http://www.chemengonline.com/chementator/natural_gas/Modern-Water-Treatment-Challenges_12133.html
March 1, 2013
Conventional methanation — the reaction of CO and H2 (synthesis gas) to form methane — has recently become important as a way to produce substitute natural gas (SNG) from gasified coal in regions of the world where natural gas is scarce (see Chem. Eng., August 2010, pp. 14–17). Now, an alternative methanation process, which produces CH4 directly from CO2 and H2, has been developed by...
http://www.chemengonline.com/chementator/natural_gas/A-renewable-source-for-methane_10243.html
August 1, 2012
Last month, Solvay Group (Brussels, Belgium; www.solvay.com) unveiled a methane recovery system (the MaRS Project) that captures methane liberated by mining trona ore (trisodium hydrogendicarbonate dihydrate), and pipes the gas to nearby processing facilities as a fuel for process heating. Sodium carbonate, a key ingredient in making glass, soap, paper and other products, is the major component recovered...
http://www.chemengonline.com/chementator/natural_gas/Methane-recovery-from-a-trona-mine_9520.html
Get more from ChemEngOnline.com
Get email updates in your inbox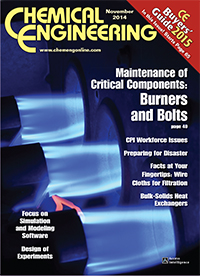 Our LinkedIn group is now over 33,000 members strong!

Join other CPI professionals from all over the globe and share best practices, expertise, concerns and more.
Provide feedback to Chemical Engineering Editors


Current members represent Worley Parsons, DuPont, SABIC, Fluor, Air Products, LyondellBasell, Nalco, Dow Chemical, Dow Corning, BASF, Jacobs Engineering, ExxonMobil, Shell, Chevron and more.



We also offer the following subgroup for more targeted discussions:

Search the Buyers' Guide
Facts at Your Fingertips (archive)
Back Issues