Archives :: Chementator :: Process Technology
September 1, 2011
Phosgenation scaleup At the end of July, Bayer MaterialScience AG (BMS; Leverkusen, Germany; www.bayerbms.com) successfully tested its new gas-phase phosgenation technology at a new plant being commissioned for making toluene diisocyanate (TDI) — a raw material for making polyurethane — at its integrated production site at Caojing in Shanghai, China. The TDI facility is expected to come...
http://www.chemengonline.com/chementator/process_technology/September-Chementator-Briefs_8404.html
June 1, 2009
A process that produces hydrogen-enriched natural gas, with carbon black as a byproduct, is being developed by Atlantic Hydrogen Inc. (Fredericton NB, Canada; www.atlantichydrogen.com). The company has piloted the process at a scale of 25 m3/h of natural gas and plans to start up a demonstration plant that will produce 1,000 m3/h of H2-enriched natural gas (HENG) toward the end of 2010. In Atlantic...
http://www.chemengonline.com/chementator/process_technology/Upgrading-natural-gas_4834.html
May 1, 2009
SynGest, Inc. (San Francisco, Calif.; www.syngest.com) plans to commercialize a process for the production of ammonia from biomass by the fall of 2011. The first plant, to be located in Menlo, Iowa, will convert 150,000 ton/yr of corncobs into 50,000 ton/yr of ammonia, enough to fertilize 500,000 acres of nearby farmland. Chopped corncobs will be gasified in a bubbling bed...
http://www.chemengonline.com/chementator/process_technology/Ammonia-from-biomass_4780.html
Get more from ChemEngOnline.com
Get email updates in your inbox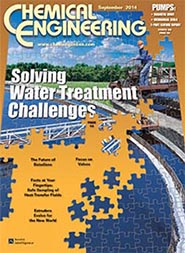 Our LinkedIn group is now over 28,000 members strong!

Join other CPI professionals from all over the globe and share best practices, expertise, concerns and more.
Provide feedback to Chemical Engineering Editors


Current members represent Worley Parsons, DuPont, SABIC, Fluor, Air Products, LyondellBasell, Nalco, Dow Chemical, Dow Corning, BASF, Jacobs Engineering, ExxonMobil, Shell, Chevron and more.



We also offer the following subgroup for more targeted discussions:

Search the Buyers' Guide
Facts at Your Fingertips (archive)
Back Issues