Archives :: Chementator :: Sensors
April 1, 2013
A newly launched gas chromatography (GC) device from Analytical Pixels Technology (APIX; Grenoble, France; www.apixtechnology.com), called GCAP, uses a nanoscale silicon-beam resonator to detect mass. A piezoelectric cross-beam initiates the vibration of the nanoscale silicon resonator, and the resonance frequency varies with the mass in contact with the silicon resonator. Because GCAP's architecture...
http://www.chemengonline.com/chementator/sensors/New-GC-based-on-resonating-nanosensor_10367.html
August 1, 2012
A new particle-size measurement technique has been developed and used to evaluate filter retention efficiency for particles with an average diameter of 12 nm by C.T. Associates Inc. (Eden Prairie, Minn.; www.ctassociatesinc.com) and W.L. Gore and Associates (Newark, Del.; www.gore.com). Scientists at C.T. Associates developed the liquid nanoparticle sizer (LNS) for evaluating filtration devices that remove...
http://www.chemengonline.com/chementator/sensors/Detecting-sub-50-nm-particles-in-ultrapure-water_9530.html
May 1, 2012
A research team from the Institute for Photonics and Advanced Sensing, and the School of Chemistry and Physics, the University of Adelaide, South Australia (www.adelaide.edu.au) has combined suspended-core microstructured optical fibers (MOFs) with photoinduced electron transfer (PET) to demonstrate a new type of fluorescent optical fiber-dip sensor for small volume ion detection. Led by professor Tanya...
http://www.chemengonline.com/chementator/sensors/A-more-sensitive-sensor-for-ions-in-solution_9284.html
February 1, 2012
Acidity is a critical parameter in the chemical process industries, and accurate measurements of pH can be important indicators for process quality control. A refreshed understanding of pH measurement can help to overcome process-specific challenges to measurement and to select the pH measurement devices that best meet the needs of the process. Further, a review of the temperature dependence of pH...
http://www.chemengonline.com/chementator/sensors/pH-Electrodes-and-Temperature-Dependence_8936.html
Get more from ChemEngOnline.com
Get email updates in your inbox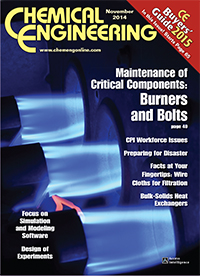 Our LinkedIn group is now over 33,000 members strong!

Join other CPI professionals from all over the globe and share best practices, expertise, concerns and more.
Provide feedback to Chemical Engineering Editors


Current members represent Worley Parsons, DuPont, SABIC, Fluor, Air Products, LyondellBasell, Nalco, Dow Chemical, Dow Corning, BASF, Jacobs Engineering, ExxonMobil, Shell, Chevron and more.



We also offer the following subgroup for more targeted discussions:

Search the Buyers' Guide
Facts at Your Fingertips (archive)
Back Issues