Archives :: Chementator :: Solar
October 1, 2014
A commercial prototype perovskite solar cell that is less expensive than current thin-film solar cells is under development by a team from Nanyang Technological University (Singapore; www.ntu.edu.sg), in collaboration with Dyesol Ltd. (Queanbeyan, NSW, Australia; www.dyesol.com) and professor Michael Grätzel from the Swiss Federal Institute of Technology (Lausanne; www.epfl.ch). The team has produced...
http://www.chemengonline.com/chementator/solar/This-solar-cell-promises-to-be-less-expensive_12223.html
May 1, 2011
A solar cell made of carbon nanotube (CNT) fiber has been demonstrated by researchers from Fudan University (Shanghai; www.fudan.edu.cn). University professor Huisheng Peng says, "For the fibers we use, the carbon nanotubes exhibit a high degree of alignment with much improved mechanical and electrical properties. Therefore those fibers greatly enhance the short current density, open voltage, and the...
http://www.chemengonline.com/chementator/solar/Solar-cells-made-of-carbon-nanotubes_7935.html
Get more from ChemEngOnline.com
Get email updates in your inbox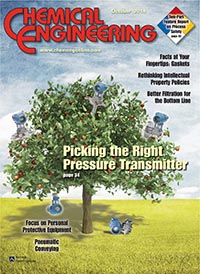 Our LinkedIn group is now over 30,000 members strong!

Join other CPI professionals from all over the globe and share best practices, expertise, concerns and more.
Provide feedback to Chemical Engineering Editors


Current members represent Worley Parsons, DuPont, SABIC, Fluor, Air Products, LyondellBasell, Nalco, Dow Chemical, Dow Corning, BASF, Jacobs Engineering, ExxonMobil, Shell, Chevron and more.



We also offer the following subgroup for more targeted discussions:

Search the Buyers' Guide
Facts at Your Fingertips (archive)
Back Issues