Archives :: Commentary
June 1, 2012
Circa 1978, Reese and I visited a petrochemical plant in Corpus Christi, Texas. Primarily, our job was to inspect trays that had been installed in three columns. Each of those columns was about 10 ft in diameter and 100 ft tall. Our first mistake: We tried inspecting all three columns on the same day. By the time we got to the third column we were physically drained. Nevertheless, with shaky legs and arms...
http://www.chemengonline.com/commentary/A-very-confined-space_9396.html
May 1, 2012
Every five years or so, a call would come in and once again I would be troubleshooting a certain extraction unit in Canada — usually in the dead of winter. This particular unit had a liquid-liquid extractor, a stripper, a vacuum regenerator and the usual complement of pumps, pipes, valves, vessels, heat exchangers, raccoons and crows. Some of you might remember the extractor from my Crow's Nest...
http://www.chemengonline.com/commentary/Magic-trays-brown-solvent_9297.html
April 1, 2012
I will bet that many readers are familiar with a Teddy Roosevelt quote that includes the following: "It is not the critic who counts…the credit belongs to the man who is actually in the arena..." Ralph Weiland has been in the arena for many years, doing chemical engineering work that has benefitted many people. At the Spring AIChE meeting this month (Houston; April 1–5), the...
http://www.chemengonline.com/commentary/Acid-gas-absorption-expert_9156.html
March 1, 2012
For the first half of my career, I worked in a group that developed, designed and sold distillation trays. Late during the 1970s, half of that group's business disappeared — almost overnight — when structured packing replaced trays in very large ethylbenzene-styrene vacuum columns. Even the best of trays could not compete with the low pressure drops of structured packings. In 1985, Norton...
http://www.chemengonline.com/commentary/Packing-must-fail_9031.html
February 1, 2012
I was whining to myself, and to anybody who would listen, about the 20 to 30 projects that I have on my desk at all times. Then I met Ms. Regina Henry, who is the coordinator of immigration at Oklahoma State University (OSU). Together, Regina and I counted her active projects. They totaled 460. Regina, two assistants and two part-time assistants are currently helping 460 foreign-born students to study and...
http://www.chemengonline.com/commentary/Graduate-students-journey-to-the-U-S-_8946.html
December 1, 2011
The following letter originally appeared in Chemical Engineering, December 2011, p. 6. The U.S. Dept. of Health and Human Services' (HHS) flawed and unwarranted ruling that styrene poses a health hazard continues to stir opposition from respected scientists, manufacturing leaders, the hundreds of thousands of American workers whose jobs depend on a viable styrene industry, and a broad-based...
http://www.chemengonline.com/commentary/Better-styrene-science-needed_8752.html
November 1, 2011
(From November 2011, Letters) Perhaps enough has been written about the questionable science underlying recent U.S. government pronouncements concerning formaldehyde and human cancer of the lymphohematopoietic system ("LHPs—including the leukemias and the lymphomas)*. Now, suppliers of formaldehyde-containing product must face the uncertainties and high expense of defending questionable and...
http://www.chemengonline.com/commentary/Fight-formaldehyde-litigation_8600.html
October 1, 2011
Thermosiphon reboilers are the new standard in petroleum refineries and chemical plants. Nevertheless, approximately 50% of the world's reboilers are kettles. In the realm of heat transfer, kettle reboilers have not been understood well. Last month, at ChemInnovations, however, Pete Parker, FRI's president and my supervisor, cracked the knowledge barrier with insight from nothing other than...
http://www.chemengonline.com/commentary/A-window-into-kettle-reboiler-secrets_8501.html
May 1, 2011
As the calendar flips to May, spring is finally beginning to push a tough winter out of the way in the Northeastern part of the U.S. With the change of season, many companies in the chemical process industries (CPI) are renewing a push to invest in longterm growth. A recent report from the American Chemistry Council (ACC; Washington, D.C.; www.americanchemistry.com) suggests that ethane supplies from shale...
http://www.chemengonline.com/commentary/A-New-Online-Face-for-CE_7939.html
May 1, 2011
LEAN Chemical Manufacturing There has been a great deal of new activity around so-called lean thinking or the lean enterprise lately, even though the practical application has been going on since the early 1900s. It was started by Henry Ford, and followed on by Edwards Deming and Taiichi Ohno. These three were relentless foes against waste. If the chemical process industries (CPI) were to implement lean to...
http://www.chemengonline.com/commentary/May-Letters_8019.html
Get more from ChemEngOnline.com
Get email updates in your inbox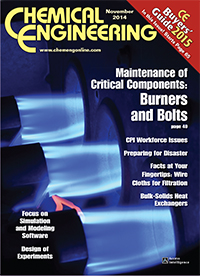 Our LinkedIn group is now over 33,000 members strong!

Join other CPI professionals from all over the globe and share best practices, expertise, concerns and more.
Provide feedback to Chemical Engineering Editors


Current members represent Worley Parsons, DuPont, SABIC, Fluor, Air Products, LyondellBasell, Nalco, Dow Chemical, Dow Corning, BASF, Jacobs Engineering, ExxonMobil, Shell, Chevron and more.



We also offer the following subgroup for more targeted discussions:

Search the Buyers' Guide
Facts at Your Fingertips (archive)
Back Issues