Archives :: Story Extras :: Postscripts & Corrections
January 1, 2011
Although plant safety should be a top priority every day, there are certain times when extra vigilance is needed to make sure that safety practices are being maintained. This article outlines three periods deemed to be "critical" for plant safety and specific items to pay attention to in these periods. Three critical periods The following three phases in a production plant's...
http://www.chemengonline.com/extras/ps_and_corrections/Effective-Plant-Safety-Management_6289.html
November 1, 2010
When automating fluid handling processes, it is critical to ensure that you are using the best type of pump for the process, and to understand how to control the type of pump you are using. The two major classes of process pumps — centrifugal and rotary positive displacement — require completely different control techniques. It is important to understand each pump type's limitations, and...
http://www.chemengonline.com/extras/ps_and_corrections/Process-Pump-Control_6112.html
April 1, 2010
A rapid and ongoing expansion of polysilicon production capacity will likely generate an oversupply for the next several years, driving polysilicon manufacturers to further innovate processes and reduce operating costs in preparation for an impending wave of new demand. Drastic price drops experienced in 2009 are expected to continue at a slower pace in 2010, yet polysilicon producers remain poised to...
http://www.chemengonline.com/extras/ps_and_corrections/Polysilicon-Production_5559.html
January 1, 2010
Pipe sizing calculations include certain values that are time dependent, such as costs. While some costs rise, others decrease over time. It is the designers task to ensure that the total cost is minimized. For fluid flow calculations, heuristic criteria are often used, which is the main reason why these values must be updated from time to time. In this article, recommended velocities are updated for...
http://www.chemengonline.com/extras/ps_and_corrections/Updating-the-Rules-For-Pipe-Sizing_5402.html
April 1, 2009
A chemical executive once noted that his firm derives one-third of its income from products that are less than ten years old. Indeed, existing companies thrive and new ones proliferate through innovation and product improvement. They depend on scientists and engineers working "in the trenches" or "at the bench" to drive development. Yet, most potential innovations never succeed...
http://www.chemengonline.com/extras/ps_and_corrections/Capital-Costs-Quickly-Calculated_4654.html
January 1, 2009
Here, a design approach for continuous stirred-tank reactors is outlined for both reversible and irreversible second-order reactions Multiple CSTRs (continuous stirred-tank reactors) are advantageous in situations where the reaction is slow; two immiscible liquids are present and require higher agitation rates; or viscous liquids are present that require high agitation rates. Unlike in plug-flow reactors...
http://www.chemengonline.com/extras/ps_and_corrections/CSTRs-Bound-for-Maximum-Conversion_4444.html
Get more from ChemEngOnline.com
Get email updates in your inbox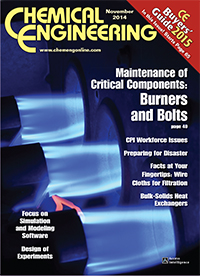 Our LinkedIn group is now over 33,000 members strong!

Join other CPI professionals from all over the globe and share best practices, expertise, concerns and more.
Provide feedback to Chemical Engineering Editors


Current members represent Worley Parsons, DuPont, SABIC, Fluor, Air Products, LyondellBasell, Nalco, Dow Chemical, Dow Corning, BASF, Jacobs Engineering, ExxonMobil, Shell, Chevron and more.



We also offer the following subgroup for more targeted discussions:

Search the Buyers' Guide
Facts at Your Fingertips (archive)
Back Issues