Archives :: Regions :: China
August 1, 2006
China, one of the world's great growth stories, may become the world's largest consumer market. As that potential unfolds, petrochemical activity and investment are sure to be key drivers. China is now the 6th largest economy in the world, boasting a Gross Domestic Product (GDP) of $2.23 trillion in 2005; but measured on a purchasing power parity (PPP) basis, China would rank as the...
http://www.chemengonline.com/regions/china/China-Still-Beckons-Petrochemical-Investments_3080.html
February 1, 2006
While politicians and research institutes debate about a future hydrogen economy, plant contractors and industrial gas suppliers are working overtime to build bigger, more efficient hydrogen plants to meet the immediate demands. The fact is, there doesn't seem to be enough H2 around to meet the growing demand for clean fuels and basic chemicals. This is the first time in the market...
http://www.chemengonline.com/regions/china/Hydrogen-The-real-ACTION-is-Today_3069.html
Get more from ChemEngOnline.com
Get email updates in your inbox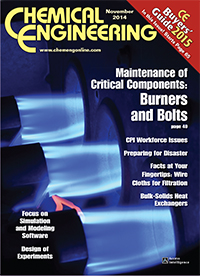 Our LinkedIn group is now over 33,000 members strong!

Join other CPI professionals from all over the globe and share best practices, expertise, concerns and more.
Provide feedback to Chemical Engineering Editors


Current members represent Worley Parsons, DuPont, SABIC, Fluor, Air Products, LyondellBasell, Nalco, Dow Chemical, Dow Corning, BASF, Jacobs Engineering, ExxonMobil, Shell, Chevron and more.



We also offer the following subgroup for more targeted discussions:

Search the Buyers' Guide
Facts at Your Fingertips (archive)
Back Issues