Archives :: Regions :: North Asia :: Korea
March 11, 2008
PSE Korea, the Korean subsidiary of Process Systems Enterprise (PSE; London, U.K.; www.psenterprise.com), providers of the leading gPROMS advanced-process modeling (APM) software and related services, was officially declared open on 5 March 2008 at the PSE Korea Opening Ceremony in Daejeon, Korea. Speaking at the event, attended by some 70 delegates from Korean industry, research organizations and...
http://www.chemengonline.com/regions/north_asia/korea/PSE-Korea-officially-open_3734.html
February 1, 2007
With about 500 exhibitors from 25 countries expected, and attracting around 20,000 visitors, Achemasia 2007 - the 7th International Exhibition-Congress on Chemical Engineering and Biotechnology (May 14–18; Beijing, China) - is projected to continue to be China's and the Asian region's key event for the chemical process industries (CPI). Achemasia 2007 provides the ideal setting for the...
http://www.chemengonline.com/regions/north_asia/korea/AchemAsia-2007-preview_3169.html
Get more from ChemEngOnline.com
Get email updates in your inbox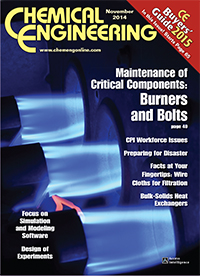 Our LinkedIn group is now over 33,000 members strong!

Join other CPI professionals from all over the globe and share best practices, expertise, concerns and more.
Provide feedback to Chemical Engineering Editors


Current members represent Worley Parsons, DuPont, SABIC, Fluor, Air Products, LyondellBasell, Nalco, Dow Chemical, Dow Corning, BASF, Jacobs Engineering, ExxonMobil, Shell, Chevron and more.



We also offer the following subgroup for more targeted discussions:

Search the Buyers' Guide
Facts at Your Fingertips (archive)
Back Issues