Archives :: Regions :: Southeast Asia :: Thailand
October 1, 2007
Plant Watch Liheng adds largest continuous polymerization capacity for PA6 to China September 25, 2007 — Liheng (Changle) Polyamide Technology Co. has contracted Lurgi Zimmer GmbH to build a polyamide-6 (PA6) plant in the province of Fujian. The plant will have a capacity of 200 tons/d of textile-grade chips, and will go onstream in 2009. SolVin to expand latex production in France September 24...
http://www.chemengonline.com/regions/southeast_asia/thailand/October-Plant-Watch-and-Mergers_3401.html
February 1, 2007
NORTH AMERICA Pittcon 2007. The Pittsburgh Conference on Analytical Chemistry and Applied Spectroscopy, Inc. (Pittsburgh, Pa.). Phone: 412-825-3220; Web: pittcon.org Chicago, Ill.Feb. 25–Mar. 2 23rd International Pump Users Symposium and Exhibit. Turbomachinery Laboratory (College Station, Tex.). Phone: 979-845-7417; Fax: 979-845-1835; Web: turbolab.tamu.edu Houston Tex.Mar. 5–8 ...
http://www.chemengonline.com/regions/southeast_asia/thailand/Calendar-February_3176.html
December 1, 2006
NORTH AMERICA North America and the Carbon Markets. Point Carbon (Washington, D.C.). Phone: 202-349-1120; Web: pointcarbon.com Washington, D.C. Jan. 17–18 12th Annual Transportation & Distribution Conference. Chemical Week (New York, N.Y.). Phone: 212-621-4978; Fax: 212-621-4970; Email: reg@chemweek.com Palm Coast, Fla. Jan. 23–25 DaratechPlant 2007. Daratech...
http://www.chemengonline.com/regions/southeast_asia/thailand/Calendar_2864.html
Get more from ChemEngOnline.com
Get email updates in your inbox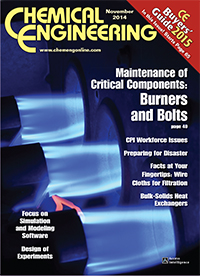 Our LinkedIn group is now over 33,000 members strong!

Join other CPI professionals from all over the globe and share best practices, expertise, concerns and more.
Provide feedback to Chemical Engineering Editors


Current members represent Worley Parsons, DuPont, SABIC, Fluor, Air Products, LyondellBasell, Nalco, Dow Chemical, Dow Corning, BASF, Jacobs Engineering, ExxonMobil, Shell, Chevron and more.



We also offer the following subgroup for more targeted discussions:

Search the Buyers' Guide
Facts at Your Fingertips (archive)
Back Issues