Archives :: Regions :: Western Europe :: France
October 1, 2007
Plant Watch Liheng adds largest continuous polymerization capacity for PA6 to China September 25, 2007 — Liheng (Changle) Polyamide Technology Co. has contracted Lurgi Zimmer GmbH to build a polyamide-6 (PA6) plant in the province of Fujian. The plant will have a capacity of 200 tons/d of textile-grade chips, and will go onstream in 2009. SolVin to expand latex production in France September 24...
http://www.chemengonline.com/regions/western_europe/france/October-Plant-Watch-and-Mergers_3401.html
April 1, 2007
NORTH AMERICA RFID Journal LIVE Annual Conference and Exhibition. RFID Journal LLC (Melville, N.Y.). Phone: 631-249-4989; Fax: 631-980-4314; Web: rfidjournal.com Orlando, Fla. Apr. 30-May 2 Maintenance Planning and Scheduling Seminar. New Standard Inst. (Milford, Conn.). Phone: 203-783-1582; Web: newstandardinstitute.com Boston, Mass. May 7-9 19th Coating and Drying Technology...
http://www.chemengonline.com/regions/western_europe/france/Calendar-April_3181.html
April 1, 2007
A demonstration plant that will produce 5,000 m.t./yr of succinic acid from biomass will be built in Pomacle, France, by BioAmber, a joint venture of Diversified Natural Products (DNP, New York, N.Y.; edlinks.che.com/6894-535) and Agro Industries Recherche et Developpement (ARD, Pomacle). Succinic acid, used in a variety of products, including cosmetics and foods, is produced mainly from maleic anhydride...
http://www.chemengonline.com/regions/western_europe/france/A-sustainable-route-to-succinic-acid_3233.html
Get more from ChemEngOnline.com
Get email updates in your inbox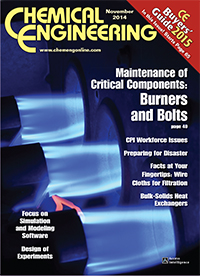 Our LinkedIn group is now over 33,000 members strong!

Join other CPI professionals from all over the globe and share best practices, expertise, concerns and more.
Provide feedback to Chemical Engineering Editors


Current members represent Worley Parsons, DuPont, SABIC, Fluor, Air Products, LyondellBasell, Nalco, Dow Chemical, Dow Corning, BASF, Jacobs Engineering, ExxonMobil, Shell, Chevron and more.



We also offer the following subgroup for more targeted discussions:

Search the Buyers' Guide
Facts at Your Fingertips (archive)
Back Issues