Archives :: Regions :: Western Europe :: U.K.
January 1, 2006
Last month, "Series C" funding in the plastic-electronics development company, Plastic Logic Ltd. (Cambridge, U.K.; edlinks.che.com/5825-537), reached $24 million, with the addition of investments from four new companies, including BASF Venture Capital GmbH (Ludwigshafen, Germany; edlinks.che.com/5825-538). Other companies that have previously invested in the firm include Dow Chemical (Midland...
http://www.chemengonline.com/regions/western_europe/uk/A-push-for-printable-electronics_2881.html
January 1, 2006
Process System Enterprise Ltd. (PSE; London, U.K.; edlinks.che.com/5825-542) has launched the latest of a series of gPROMS Advanced Model Libraries (AMLs) for Gas-Liquid Contactors (GLCs). This "open model" library of high-fidelity, non-equilibrium-component models covers a wide range of gas-liquid-separation operations, including conventional packed columns for...
http://www.chemengonline.com/regions/western_europe/uk/Modeling-gas-liquid-separation_2883.html
Get more from ChemEngOnline.com
Get email updates in your inbox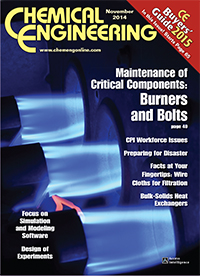 Our LinkedIn group is now over 33,000 members strong!

Join other CPI professionals from all over the globe and share best practices, expertise, concerns and more.
Provide feedback to Chemical Engineering Editors


Current members represent Worley Parsons, DuPont, SABIC, Fluor, Air Products, LyondellBasell, Nalco, Dow Chemical, Dow Corning, BASF, Jacobs Engineering, ExxonMobil, Shell, Chevron and more.



We also offer the following subgroup for more targeted discussions:

Search the Buyers' Guide
Facts at Your Fingertips (archive)
Back Issues