Archives :: Surveys
October 1, 2007
For the mainstream media, stories about persons guided by their pocketbooks or hormones instead of ethical principles make fodder for front-page news. Although chemical engineers are not exempt from scandals, a poor ethical decision in the chemical process industries (CPI) can be — and unfortunately, has been — more damaging than the loss of a job, career or self esteem. Damage to the...
http://www.chemengonline.com/surveys/Ethics-Part-2-Survey-Results_3413.html
April 1, 2007
It's sad to say, but can probably be proven, that the daily news will have at least one story involving someone who has made an unethical choice. Such stories are not limited to politicians, doctors or lawyers, but can also involve professionals working in the chemical process industries (CPI). And it only takes one horror story - a Bhopal, a Seveso, or a Three Mile Island - to damage the...
http://www.chemengonline.com/surveys/Perplexing-Ethical-Problems-Whats_3121.html
July 1, 2006
During the first half of this decade, painting a rosy salary picture for chemical engineers has been impossible at times, and at best required a creative flair. Forget gaining ground — amid salary freezes or raises that lagged inflation, Ch.E.s were doing well in 2005 if they didn't take steps backward (Figure 1). Fortunately, the first salary data and employment analysis for 2006...
http://www.chemengonline.com/surveys/Che-Salaries-Show-Signs-of-Improvement_3076.html
January 1, 2006
It is likely that in your work, you have crossed paths with a person you admire for a career involving excellence in chemical engineering. To perhaps bring that person recognition, nominate him or her for our 2006 Award for Personal Achievement in Chemical Engineering. The aim of this award, which Chemical Engineering has offered biennially since 1968, is to honor individuals for distinguished careers. It...
http://www.chemengonline.com/surveys/Help-Us-To-Honor-Distinguished-Careers_3067.html
June 1, 2005
For some chemical engineers, the tank is half full; for others, it is half empty. Technically, both are right, especially if the discussion pertains to what they were paid in 2004. Where optimists argue that overall salaries continued to rise, cynics remind us that today's dollar, pound or yen does not put as much bread on the table as it did the previous year. Take the latest numbers...
http://www.chemengonline.com/surveys/Salary-Prognosis-Its-All-Relative_3414.html
September 1, 2004
Are you a chemical engineer in search of employment? Be persistent, be patient and it will pay off, recruiter advise. The lingering question is when. The outlook for Ch.E.s is uncertain, reflecting that for employment overall. This uncertainty stems from the U.S. employment situation, which is virtually unchanged from a year ago, when the unemployment rate climbed to about 5.5%, leaving about 8.2...
http://www.chemengonline.com/surveys/For-Ch-E-job-seekers-patience-is-a-virtue_3415.html
January 1, 2004
Has it been more than a year since you had a raise? Has your contribution to employee benefits been increased and the amount of your paycheck decreased? Have you gotten a promotion and new responsibilities, and still have to do your old job, too? Chemical engineers, you are not alone. But with a median salary that ranks near the top of the pay scale, you're still faring better than most engineers in...
http://www.chemengonline.com/surveys/For-Chemical-engineers-salaries-stay-above-the-fray_3416.html
Get more from ChemEngOnline.com
Get email updates in your inbox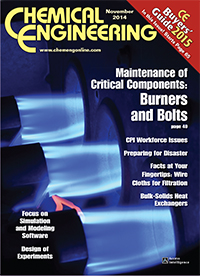 Our LinkedIn group is now over 33,000 members strong!

Join other CPI professionals from all over the globe and share best practices, expertise, concerns and more.
Provide feedback to Chemical Engineering Editors


Current members represent Worley Parsons, DuPont, SABIC, Fluor, Air Products, LyondellBasell, Nalco, Dow Chemical, Dow Corning, BASF, Jacobs Engineering, ExxonMobil, Shell, Chevron and more.



We also offer the following subgroup for more targeted discussions:

Search the Buyers' Guide
Facts at Your Fingertips (archive)
Back Issues