Who's Who
Packaging, Transportation & Logistics

Wison Engineering Services Co. (Shanghai, China; www.wison.com), the largest private sector chemical engineering, procurement and construction management (EPC) service provider in China, says that Wison Engineering Ltd., an indirectly non wholly-owned subsidiary of the company, has commenced the site construction activities of site preparation for the...

More

Packaging, Transportation & Logistics Archives

Cost Engineering

Cost estimation is a critical dimension of project planning in asset-heavy industries such as the chemical process industries (CPI). Construction cost indices are useful tools in cost estimation and are used to compare plant construction costs from one time period to another. Understanding them can improve the accuracy of the cost estimates, as well as the...

More

Cost Engineering Archives


Get Chemical Engineering's Plant Cost Index to Improve Plant Cost Estimates... and delivered online in advance of the print edition!



Click here to access the online PCI or to read more about how to subscribe.
Design, Engineering & Construction

Plant Watch, Mergers and Business News

Latest News

Plant Cost Index

Project Management

The Chemical Activity Barometer (CAB), a leading economic indicator created by the American Chemistry Council (ACC; Washington, D.C....

Capital cost calculations I recently read the article "Capital Costs Quickly Calculated" [ Chem. Eng....
Get more from ChemEngOnline.com
Get email updates in your inbox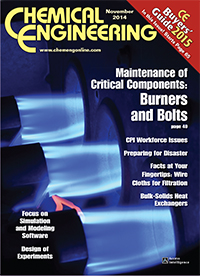 Our LinkedIn group is now over 33,000 members strong!

Join other CPI professionals from all over the globe and share best practices, expertise, concerns and more.
Provide feedback to Chemical Engineering Editors


Current members represent Worley Parsons, DuPont, SABIC, Fluor, Air Products, LyondellBasell, Nalco, Dow Chemical, Dow Corning, BASF, Jacobs Engineering, ExxonMobil, Shell, Chevron and more.



We also offer the following subgroup for more targeted discussions:

Search the Buyers' Guide
Facts at Your Fingertips (archive)
Back Issues