Business & Economics :: Latest News
October 31, 2007
The economic outlook: 2008 and beyond
Growth is expected but at a slower pace. Capital expenditures will be strong but budgets will likely come from abroad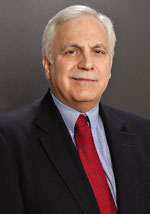 "This is the first time since the early 1970s there have been four strong years in a row; every piston of the economic engine was running," says Dr. Thomas K. Swift, chief economist for the American Chemistry Council
"We have just come off of four years (2003–2006) of very strong global economic growth," says Dr. Thomas K. Swift, chief economist and managing director, economics and statistics for the American Chemistry Council (Arlington, Va.). "This is the first time since the early 1970s there have been four strong years in a row; every piston of the economic engine was running," adds Swift, who gave an exclusive interview to the Chem Show Daily after having to cancel his appearance at yesterday's keynote address.
From an economical standpoint, the global economy is slowing — led by the U.S., which is going through a "rocky landing" period — but the global economy is still growing, says Swift. Among the risks and uncertainties in the U.S. are the housing sector, which is likely to get worse before it works itself out by mid 2008, and the credit crunch. However, there are some positive signs. Exports are very strong, adding to growth. In the U.S., exports are currently four times higher than imports.
The peak year for growth was probably last year in the U.S. and this year for some other regions. Growth in Western Europe, especially Germany is very strong. Japan has sustainable, but decelerating growth. China's boom continues apace despite efforts to curtail investment. Growth elsewhere in Asia and emerging Europe remains strong. With a commodity boom, Latin America and Africa and the Middle East are buoyant, but with risks, says Swift.
The CAPEX (capital expenditures) in the U.S. will regain levels of the mid 1990s, reaching about 4–5% this year. "This is good news for equipment suppliers," says Swift. However, there is a large dynamic shift of capital budgets away from the U.S. towards Asia Pacific, Africa and the Middle East — a trend that has been taking place since 2003. In 2006, the CAPEX by the U.S. industry into these regions increased by 2.1%, and is expected to increase by 15% in 2011, says Swift.
For the chemical industry, additional capital spending in the U.S. is expected to show weak growth of around 4–5% compared to about 18% globally for 2007, 15% in 2008 and 10% at $300 billion, in 2009.