Creating the Internet of Your Things in Chemical Processing
Sponsored By:

Hosted By:
| | |
| --- | --- |
| | |
The Internet of Things is not a futuristic technology trend: it's here today, and it starts with your things. You don't need to rip and replace; you can create the Internet of Your Things by building on your existing infrastructure, using familiar devices and services in new ways, and combining data you are already collecting, to ultimately help you make better-informed business decisions.

Manufacturing is fueled by big data, and intelligent systems have the potential to transform the Chemicals processing industry by improving the supply chain and optimizing manufacturing operations. Intelligent systems provide the backbone of technology that enables the capture of process data from industry devices, connectivity for data capture and business intelligence tools to convert that data into impact.

Attend this webcast to understand The Internet of Things and hear about some successful implementations of Intelligent Systems in the Chemicals processing industry and practical guidance.
How to benefit from The Internet of Things
How it can revolutionize productivity, increase efficiency and drive higher profits for Chemical processing companies
Key benefits such as: efficient commodity and energy management for sustainable products, better use of resources and cost savings, benchmarking of global production sites and increased productivity, agility and mobility for managing global businesses, time to market improvement along the value chain
Examples of successful implementations and strategies to capitalize on the Internet of Things today
Head of Manufacturing
Maintenance Managers
Operations Managers
Plant Managers
Reliability Engineers
Compliance Managers
HSE Managers
Research & Development Managers
Sales Managers
Marketing Managers
Engineers of Process Manufacturing Facilities, Chemical, & Petrochemical Plants
Kristin Flandreau
Internet of Things Commercial Lead – United States
Microsoft Corporation


Kristin Flandreau is the Internet of Things (IoT) Commercial Lead for the United States at Microsoft, leading partner engagement and industry marketing targeting enterprise line of business (LOB) decision makers with Microsoft's cloud-based business solutions for IoT.

Kristin joined this business in September 2013 and has been with Microsoft since 2004. She previously held senior marketing roles in Xbox, Server and Tools, and Windows Mobile, as well as led partner readiness efforts for the US subsidiary. Before joining Microsoft, Kristin spent more than 10 years in a broad range of senior leadership positions in marketing and sales operations for companies such as RealNetworks and Starbucks Coffee Company.

Sam Youness
WW Industry Technology Strategist for Process Manufacturing & Resources
Microsoft Corporation

Sam is a seasoned professional with more than 22 years of deep experience in business and IT, including architecture vision creation and industry-wide strategies to achieve that vision. With Microsoft for almost 10 years, he has successfully delivered a large number of architectures, solutions and projects to better enable customer business.

Sam is fluent in both languages of business and IT. He is a results-driven technical leader with a passion for excellence. A relationship builder with outstanding communication skills, he is technically minded, but always commercially aware.

Sam is an established author and contributor of several books and other publications covering different topics in areas of data management, programming languages, solution building, and security.

He is a keynote speaker in high level industry conferences and partner events. He also served in the past as a representative of Microsoft on the board of renowned industry organization, MESA International.




Luis Gamboa
Global Oil & Gas Market Development Manager
Rockwell Automation



Luis Gamboa is currently the Global Business Development Manager for Oil & Gas at Rockwell Automation, responsible for coordinating marketing activities that maximize the companies participating in the industry. Luis initiated his career as a control and instrumentation engineer in the PDVSA, Venezuela in 1982 and has since worked in engineering, sales and marketing roles related to the industry. In 2001, he started the process of building a global strategy for oil & gas at Rockwell Automation, based in Houston, as the industry solution manager where Luis was an active member of oil & gas associations like IEEE and ISA. Most recently, he was the director of marketing for the Latin America region.



Mary Page Bailey
Assistant Editor, Chemical Engineering

Mary Page Bailey has been an editor with Chemical Engineering since
May 2013, after working five years as a process design engineer at ExxonMobil Chemical Company's joint venture, Univation Technologies, LLC. During her time with Univation, she designed equipment for numerous Unipol polyethylene plants and attended a plant startup in China. She holds a B.S. Ch.E. degree from the University of Oklahoma.




| | |
| --- | --- |
| | What do I need to view this Webcast? |
Minimum Requirements:
Operating System
Processor
RAM
Internet Browser
Hardware
Media Players
Internet Connection

Windows 8 Pro

Windows 7
Widows Vista

Windows XP SP3
Android 4.3+

Apple Mac OS X 10.6 Snow Leopard
Apple iOS 5.1+

1 GHz1
1 GB

Internet Explorer 7.0+

Firefox 4.0+

Safari 5+

Google Chrome
10+

AUDIO: Sound Card with speakers

VIDEO: Monitor with 1024x768+ resolution support

Adobe Flash Player 10.3+2
Apple iOS http streaming enabled browser3

Android http streaming enabled browser4


Dedicated high speed connection of 700kbps+

1
Dual core processors are preferred.
2
In addition to having a properly installed Adobe Flash Player your system must permit live Flash streaming.
3
Apple iPad and iPhone only. Please use Safari on iOS devices for the best viewing experiences.
4
Android 4.3+. Please use Chrome on Android devices for the best viewing experience.
| | |
| --- | --- |
| | Support & Troubleshooting |
What support is available for users on Macintosh and Unix/Linux-Based operating systems?

This presentation incorporates advanced multimedia features that allow elements such as slides, polling questions, surveys, and application demonstrations to be dynamically sent to the audience synchronized with the presentation. Mac and Linux audiences may view the presentation using a supported Firefox Web browser and
Adobe Flash player
.
Please note that some presentations may not feature a Flash option.
Why can't I hear audio?

If you have internal speakers, make sure they aren't muted.
If you have external speakers, make sure they are powered on and aren't muted.
Make sure you did not lose Internet connectivity.
Make sure your system has passed the system test located under "Test my system now".
If your system is using Adobe Flash Player and you receive a "connection failed" message it's most likely due to a proxy server blocking Flash streaming. Please contact your local IT admin.
If you are using a mobile device, such as an iPhone, make sure you have enough bandwidth. We advise using dedicated wi-fi or 4G.
If you are using an Android device, Apple iPad or iPhone you will need to click on the media play button to begin the presentation. Android and Apple iOS devices do not permit streams to begin automatically.
If you are using a PC or Mac please ensure that your browser zoom level is set to 100% as the presentation is best viewed at that setting. In most browsers you can use Ctrl + 0 to reset your zoom level. This option can be also be found in the tools or view menu.
What is a pop-up blocker and how do I disable it?

Pop-up blockers are software programs that stop unsolicited "pop-up" browser windows from launching automatically. These windows often feature advertisements that can be an annoyance to users trying to browse the Internet, however some features of the Webcast may make use of pop-up windows to deliver key functionality. Depending on the software progam you have installed you may be able to add the Web site URL to a list of permissible Web sites where pop-up windows are allowed.
It is common to have one or more pop-up blockers that you may be unaware of. Most pop-up blockers reside either in the system tray (lower right hand corner of your screen by the clock) or as a toolbar in Internet Explorer (at the top of your browser, go to "View" and then "Toolbars"). These can be disabled in their options or preferences menus. (Common toolbars such as Google and Yahoo Companion have built in pop up blockers).
Also, if you are unaware of any other pop-up blockers that are running on your computer, you may want to see if you have personal firewall software running, such as Norton's Internet Security or ZoneAlarm. If you have either of these, they will also block pop-up windows.
Where can I download the latest streaming media players?

- Adobe Flash (for viewing Application Demonstrations and Video Roll-ins) -
http://get.adobe.com/flashplayer/
Where can I download the latest Internet browsers?


- Microsoft Internet Explorer 8 -
http://www.microsoft.com/windows/internet-explorer/worldwide-sites.aspx
- Previous versions of IE -
http://www.microsoft.com/windows/ie/ie6/downloads/default.mspx
- Firefox -
http://www.mozilla.com/firefox/
I occasionally hear a clicking noise during the presentation. How do I turn it off?


Windows 7 - Click on the Windows Start icon, then choose "Control Panel" > "Sound," > "Sounds" tab. Scroll down the "Program" menu until you reach "Start Navigation." Set the sound to [None] and click "OK." The clicking will be disabled.
Windows Vista - Click on the Windows Start icon, then choose "Control Panel" > "Sound," > "Sounds" tab. Scroll down the "Program" menu until you reach "Start Navigation." Set the sound to [None] and click "OK." The clicking will be disabled.
Windows XP - You can disable this noise by going to the Start menu, then "Control Panel". Open "Sounds and Audio Devices," and click the "Sounds" tab. Scroll down the "Program Events" menu until you reach "Start Navigation." Set the sound to [None] and click "OK." The clicking will be disabled.
Why do I get a "connection failed" or "connection blocked" message when I try to view Adobe Flash streams?

In addition to having a properly installed
Adobe Flash Player
your pc must permit rtmp (over port 1935) and / or rtmpt (over port 80) live streaming protocols. Please contact your local IT Administrator if you are unsure of your settings. IT Admins can
click here
to review additional information on configuring proxy servers to permit live Flash streaming.
Get more from ChemEngOnline.com
Get email updates in your inbox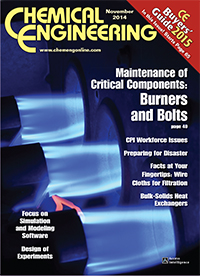 Our LinkedIn group is now over 33,000 members strong!

Join other CPI professionals from all over the globe and share best practices, expertise, concerns and more.
Provide feedback to Chemical Engineering Editors


Current members represent Worley Parsons, DuPont, SABIC, Fluor, Air Products, LyondellBasell, Nalco, Dow Chemical, Dow Corning, BASF, Jacobs Engineering, ExxonMobil, Shell, Chevron and more.



We also offer the following subgroup for more targeted discussions:

Search the Buyers' Guide
Facts at Your Fingertips (archive)
Back Issues