New Products & Services
November 1, 2014
Focus on Simulation and Modeling Software
Track energy consumption with this new software
This month, this company is releasing Energy Performance Analytics (EP-Analytics; photo), a software tool that uses energy performance indicators (EnPI) to track how energy is being consumed in a plant, identifies gaps between EnPI targets and actual performance, and helps to identify countermeasures to improve energy performance. The EP-Analytics software is powered by the Visual MESA energy management and optimization solution. The EP-Analytics software runs on a workstation that is connected via an OPC interface to the control system, giving it access to pressure, temperature, flowrate and other plant data. Based on the Visual MESA simulation engine, the EP-Analytics software uses rigorous first-principle models to track energy flows throughout the plant and calculate the energy performance for each individual process unit and piece of equipment. — Yokogawa Corp. of America, Sugar Land, Tex.
www.us.yokogawa.com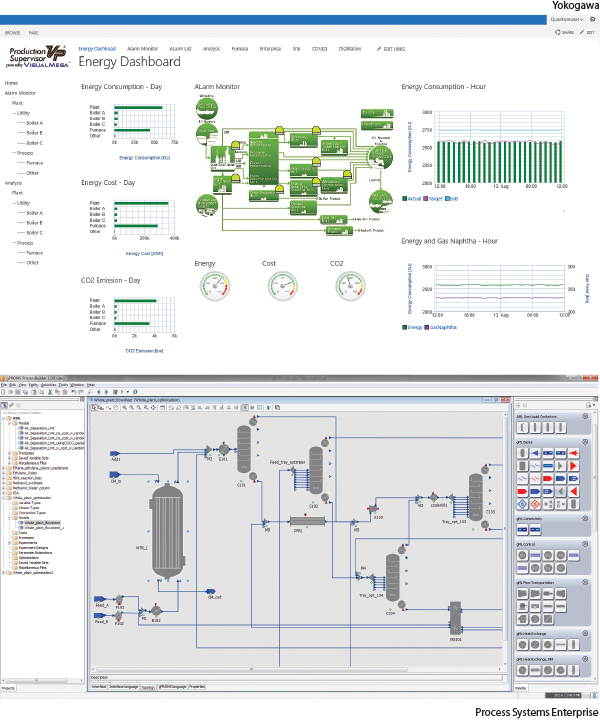 Model-based support for process design
The gPROMS ProcessBuilder (photo) is an advanced process-simulation tool aimed at model-based support of key design and operating decisions for organizations in the chemicals and petrochemicals sectors. It combines ease of use and solution robustness with comprehensive libraries of steady-state and dynamic process models of all standard flowsheeting units, as well as high-fidelity reactor models and advanced separation processes such as adsorption and membranes. In addition to its steady-state and dynamic-simulation capabilities, ProcessBuilder delivers competitive advantage through a range of advanced applications including whole-plant optimization involving both parametric and structural decisions, dynamic optimization of batch recipes and sensitivity analyses. — Process Systems Enterprise Ltd., London, U.K.
www.psenterprise.com
A unique tool to improve the energy efficiency of processes
Launched in September, Simulis Pinch (photo) is a new tool dedicated to improving energy efficiency. This software can generate significant gains with a very short return on investment (at most a few months), says the company. Simulis Pinch integrates the general principles of the Pinch method and is applicable to any industrial process where utilities energy is consumed for heating or cooling the process fluids. Based on Pinch Technology, Simulis Pinch enables users to quickly find the most efficient configuration for the process, allowing the best compromise between investments and operating cost, to reach the objective of energy-consumption reduction. Simulis Pinch is a standalone product, available for use directly in Microsoft Excel. It can also be used with ProSimPlus and then becomes particularly powerful for improving the energy efficiency of complex processes. — ProSim, Labège, France
www.prosim.net
Fast, easy & flexible dynamic simulation for lifecycle results
Scheduled for release in January 2015, Mimic Simulation Software v3.6 is a next-generation software platform for the chemical process industries (CPI), providing fast, easy, flexible, dynamic simulation for plant operations lifecycle results. Mimic v3.6 includes the release of the mineral-processing object library, which includes 14 new advanced modeling objects, integrated with solids property tracking, particle-size distribution and tunable comminution matrix in every object. Life science users will be able to fully reap the benefits of lifecycle dynamic simulation with the introduction of the new Bioreactor advanced modeling object, which provides new opportunities to improve the operation of biotech facilities and the development of biotherapeutics. — MYNAH Technologies LLC, Chesterfield, Mo.
www.mynah.com
This update improves ability to plan for explosive incidents
Version 10.2 is the latest iteration of this company's advanced consequence-analysis software, Safer Trace. Safer Trace is used to help assess, understand and reduce chemical risk, and plan for worst-case scenarios. Among the new features and enhancements with Version 10.2 are improved vapor-cloud explosion modeling for materials such as ethylene oxide, and solid chemical explosion-modeling capability for materials such as ammonium nitrate, and commercial explosives like TNT. The improved and enhanced functionality afforded by the improvements in explosion modeling greatly enhance site building and explosion hazard safety-analysis capability, help improve customers' pre-planning efforts where risks exist, help identify and pre-plan evacuation zones and routes, as well as safe collection points, and can elevate awareness of the urgency and scale of response required when such threats are identified or developing, says the company. — Safer Systems, Camarillo, Calif.
www.safersystem.com
Enhanced manufacturing and supply-chain software
Last September, this company introduced major upgrades to aspenONE Version 8.7, its manufacturing and supply chain software. This latest version of aspenONE software is designed to allow plant operations personnel to spend less time dealing with ongoing baseline operations and more time on activities that will enable them to maximize the effectiveness and profitability of their manufacturing operation. Significant enhancements to the AspenTech software span across advanced process control, manufacturing execution systems and petroleum supply chain — additional highlights include: new capabilities in Aspen DMC3 software enable the process controller to stay online and sustain optimum performance for a much broader range of changing operating conditions, generating significantly more business benefits; Aspen Petroleum Scheduler software extends its scheduling capability with the addition of new Pipeline Scheduling, which when combined with the Dock Scheduling, addresses for the first time the complete petroleum scheduling problem within one application; Aspen PIMS-AO software implements new optimization capabilities that enable the feedstock planner to achieve the most profitable solution at least eight times faster than before. — Aspen Technology, Inc., Burlington, Mass.
www.aspentech.com
Modeling software helps plant operators maximize profitability
Earlier this year, this company announced a major enhancement to its Refinery and Petrochemical Modeling System (RPMS) that will improve model building and maintenance, case management and optimization to help plants maximize profitability. The new release, RPMS 500 (photo), incorporates analytics software that is based on the company's innovative Intuition process management to better apply planning results. RPMS also helps petroleum-refining and petrochemical firms assess their long-term investment options and understand the critical differences in potential yield and value of various feedstocks, as well as determine the best operating conditions over the planning horizon. Key new features with the RPMS 500 release include support for Windows 7/8 64-bit platforms, as well as tools to simplify migration to the current software version. — Honeywell Process Solutions, Houston
www.honeywellprocess.com

See productivity gains with STAR-CCM+ v9.04
In June, this company launched STAR-CCM+ v9.04, the second release in 2014 of its flagship simulation tool. Users will see reductions in overall time-to-solution and dramatic gains in productivity using STAR-CCM+ v9.04 workflow improvements, parallel meshing and optimization capabilities, says the company. The addition of new physics models allows users to perform increasingly realistic computational fluid dynamics (CFD) and computer-aided engineering (CAE) simulations, that more closely represent the real-world conditions under which the product will operate. For increased productivity, concurrent-per-part meshing allows users to mesh large and complex assemblies by assigning each part to a separate parallel processor. This allows users to leverage as much computing power as they have available to wrap and mesh (or remesh) the geometry. — CD-adapco, London, U.K.
www.cd-adapco.com