New Products & Services
October 1, 2014
Focus On Personal Protective Equipment
Escape and rescue kits protect workers exposed to heights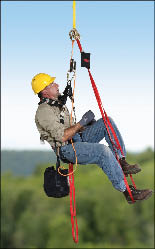 3M PPE Safety Solutions
This company has expanded its personal safety portfolio to include a new controlled descent device for escape and rescue at heights, called the 3M and DEUS Escape and Rescue System (photo), that enables workers to steadily descend from heights up to 590 ft. The entire system weighs less than 3 lb and is easy to use, which is crucial in a rescue situation where time is of the essence. The new system is available with two controlled-descent device options: the 3300 device, which allows for rescue from heights up to 350 ft, at a descent rate of 9.8 ft/s, and the 3700 device, which allows a descent rate of 6.6 ft/s from heights up to 590 ft.
—
3M PPE Safety Solutions, St. Paul, Minn.

www.3m.com/ppesafety

Safety gloves with improved finger dexterity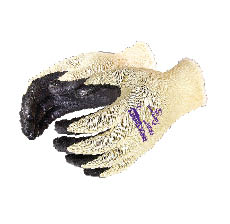 Superior Glove Works
This company has harnessed an advanced knowledge of yarn technology to create an affordable and innovative glove, allowing a broader industrial market of workers to benefit from premium safety solutions. The Dexterity Ultrafine 18-Gauge Cut-Resistant Glove (photo) is said to be incredibly dexterous, making a sleeker fit and improved finger dexterity to allow workers to complete precise tasks requiring agility. The gloves are made with DuPont Kevlar fiber, which combines high dexterity and cut-resistance to keep workers safe while performing tasks that require ultra-lightweight protection.
—
Superior Glove Works, Acton, Ont., Canada

www.superiorglove.com

Outdoor safety goggles designed for winter conditions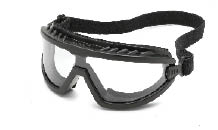 Gateway Safety
Wheelz safety goggles (photo) offer several "cold-weather-friendly" features for outdoor workers in colder climates. They include a unique Whirlwind ventilation system to circulate air through the inner frame area between the face and lens. The resultant strong "whirlwind" of air helps clear the fog and maintain unhindered vision at all times. For additional fog prevention, an anti-fog coating is also available. Wheelz goggles also feature an optional soft foam lining that not only helps with comfort, but also prevents snow and debris from blowing into the eyes. Additionally, mirrored-lens options help fight the glare that is often reflected from snow-covered surfaces. They are independently certified by Underwriters Laboratories (UL) to meet ANSI Z87+ and CSA Z94.3 standards.
—
Gateway Safety, Inc., Cleveland, Ohio

www.gatewaysafety.com

Lathe shields safeguard workers for OSHA and ANSI compliance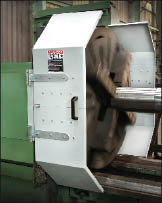 Danray Products
This company offers 52- and 62-in. steel lathe-chuck shields (photo) for lathes or similar machines. These heavy-duty, 12-gauge-steel lathe-chuck shields serve two basic functions: they provide a safeguard between individuals and point-of-operation or rotating hazards; and they protect individuals from flying chips, sparks, coolant, lubricant and other particles. The mounting bracket attaches to the face of the headstock. The vertical shield hinges like a door, making it easy to change or adjust the chuck or workpiece. These shields comply with OSHA 29 CFR 1910.212 and the ANSI B11.6 safety standard for lathes.
—
Danray Products LLC, Rockford, Ill.

www.danrayproducts.com

Earplugs that provide comfort and hearing protection

Honeywell Safety Products
The new Howard Leight FirmFit earplugs (photo) feature a softer, more comfortable fit and better noise protection than most leading classic-style foam earplugs. The earplugs are engineered to enhance the wearing experience for individuals who prefer a firmer fit in order to "feel" their earplugs in their ears, and who are accustomed to the familiar cylindrical or barrel-shaped earplug. Independent laboratory tests revealed the new earplugs are 40% softer with 29% lower expansion pressure than most leading classic-style earplugs. They provide effective 30 dB noise-reduction rating (NRR) and are easy to roll down and insert, with plenty of time to adjust for a proper fit. They are bright orange in color for high-visibility and are available in corded and uncorded versions.
—
Honeywell Safety Products, Smithfield, R.I.

www.honeywellsafety.com
Gerald Ondrey


d recommended practice on testing gloves and finger cots
Test procedures for evaluating physical attributes and cleanliness are detailed in the recently released IEST-RP-CC005.4: Gloves and Finger Cots Used in Cleanrooms and Other Controlled Environments. This newly revised Recommended Practice (RP) covers barrier gloves, knitted or woven gloves (with or without barrier palms), and heat-resistant gloves. The RP describes accepted methods for testing tensile properties, cut resistance, abrasion resistance, chemical compatibility, barrier integrity, heat resistance, aging, outgassing and static charge.

— Institute of Environmental Sciences and Technology (IEST), Arlington Heights, Ill.
www.iest.org


First-of-its-kind flame-resistant apparel
The iQ Series of work clothing is designed to meet the needs of workers and linemen in the electric utility, oil-and-gas, emerging-energy and NFPA 70E (manufacturing) industries. The iQ Series is said to offer wearers increased comfort through superior breathability, mobility, softness, durability and moisture wicking – while providing protection from flames, arc flash fires and similar dangers. Nine iQ Series products (six knits and three wovens) are offered in men's and women's styles.

— Bulwark, Nashville, Tenn.
www.bulwark.com

Safety showers that are designed to last
The trace-heated, mains-fed GFSF emergency shower range is manufactured completely from GRP (glass reinforced polymer) and 316 stainless steel with ABS (acrylonitrile butadiene styrene) internal pipework — all highly effective in resisting corrosion to guarantee superior strength and long life for installation in any environment down to –20°C. The units are designed to be highly visible for ease of identification and work first time every time with trace heating around the internal operating valve and pipework. Available for non-hazardous and hazardous areas, all units are built to meet and exceed ANSI and DIN standards and carry a two-year guarantee.

— Showers & Eyebaths Services Ltd., Rainford, St. Helens, Merseyside, U.K.
www.safety-showers.com

Safety interlocks promote safe tanker loading and unloading
These valve and trapped key interlocks guard against operator error to provide process safety control in tanker loading and unloading operations. The trapped key interlocking systems ensure that users follow a pre-determined sequence of operation for activating road, rail, and sea tanker control valves in petroleum-refining, petrochemical, pulp-and-paper, liquefied-gas and other industrial applications. The valve interlocks integrate with the company's mechanical and electromechanical trapped key interlock series to form a comprehensive safety scheme. The Eagle Series includes integral valve interlocks to fit every type and size of quarter and multi-turn valves, as well as bolt and electro-mechanical interlocks. All Eagle Series product offerings are manufactured of 316 stainless steel, with keyways protected by a gasketed flip cover.

— Kirk Key Interlock Co., Massillon, Ohio
www.kirkkey.com