New Products & Services
April 1, 2013
Focus on Seals & Gaskets
Avoid pipe corrosion with this spacer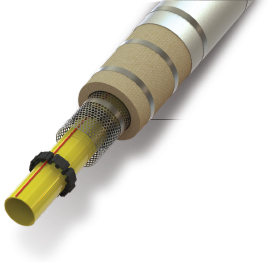 Trelleborg Group
Flexspacer has been developed to effectively create an air gap between topside pipelines and thermal insulation, thereby avoiding the corrosion that can occur when using traditional insulation systems such as mineral wool. By stopping direct contact between the insulation and the pipe, Flexspacer prevents any damage to the corrosion protection on the pipe, thus helping to guarantee thermal performance. Flexspacer is a new rubber-based solution that provides a 1–2-cm air gap between the pipe and insulation. It can be easily installed without using hot works or special tools, and can be connected and split to the desired length using just a pair of scissors, says the company. It has been qualified for use up to 150°C continuous service temperature, for more than 30 years. — Trelleborg Group, Stavanger, Norway
www.trelleborg.com/offshore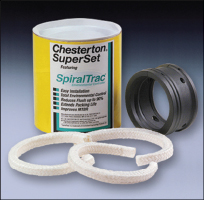 A.W. Chesterton
This packing system removes particles from stuffing boxes
The SuperSet combines sealing capabilities of this company's mechanical packing products with the patented design of the EnviroSeal SpiralTrac Version P Environmental Controller for packed stuffing boxes. This total sealing set is designed and proven to increase packing and equipment service life while dramatically reducing flush rates, says the company. The savings are real — increased reliability with lower maintenance and operating costs. SpiralTrac enhances the utilization of the flow and centrifugal effects around the shaft, and performs like a centrifugal separator. The built-in lantern ring and helical grooving system impart motion to the flush, and the resulting centrifugal force throws particles in the fluid outside of the bushing. The patented SpiralTrac grooving system then hydrodynamically pumps the solids to the bottom of the stuffing box and back out into the pump casing. — A.W. Chesterton Co., Woburn, Mass.
www.chesterton.com
Very soft gaskets prevent water ingress into enclosures
This company recently introduced molded liquid silicone rubber (LSR) gaskets with 10 and 20 durometer Shore A. The gaskets provide improved water sealing and protection for enclosures and portable devices. Low durometer LSR gaskets are said to have improved sealing properties over silicone foam or closed-cell silicone sponge gaskets. Enclosures and portable devices are frequently required to pass water ingress requirements, such as IP65, IP66 and IP67, and silicone rubber provides consistent deflection properties in cold and hot climates while resisting the damaging effects of ultraviolet and sunlight. The 10 and 20 durometer LSR compounds are Wacker Silicones LR3003/10TR and LR3003/20TR respectively. This company injection molds 12x12-in. LSR sheets in 10 and 20 durometer, with standard thicknesses from 0.032 to 0.125 in. — Stockwell Elastomerics, Inc. Philadelphia, Pa.
www.stockwell.com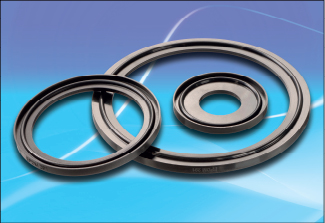 Freudenberg Process Seals
This elastomer meets the demands of deionized water
The elastomer compound 70 EPDM 291 offers very good properties when in contact with both water and deionized water. The material exhibits no significant increase in mass or volume when submerged in water at 200°C over long periods of time, nor after prolonged immersion in deionized water at 100°C. O-rings and O-ring-type seals in special shapes or seals for valves and fittings made from 70 EPDM 291 remain reliably resistant in water up to 180°C, deionized water up to 160°C and in air up to 150°C. The material meets the specifications of the European standard DIN EN 681 — 1 WB and the U.S. standard NSF 61, as well as German, British and French standards. The material also meets U.S. Food and Drug Amin. standards for both food and pharmaceutical products, and has USP Class VI approval for its high purity. — Freudenberg Process Seals GmbH & Co. KG, Weinheim, Germany
www.freudenberg-process-seals.com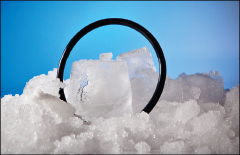 Cold is okay for this chemically resistant elastomer
The Perplast ICE G75LT offers a combination of "excellent" chemical resistance and low-temperature performance. This perfluoroelastomer material has been specifically developed to perform under extreme conditions, in temperatures as low as –40°C or lower. The elastomer has been formulated to provide increased resistance to a broad range of chemicals by carefully controlling the molecular architecture. Also, this material has low permeability and as a result, it is less prone to swelling, leading to extended in-service performance in valves, pumps and mechanical seals. Said to be ideal for use in exploration and completion applications, and equipment operating or stored in sub-zero conditions, Perlast ICE G75LT is suitable for both dynamic and static applications and can be fully molded into O-rings (any size up to 2.5-m internal dia.) and custom shapes. — Precision Polymer Engineering Ltd., Blackburn, England
www.prepol.com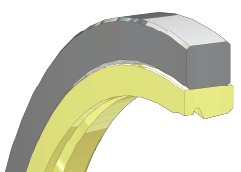 Repack-S
This composite improves hydraulics sealing performance
High-frequency, hydraulics cylinder operation is particularly demanding on seals. Traditional wedge-profiled PTFE composite seals are prone to early failure under the effect of repetitive short strokes and often dry-running conditions. This French seals maker has developed a better alternative — the Danastep HF seal. It uses a modified PTFE seal profile by adding a back heel for additional stability, as well as a rectangular elastomer energizer, making it impossible for the PTFE seal to tilt and break free. In addition, the PTFE grade is capable of sustaining dry running conditions. The seal fits within standard ISO/DIN grooves. — Repack-S, Cuisery, France
www.repack-s.com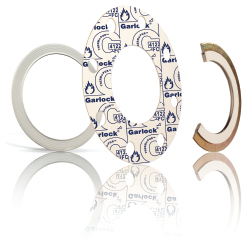 Garlock Sealing Technologies
This high-temperature sealant is also available in sheets
This company's Therma-Pur ultra-high-temperature sealing material (photo) is now available in sheet form and in cut gaskets. Since its production in 2011, the material has been field proven to seal connections in biomass gasification, marine and land-based exhaust systems, turbochargers, mineral and fertilizer processing, incineration and cogeneration. The material is available in 40  40 in. sheets with an available fiber core thickness of 1/16 and 1/8 in. It is also available in pre-cut gaskets as well as in Kammprofile and corrugated metal gaskets. The proprietary material provides sealing at temperatures of up to 1,000°C, including extreme thermal cycling conditions. Because of its low organic-fiber content and non-oxidizing formulation, Therma-Pur exhibits only minimal weight loss at these extreme temperatures. — Garlock Sealing Technologies LLC, Palmyra, N.Y.
www.garlock.com
Save on maintenance and operating costs with this elastomer
Kalrez perfluoroelastomer parts, such as O-rings, gaskets, valve seats or diaphragms, can withstand aggressive chemicals and maintain tight seals over a very wide temperature range. In real-life applications, the seals have been shown to save from 10 to 200% in total system operating costs in chemical, pharmaceutical and petrochemical processes, says the company. Data on file at the company showed that seal lifetimes of O-rings in an aggressive chemical process were about six months for non-perfluoroelastomer O-rings and about three years for Kalrez, resulting in savings of 98% in cost of O-ring seals, installation, downtime and loss or productivity, says the manufacturer. — DuPont Performance Polymers, Wilmington, Del.
www.dupont.com