New Products & Services
May 1, 2013
Focus on Mixing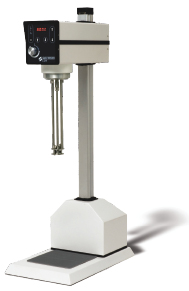 Silverson Machines
A laboratory mixer that supplies data for scaleup
The L5 Series laboratory mixers are suitable for R&D, quality analysis and standard laboratory work. The mixers have a capacity range from 1 mL up to 12 L, and are able to mix inline with flowrates up to 20 L/min. Each machine is constructed with wetted parts in grade 316L stainless steel. The L5M-A laboratory mixer features touchscreen control with digital tachometer, programmable integral timer and amperage display, which is invaluable in scaling up production, where validation and reproducibility are crucial, says the company. — Silverson Machines Inc., East Longmeadow, Mass.
www.silverson.com
This drum mixer fits on a laboratory bench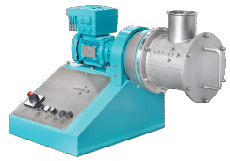 Lödige Maschinenbau
The new Ploughshare Type N 5 laboratory mixer features a drum with a volume of 5 L. The mixer was conceived as a compact, table-top model, and comes completely assembled, tested and thus ready for use. The control unit is an integral part of the housing. The speed of the mixer shaft is infinitely adjustable. The detachable front plate can be rotated for filling and emptying the mixing vessel through the same neck, which also facilitates cleaning. A range of optional accessories is available, including a feeding hopper or spray lid for dosing liquid products. —
Gebr. Lödige Maschinenbau GmbH, Paderborn, Germany
www.loedige.de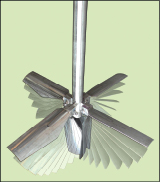 Sharpe Mixers
If the port is too small, consider this folding impeller
This new high-performance folding impeller is suitable for new and retrofit installations where tank entry is not practical or too expensive. The Folding Blade Hyflo 218 Impellers feature a hydrofoil-style, four-blade design that folds for easy installation, and opens with centrifugal force, locking in place when fully opened. Available in sizes up to 210-in. dia., these folding impellers enable greater flexibility in tank designs, and the blade-locking mechanism can be accessed from outside the tank for removing the mixer, if necessary. Retrofit applications include side entry for large storage tanks, or top entry when the tank service has changed and a new mixer is required. — Sharpe Mixers, Seattle, Wash.
www.sharpemixers.com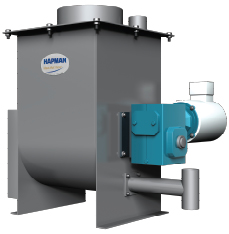 Hapman
Blending can also be performed by this screw feeder
This new Screw Feeder is designed to efficiently measure ingredients and consistently deliver material to the process. Available with either volumetric or gravimetric controls, the feeder features an optional integral agitator, which enables the feeder to effectively operate as a dry material mixer. The unit can blend multiple dry materials, combine thick, wet mixes, and break up solid lumps. The trough is available in 304 or 316 stainless steel, carbon steel, or special alloy material, and can be customized for specific applications. — Hapman, Kalimazoo, Mich.
www.hapman.com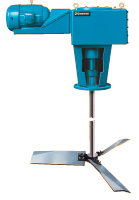 Chemineer


A robust agitator that comes in many sizes
The HT Turbine Agitator features a unique design that results in high strength, low wear, quiet operation and minimal maintenance, says the manufacturer. The device has output speeds of 5 to 350 rpm; a compact, right-angle gear drive; and tapered roller bearings with service rated to over 100,000 hours (L-10) life. Thirteen standard drive sizes are available, from 1 to 1,000 hp. A wide variety of mountings, shaft seals and impellers are available. — Chemineer, Inc., Dayton, Ohio
www.chemineer.com
A blender for mixing hot, sticky materials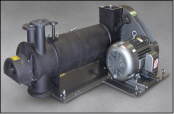 Munson Machinery
The new high-temperature, high-intensity continuous blender, Model HM-165-AR, mixes asphalt, paints, resins adhesives and other abrasive, sticky or tacky compounds, slurries, emulsions and pastes that require heat to maintain consistency. The unit's horizontal, cylindrical vessel with a single agitator is supported by externally mounted flange-block bearings. It can blend at rates up to 2,000 ft
3
/h without sacrificing retention time for homogeneous blending or coating, says the manufacturer. Homogeneous blends can be achieved in 15–60 s residence time, depending on the material characteristics. —
Munson Machinery Company, Inc., Utica, N.Y.
www.munsonmachinery.com
A static mixer for adjusting bitumen viscosity and density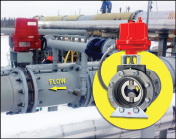 Westfall Manufacturing
This company has introduced a static mixer for bitumen processing that mixes multiple diluents to the correct viscosity and density, which allows pumping over a wide range of flowrates. The Model 290 Variable Flow Static Mixer is combined with the company's wafer-style static mixer to achieve a low coefficient of variation (CoV) of injected diluents. Capable of achieving a uniform concentration of injected materials within a short downstream distance, while meeting the maximum pressure-loss criteria, this mixer reduces consumption of the bitumen diluents, says the company. Accommodating flowrates at up to a 20-to-1 turndown ratio, the mixer is made from 316L stainless steel and is available in sizes from 2- to 60-in. dia. —
Westfall Manufacturing Co., Bristol, R.I.
www.westfallmfg.com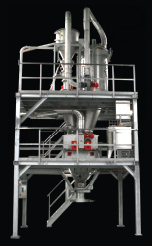 Dinnissen


This mixer is also an energy-efficient dryer
The Pegasus Mixer features a double-shaft paddle mechanism that gently throws powders, granules and granulates into the air during mixing. The fluidized zone created allows the multifunctional processing unit to mix ingredients extremely gently, quickly and energy-efficiently, says the company. The new drying functionality built into the mixer also takes advantage of this fluidized zone, and prevents agglomeration during the drying process. — Dinnissen B.V., Sevenum, the Netherlands
www.dinnissen.nl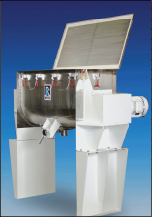 Charles Ross & Son
Mix solids of modest bulk density with this ribbon blender
The 42B Model Ribbon Blenders are used for blending of powders or other solid raw materials with a bulk density of 35 lb/ft3 or lower. The blender features stainless-steel wetted parts (polished to 60-grit finish); a solid-shaft double-ribbon agitator designed for center discharge; a knife-gate discharge valve; clamps to eliminate dusting and fume migration; safety limit switches to prevent operation when covers are raised; and more. Units are available from 0.5 to 1,000 ft3 of working capacity. — Charles Ross & Son Co., Hauppauge, N.Y.
www.mixers.com
Side mixers with fixed-angle and swivel configurations
The Cutlass side-entry mixers now include the BSE-R fixed-angle and BSE-R swivel models. The mixers design features an easy-to-remove, cartridge-style mechanical seal that allows more room to access and maintain bearings and seals. The shaft is precision-machined to reduce vibration and to increase bearing life. Vibration and temperature sensors can be mounted on pads cast into the housing to monitor the unit while in operation. The drive is protected by a rigid belt cover with quick-release captive fasteners and a polycarbonate viewing window for checking the belt. When coupled with a Lancer Advanced Pitch Propeller, the Cutlass can yield energy savings of 30% or more for elimination of basic sediment and water in crude-oil tanks, says the company. — Philadelphia Mixing Solutions, Ltd., Palmyra, Pa.
www.philamixers.com
A micro static mixer improves bromination reactions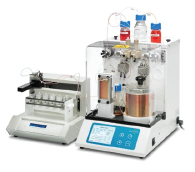 Uniqsis
This company has released an application note that describes a continuous flow methodology for electrophilic bromination that offers "excellent" control of both temperature and mixing using a proprietary mixer chip. Using the static mixer chip on a FlowSyn flow-chemistry system controls both mixing and temperature, which makes bromination become a titration and the reaction can be performed under elevated temperatures. The chip-based bromination can be scaled to 28 g/h, says the company. The FlowSyn is a compact, integrated continuous flow-reactor system designed for easy, safe and efficient operation. The FlowSyn range includes models for performing single or multiple homogeneous or heterogeneous reactions, either manually or automatically. —
Uniqsis Ltd., Shepreth, U.K.
www.uniqsis.com
Gerald Ondrey