New Products & Services
June 1, 2013
Focus on Explosion Protection
This flowrate totalizer has
an explosion-proof enclosure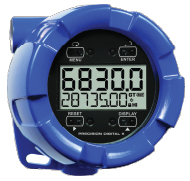 Precision Digital
The PD6830 ProtEX-RTP Pulse Input Rate/Totalizer has a rugged, explosion-proof, NEMA 4X enclosure and is designed for the quick and easy display of local or remote flow information in hazardous areas. The SafeTouch through-glass buttons allow operation without removing the cover. Flowmeter k-factor units are automatically converted to the desired display units. The meter has FM, ATEX, CSA, IECEx and CE approvals. —
Precision Digital Corp., Holliston, Mass.
www.predig.com
A new generation of relief valves for explosion-pressure venting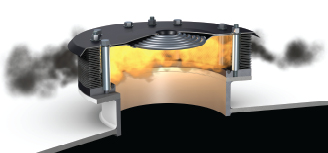 Hoerbiger Ventilwerke
EVN 2.0 is this company's latest generation of relief valves. It combines a number of technical innovations, offering maximum reliability in flameless explosion-pressure venting. The EVN 2.0 combines the latest standard, according to EN 16009, with the proven benefits of vacuum-proof, nearly maintenance-free construction. The EVN 2.0 is available in different materials, ranging from standard carbon steel to a stainless-steel variant for the food industry. A variety of O-ring materials is also available to match a wide range of applications. — Hoerbiger Ventilwerke GmbH & Co. KG, Vienna, Austria
www.hoerbiger.com
Ashcroft
Accurate pressure transmitters for hazardous areas
The A2, A2X and A4 pressure transmitters are heavy-duty sensors with accuracies up to ±0.25% full scale. The A2 is available with a wide variety of electrical connections, analog output signals and pressure ports for most industrial applications. The A2X (explosion- and flame-proof) and A4 (intrinsically safe) configurations are designed for hazardous environments. — Ashcroft Inc., Stratford, Conn.
www.ashcroftinc.com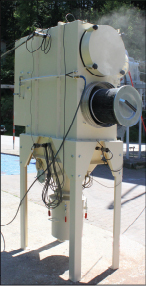 Infastaub




Cartridge filters proven safe for hybrid mixtures
The pressure-shock-resistant cartridge filter MPR was designed for the filtration of sticky and lung-current, harmful or toxic dusts as well as suspended matter or powders with active pharmaceutical ingredients (APIs). An additional risk potential is caused by hybrid mixtures that might result from solvent-containing substances in the pharmaceutical industry. Explosion tests (photo) have now demonstrated that the MPR also copes with extreme explosion conditions under which it can be safely operated. The filter is equipped with constructive measures for explosion protection. Therefore, explosion overpressure of only 1 barg (maximum) can be measured inside the filter, in spite of missing explosion pressure relief. A special flame filter is mounted inside to prevent flame spread on the clean gas side. — Infastaub GmbH, Bad Homburg, Germany
www.infastaub.de
FB dryers with automated explosion-suppression systems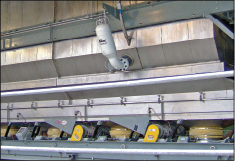 Witte
Vibrating fluidized-bed (FB) dryers and coolers from this manufacturer are available with an optional, high-pressure design to accommodate the addition of third-party, automated explosion-suppression systems. Offered upon request, the sealed design features reinforced 12-gage steel throughout plus 25% more clamps than on standard designs to handle the rapid pressure increase that occurs when an explosion suppression system is triggered. Covers, pans and panels remain safely intact, says the company. The FB coolers and dryers are specified when drying food, chemical, pharmaceutical, mineral and other products that may generate combustible, fine particles and airborne dust (such as sugar, corn starch, clay, aluminum and fertilizer). —
Witte Co., Washington, N.J.
www.witte.com
The CV-S explosion vent now has a rectangular shape
This company has released the rectangular version of its popular CV-S explosion vent. Specifically designed to provide non-fragmenting opening when protecting industrial process equipment, the CV-S explosion vent is said to provide superior protection in applications such as air-material separation, drying, conveyance and processing operations. The CV-S vent is designed to support robust cycling and applications where the operating pressure approaches the burst pressure, or where moderate vacuum pressure exists. The rectangular shape is available in sizes ranging from 9 × 12 in. up to 44 × 69 in., as well as metric and custom sizes. — Fike, Blue Springs, Mo.
www.fike.com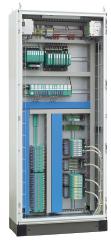 Pepperl+Fuchs
Cabinets, enclosures and process interfaces for Ex areas
This company's global network of explosion-protection specialists and engineers, as well as more than 60 years experience form the knowledge database that makes it a leading company when dealing with explosion-hazardous areas. A recent example is the invention of DART (dynamic arc recognition and termination), which detects a spark caused by opening or closing an electric circuit, and switches off the circuit within a few microseconds. Thus even at higher power levels, sparks never become inductive. Within the FieldConnex product line, several DART fieldbus modules are already available, but there are also new developments with remote I/O systems and intrinsic safety barriers. — Pepperl+Fuchs, Inc., Twinsburg, Ohio
www.am.pepperl-fuchs.com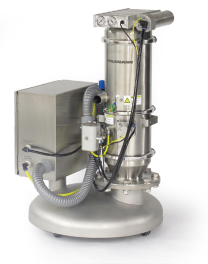 Volkmann
Load reactors safely with this vacuum conveying system
The INEX vacuum-conveying reactor loader uses a patent-pending nitrogen purging function, which reduces the oxygen content within the unloaded batch to below 7% (or lower when required), thereby maintaining the material's inert safety while providing dust-free transport. Used for the vacuum transfer of dry or wet powder and granules into potentially hazardous conditions, the INEX features a closed station that can be flushed from within by sucking in the washing liquid through WIP/CIP. Standard lightweight and pressure rated systems are available with INEX functionality. — Volkmann, Inc., Hainesport, N.J.
www.volkmannusa.com
Explosion protection for spray dryers
The flat bursting panel Ex-Go-Vent-Hyp has been developed for hygienically demanding applications found in the food-processing and pharmaceutical industries. The smooth surface, in connection with the patented, full-surface and tapered sealing concept, enable the implementation of these special bursting panels in critical plants, such as spray dryers with (or without) wet cleaning, fluidized-bed dryers, filters and mixers. — Rembe GmbH, Brilon, Germany
www.rembe.de
Flange heaters for use in Ex d areas
This company's tubular flange heater has received additional IEC Ex "d" flameproof certification. Some available features include capabilities for Ex d IIC: T1-6 Gb, operation up to 80°F and enclosed anti-condensation heaters. These heaters are designed for heating liquids and gases in tanks, pressure vessels, vaporizers and similar equipment for applications from 40 to 4,000 kW. They are made with Watrod or Firebar tubular elements that are brazed or welded to a flange. — Watlow, St. Louis, Mo.
www.watlow.com
Gerald Ondrey