New Products & Services
November 1, 2012
weftec 2012 the water quality event
Weftec 2012, the Water Environment Federation's 85th annual technical exhibition and conference, attracted over 17,000 attendees on September 29 – October 3, 2012 at the Morial Convention Center in New Orleans, La. With 980 exhibiting companies, the following is a small sampling of products and services that were on the exhibition floor.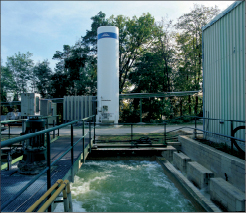 Linde North America
Gas treatment systems for wastewater treatment
Water and wastewater treatment plants can control pH, biological oxygen demand (BOD), dissolved organics and odors with high-performance, gas-injection systems from this company. It offers oxygen, ozone and carbon dioxide gas-dissolution systems that can significantly improve treatment process efficiencies while helping to meet environmental requirements. To decrease BOD, dissolved organics and odors, the Solvox process offers an effective supplement or replacement to forced-air systems. The Solvocarb process (photo) is a fast and economical way to neutralize alkaline wastewater with a high degree of control using CO2. When dissolved in water, CO2 forms carbonic acid to quickly reduce pH to appropriate levels for discharge. — Linde North America, Murray Hill, N.J.
www.lindeus.com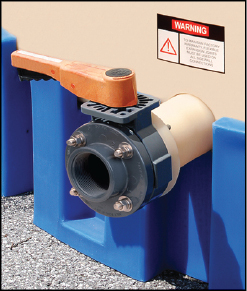 Assmann
A wide range of tanks and a special drain assembly
The patent-pending Full Drain Outlet (FDO) assembly (photo) for tanks of 2,500 gal and larger provides the ability to drain the tank without mechanically installed nozzles. This tank is utilized where heavy solids or salts may accumulate in the bottom of the tank. This company's full line of corrosion- and chemical-resistant tanks and containers include double wall, vertical, horizontal and conical tanks and chemical feed stations, constructed from crosslink or linear polyethylene for storing corrosive and hazardous materials. The tanks feature a wide range of capacities up to 12,000 gal. — Assmann Corp. of America, Garrett, Ind.
www.assmann-usa.com
A disinfection solution that is an alternative to chlorine
Launched in May the Environmental Solutions Division (ESD) of this company integrates the company's portfolio of products to provide a new, proven wastewater-disinfection solution that offers wastewater facilities a more environmentally benign alternative to traditional chlorine technology. VigorOx WWTII is a peracetic acid formulation that controls pathogens and other microbial organisms in streams such as sewage effluent and cooling water applications. The VigorOx WWTII system is a turnkey dosing solution that includes chemical pumps, a pump controller, injection system, chemical containment system and residual analyzers. — FMC Environmental Solutions, Philadelphia, Pa.
environmental.fmc.com
An ultrasonic level transmitter for wastewater applications
The Optisound VU3X Series of continuous ultrasonic level transmitters was introduced to meet specific level or open-channel flow measurement needs for industrial and municipal applications. The Optisound VU30 ultrasonic transmitter provides reliable, repeatable and accurate (0.15%) continuous level measurement of liquids. It is capable of liquid level measurement to ranges up to 30 ft, with a 2-wire, 4–20-mA HART output signal. The Optisound VU30 sensor is constructed of chlorinated polyvinyl chloride (CPVC) for use in environments that are classified hazardous (Class I, Div. 1) with intrinsically safe or explosion-proof installation requirements, temperature ranges from –40 to 158°F and with process pressures up to 50 psig. The series features patented algorithms that allow the system to ignore most internal vessel obstructions that may be positioned directly in the ultrasonic beam path without the need for user intervention. The sensor also can be recessed in vessel nozzles to allow measurement to the very top of the vessel. — Krohne, Peabody, Mass.
www.us.krohne.com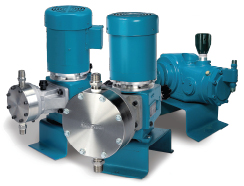 Neptune Chemical Pump
Pumps designed for water applications are showcased
The Series 7000 mechanically actuated, diaphragm metering pump (photo) has been designed specifically with water and wastewater applications in mind. The mechanical design of the Series 7000 eliminates the use of contour plates on the liquid side of the diaphragm while the simple, straight-through valve and head design allows for improved flow characteristics. The Series 7000 is self-priming and has a maximum capacity range up to 300 gal/h at 150 psi. — Neptune Chemical Pump Co., North Wales, Pa.
www.neptune1.com



For more, see the Online Extras tab at the top of this article.