New Products & Services
June 1, 2012
ACHEMA 2012 Show Preview
The benefits of solvent-free processing
List
Dry processing — processing in the concentrated phase, with minimal or zero use of solvents — is efficient, economical, and ecological, according to this company. Applications in polymer processing include polymerization and direct devolatilization. Operating at viscosities up to 100,000 Pas, the firm's Kneader Reactor process technology ensures consistently high product quality and eliminates or at least significantly reduces costs of solvents and recycling. The result is a technology offering a high degree of process flexibility and lower total cost of ownership. Excellent mixing behavior, low shear rates and plug flow contribute to a wide operational window and consistent product quality, even at high capacities. The closed system ensures environmentally friendly operation, with residual monomer contents below 10 ppm. Hall 5.1, Stand D92 —
List AG, Arisdorf, Switzerland
www.list.ch
Reliable feeding and discharge under extreme conditions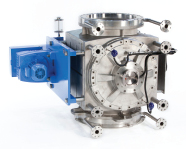 Zeppelin Systems
The Rotary Feeder CFH 630 has been designed to ensure reliable feeding and discharge of product, even at pressures and temperatures of 6 bars and 200°C. The feeder housing is sealed from the process while material is conveyed at rates of up to 100 ton/h. Normally, high temperatures and pressures cause different expansion and deformation of the rotor and the housing. To compensate for these factors, the CFH 630 housing is heated by an integrated temperature control system, which helps to minimize the gap and thus the air leakage. Hall 6.0, Stand A52 —
Zeppelin Systems GmbH, Friedrichshafen, Germany
www.zeppelin-systems.com
Dry sludges and pastes in two ways with one unit
The Combi Fluidization Technology (CFT) combines contact and fluidized-bed (FB) drying, and is especially suitable for the treatment of sludges and pastes. The FB in this horizontal dryer is produced mechanically by a rotating paddle system. For processes under atmospheric pressure, steam can be applied as an additional heat-transfer medium and also serve as inertization. In the CFT dryer, the wet product is immediately encapsulated by the dry product, is evenly distributed throughout the dry product and is dried efficiently. By encapsulating the wet feed, sticky phases or forming crusts on the wall are largely avoided. Hall 4.0, Stand B24 — Buss-SMS-Canzler GmbH, Butzbach, Germany
www.sms-vt.com
A wear-resistant rotary valve for abrasive bulk solids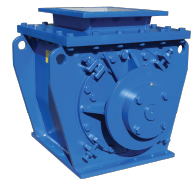 Kreisel Umwelttechnik
This company has developed a hygienically pure and safe conveyor system for metering and transporting bulk materials. Capable of transporting more than 100 ton/h over distances of over 1 km, every system is energy-optimized and adapted to the user's requirements. Also being exhibited are the wear-resistant rotary valves, which deliver high performance and high throughput, and are said to increase service life by a factor of 10 to 20 compared to steel valves (depending on the material being conveyed). — Hall 6.0, Stand B82 —
Kreisel Umwelttechnik GmbH & Co. KG, Krauschwitz, Germany
www.kreisel.eu
Tube-in-tube design augments safety in these heat exchangers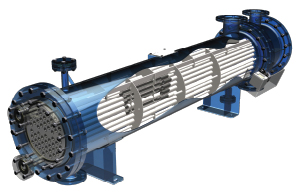 Funke Wärmeaustauscher Apparatebau
In addition to plate heat exchangers in bolted, brazed, semi- and fully-welded designs, this company will exhibit several products with the shell-and-tube heat-exchanger design. A highlight is the refined safety of the SWP shell-and-tube exchanger, which is based on a tube-in-tube combination that creates a safety space and prevents the operating media from mixing. Also at Achema will be two special types of plate heat exchangers: the FPG, with two plates welded together into a cassette; and the FPDW, with the two plates welded together at the potring to form a leakage space between the plates. Hall 4.0, Stand G24 —
Funke Wärmeaustauscher Apparatebau GmbH, Gronau/Leine, Germany
www.funke.de
Distributed signals with a single turn in the field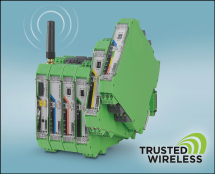 Phoenix Contact
The new Radioline wireless system is designed for wireless signal transmission at large facilities. Input/output (I/O) mapping is one feature that distributes signals from up to 250 stations within the system without any software. Input signals receive I/O addresses via thumb wheels, with these addresses being mapped to corresponding output modules. Because identical signals can be outputted several times, it is possible to set up smart distribution and signal multiplication in the field. Hall 11.1, Stand A27 —
Phoenix Contact
GmbH & Co. KG, Blomberg, Germany
www.phoenixcontact.com
Perform multiple spectroscopies with a single touch
The Nicolet iS50 FTIR (Fourier transform infrared) spectrometer is said to be the first research-grade FTIR with one-touch operation. The device features integrated Raman for an accessible and cost-effective complement to IR characterization, dedicated NIR (near infrared) designed to assist development of quality control methods for bulk samples and touch points for collecting, analyzing and reporting results with one-touch simplicity. Users can initiate attenuated total reflectance (ATR), Raman and NIR modules at the touch of a button, enabling access to these techniques without manually changing system components. Hall 4.2, Stand B7 — Thermo Fisher Scientific, Dreieich, Germany
www.thermoscientific.com
Moving-object simulations improved with this new version
This company recently released STAR- CCM+ v7.02, a major new version of its multidisciplinary engineering simulation solution. The release features a new Overset Mesh capability that allows users to generate an individual mesh around each moving object, which can then be moved at will over a background mesh. The Overset Mesh capability is fully compatible with the full range of unstructured mesh options in STAR-CCM+. With no need to worry about interconnecting meshes or cell distortion, Overset Mesh brings genuine moving object simulation within the grasp of all engineers, says the company. Hall 9.2, Stand C10 — CD-adapco, London, U.K.
www.cd-adapco.com
A level detector for hard-to-reach areas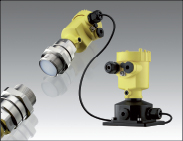 Vega Grieshaber
The microwave barrier VegaMIP R62 is a non-contact sensor that can detect the limit level of solids and liquids in poorly accessible locations. Designed to meet the demands of the bulk solids industry, the device can detect the limit level under adverse environmental conditions, such as dust, fog or high temperatures. It consists of a VegaMIP T61 transmitter and a receiver, which measures the attenuation of the received microwave signal and generates a switching signal. For hard-to-reach or dangerous areas, there is now the receiving unit R62 with remote control, which allows the control unit to be placed in a safe, accessible location. Hall 11.1, Stand C63 —
Vega Grieshaber KG, Schiltach, Germany
www.vega.com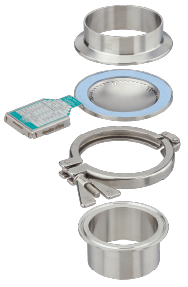 Rembe
A rupture disc for pristine processing applications
One of the highlights at this company's stand is the new TC(R)-KUB reverse-acting bursting disc with Gylon gasket, which utilizes the synergies from both the inspected and proven KUB Technology (reverse-acting bursting disc) and the high-tech development found in a Gylon Gasket. This new bursting disc can be installed in any industrial or chemical area requiring absolute sterility and permeability, for example in the pharmaceutical, biotechnological and food-processing industries. Hall 9.1, Stand C26 — Rembe GmnH, Brilon, Germany
www.rembe.de
Many parameters are handled by a single transmitter
The new Signet 9900 SmartPro Transmitter features multi-parameter capabilities, flexible modularity and an auto-sensing, backlit display with "at-a-glance" visibility, even in dark conditions. The transmitter provides a single-channel interface for many different parameters, including flow, pH/ORP, conductivity/resistivity, pressure, temperature, level, salinity and other sensor types that output a 4–20-mA signal. This single-channel, multi-parameter capability and field-upgradable modularity allow users to increase their service level while maintaining reduced inventory levels, says the company. The 9900 is available in both panel or field-mount versions. Hall 8.0, Stand E64 — Georg Fischer Piping Systems Ltd., Schaffhausen, Switzerland
www.piping.georgfischer.com
A top-mounted agitator with smart electronics
The new Type MU electric agitator combines efficient agitator technology with the advantages of modern electronics. The controllable agitator has been adapted for the dosing of tanks with volumes of 100 to 1,000 L. Four different modes of operation are provided by the electronics, and the speed can be adapted for different viscosities. The agitators are suitable for both batch and intermittent operation. Hall 8.0, Stand K63 — sera ProDos GmbH, Immenhausen, Germany
www.sera-web.com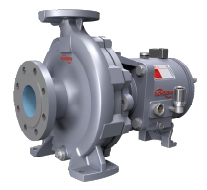 Flowserve
This ANSI pump now has an ISO companion
An expanded range of this company's Durco Mark 3 ISO chemical-process pumps will be launched at Achema. The Durco Marc 3 ISO pump range is fully compliant with ISO 2858 (dimensional) and ISO 5199 (design) criteria, and is designed using state-of-the-art hydraulic and modeling software with knowledge gained from more than 30 years of experience with the company's ANSI/ASME B73.1 Durco Mark 3 ANSI pump. Both ANSI and ISO pump versions feature the IPS Beacon condition monitoring device — a data acquisition, logging and visual alert device that is designed to monitor vibration in addition to temperature. Constructed of stainless steel and mounted on top of the bearing housing, the IPS Beacon delivers early warning notification to users, allowing them to take proactive measures to extend bearing life and mechanical seal of the pump. Hall 8.0, Stand A64 — Flowserve Corp., Irving, Tex.
www.flowserve.com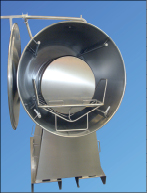 Müller
This washing machine cleans drums in a few minutes
The Drum Washing Machine DCM cleans the inside and outside of 30–200-L drums, with a washing cycle of 5–10 min. Cleaning nozzles within the system can be connected directly to a facility's water loop (2 bars pressue, 35 L/min flowrate), and separate connections for inside and outside washing enables a reduction of water consumption. The units are constructed of stainless steel with EPDM seals. Hall 3.1, Stand A75 — Müller GmbH, Rheinfelden, Germany
www.mueller-gmbh.com
This established machine now bags even faster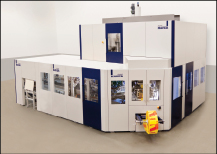 Haver & Boecker,
The Haver Adams will be the centerpiece of this firm's exhibition. Since its launch six years ago, this packaging system, which uses the Form-Fill-Seal principle, has been improved to meet users demands for speed and product variety. Today, products with poor flow properties and powder-type products with granular components and micro-granulates can be packed into compact, sealed, weather-tight bags at the rate of 2,000 bags per hour. The advantages of this kind of durable packaging include extended storage times in wind and weather, a guaranteed cleanliness along the entire supply chain and an improved price-to-benefit ratio, says the manufacturer. Hall 3.0, Stand F38 —
Haver & Boecker, Oelde, Germany
www.haverboecker.com
This barrel pump is safer by design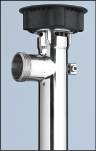 Flux-Geräte
The FP 430 S Ex is the first model of a new barrel pump series with improved explosion protection. The pump features the FLUX zone separation, a design measure that separates the ball bearing in the upper area of the pump from Zone 0. This causes natural ventilation of the area below the ball bearing and makes carryover of explosion hazard Zone 0 due to an undetectable leak impossible by design. At the same time, heavy sealing damage can be detected faster because any transferred medium that rises can drain off. All of the company's barrel pumps are examined by
Physikalisch-Technische Bundesanstaldt
(BTB) and receive EC-type examined certificates. The first barrel pump of the new series FP 430 S Ex will be available from October. Hall 8.0, Stand E10 —
Flux-Geräte GmbH, Maulbronn, Germany
www.flux-pumpen.de
This metering pump can now have a PVC liquid end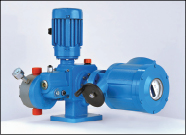 Lewa
The diaphragm metering pump, ecosmart is a flexible and very integration-capable pump that meets this companys strict quality demands — and still at an attractive price. To cover a wide range of applications, in parallel with the high-quality components — the stainless-steel pump head (316L, alloy 20), the PTFE sandwich diaphragm, diaphragm monitoring and the diaphragm protection system (DPS) — four sizes up to 300 L/h were developed. Now an option with a PVC pump head is available. That means the ecosmart can even be used in applications that require good resistance against highly aggressive chemicals. The PVC pump head can be used at pressures up to 12 bars and at temperatures of up to 60°C (stainless steel: up to 80 bars and up to 120°C). Hall 8.0, Stand C62 —
Lewa GmbH, Leonberg, Germany
www.lewa.de
An Ex-proof Coriolis flowmeter for small flowrates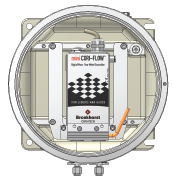 Bronkhorst Cori-Tech
The mini CORI-Flow Series Coriolis mass flowmeters are now available with IECEx and ATEX approval II 2G Ex d IIC T6 for use in hazardous areas. Suitable for both liquid and gas flow applications, these flowmeters cover flowrates from 0.1 g/h to 30 kg/h and can be used in systems with pipeline pressures up to 138 bars (2,000 psi). The devices offer integrated PID control for close-coupled control valves or pumps, enabling compact Coriolis mass-flow control loops. The instruments also offer both analog and RS-232 communication, optional fieldbus interfaces and additional functions, such as alarms, totalizer (to measure fluid consumption) and batch dosing. Hall 11.1, Stand F3 —
Bronkhorst Cori-Tech B.V., Ruurlo, The Netherlands
www.bronkhorst-cori-tech.com
Fast transmitter supply units optimized for SIL applications
Type 9160 transmitter supply units from this company's ISpace product line are now available as completely revised versions. In addition to a new model with an intrinsically safe interface for standard voltage signals, a SIL-3 (safety integrity level) version has been added for functional safety applications according to IEC EN 61508. Users can design the sensor part of a safety function as a single-channel version according to SIL 3, or, in two-channel setups, extend the required test cycles. These transmitter supply units enable space-saving installation in the cabinet on both DIN rails and via the pac-Bus system. Hall 11.1, Stand E41 — R. Stahl, Waldenburg, Germany
www.stahl.de
Pre-engineered modules for analyzers and control systems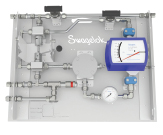 Swagelok
Designed for improved system operation and efficiency, the Fast Loop Module (FLM) helps reduce time delay in online analyzer systems. Part of the company's Pre-Engineered Subsystems, the FLM is predesigned and preassembled for off-the-shelf installation into fluid-sampling and control systems. The FLM is designed to handle long transport lines from tap to analyzer, while minimizing pressure drop for faster response time. Key safety and efficiency features help eliminate accidental actuation, water hammer, excess sample/flare disposal and leak points. For example, a three-way design for the bypass valves allows flow to switch gradually from sample mode to bypass mode, making full shutoff impossible. This design eliminates extreme pressure spikes, which can damage system components. Hall 8.0, Stand D24 —
Swagelok Co., Solon, Ohio
www.swagelok.com
Mechanical seals for high-pressure reactors
The new mechanical seal ESD64HD has been further developed for working under pressures up to 100 bars. Even a bottom entry application is said to be reliable and manageable. The triple-acting ESD64HD with two seal chambers can be used in processes up to 200 bars and temperatures up to 400°C. The seal supply systems are adjusted to meet the operating conditions. Individual risk analyses guarantee safe operation, even with the most demanding processes, says the manufacturer. Hall 5.0, Stand D42 — Ekato Group, Schopfheim, Germany
www.ekato.com
A portable device for quick and easy viscosity measurements
The Myr series VP 1000 and VP 1000 M viscometers are used to measure viscosity in samples from different sectors of the CPI, including chemical, pharmaceutical, cosmetic, coating, food and printing. The portable devices enable quick and accurate viscosity measurements in both quality control laboratories and in production plants. The units are totally intuitive in their operation, and are available in four different versions, each having a fixed speed of 20, 30, 50 and 60 rpm. Hall 4.1, Stand K19 — Viscotech Hispania, SL, El Vendrell, Spain
www.viscotech.es
Third generation valve diagnostics from Metso
Well performing control valves play a key role ensuring process availability, safety and end-product quality. With the help of the new Metso Valve Manager, the most essential valve diagnostic information is presented to operators in the most effective and reliable way. The result of this enhanced clarity is that more correct maintenance decisions are routinely made. When correct maintenance decisions are made, it will improve control valve performance and through that, third-generation valve diagnostics helps to improve plant availability, safety and end-product quality. Hall 9.0, Stand B21 — Metso Corp., Helsinki, Finland
www.metso.com
Safely perform contained operations with this compact isolator
The Filterbox is said to be the optimum contained filtration and drying solution for handling highly potent APIs (active pharmaceutical ingredients) and other highly active or cytotoxic compounds, as all operations can be performed in a completely contained environment. The Filterbox provides a more compact design compared to a traditional separate Nutsche-filter dryer and contained products. The system enables the following operations: filtration and drying with the company's Filter Dryer; contained sampling; discharging, dispensing and packaging; safe and contained base opening and washing; and filter mesh inspection and swapping. The FilterBox is easily scalable for laboratory and industrial production. Hall 5.1, Stand C31 — Powder Systems Ltd (PSL), Liverpool, U.K.
www.powdersystems.com
Centrifuge pumps with a number of enhanced features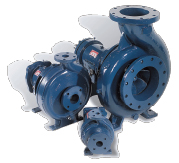 Griswold Pump
The 811 Series Centrifugal Pumps feature "superior" open impeller and seal chambers, which facilitate corrosive and abrasive substance transport, heat regulation and routine maintenance. The enhanced power frame and rigid base plates minimize the effects of work forces and shaft deflection, thereby optimizing cooling and simplifying the installation and maintenance process, says the manufacturer. These pumps interchange quickly and seamlessly with a variety of ANSI pump models and brands, without piping, baseplate or coupling changes. The pumps can be tailored to meet fluid-processing flowrates up to 4,000 gal/min. Hall 8.0, Stand F43 —
Griswold Pump Co., Grand Terrace, Calif.
www.griswoldpump.com
This diaphragm pump can boost flowrates and efficiencies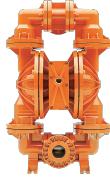 Wilden Pump and Engineering
Available in PP and PVDF, the Advanced Series AODD (air-operated double diaphragm) Pumps provide superior containment since the pumps do not have a mechanical seal or packing that can fail. The pumps also feature a bolted design and single-piece integral piston diaphragm, which eliminates a potential leak point. Full-stroke PTFE diaphragms provide increased product displacement per stroke, resulting in greater flowrates and higher efficiencies compared to pumps that rely on reduced-stroke diaphragms. Hall 8.0, Stand L79 —
Wilden Pump and Engineering, LLC, Grand Terrace, Calif.
www.wildenpump.com
The launch of a new decanter generation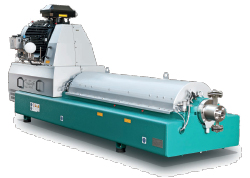 GEA Westfalia Separator Group
This company is launching a completely new decanter generation. This new Ecoforce generation with Summationdrive combines the greatest flexibility for the investment and in operation for all solid-oriented applications, says the manufacturer. The new decanter line offers high throughput capacities and "excellent" separation efficiencies, and is suitable for applications in chemicals, pharmaceuticals, mineral processing and renewable resources. The Summationdrive combined with the configuration of the decanter (in super-deep pond design) ensures a boost in energy efficiency of the Ecoforce decanter fleet by an additional 30%, says the manufacturer. Hall 4.0, Stand F44 —
GEA Westfalia Separator Group GmbH, Oelde, Germany
www.westfalia-separator.com
A double-dimple design keeps the flow flowing in these PHEs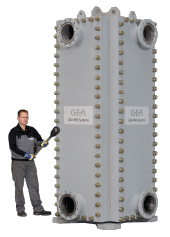 GEA Ecoflex
The GEABloc is a welded, high-performance plate heat exchanger (PHE) designed for extreme pressure (32 bars) and temperature (up to 350°C) ranges. These units feature high heat-recovery rate, extremely low space requirements and a lower price compared to conventional shell-and-tube heat exchangers, says the manufacturer. At Achema 2012, the company is exhibiting its "welded flagship for the chemical industry" with Double-Dimple pattern. This plate design guarantees free flow, particularly for high-viscosity media with simultaneous low pressure-loss when used as a condenser in the vacuum range. The GEABlock is available in six model sizes, and the plate material can be stainless steel, nickel or titanium. Hall 4.0, Stand F44 —
GEA Ecoflex GmbH, Sarstedt, Germany
www.gea-phe.com
These sliding-vane pumps boast a long service life
This company is presenting its Sliding Vane Pumps and System One centrifugal pumps at Achema. The NP Series pumps feature the company's sliding-vane operating principle, which is said to guarantee consistent volumetric performance, even after significant in-service time. This eliminates the efficiency-robbing "slip" that shortens lobe and gear pump life, says the company, and improves production yields by stripping lines of residual product. The NP Series pumps are available in five sizes, with port sizes from 1.5 to 4 in, and covering flowrates from 5 to 500 gal/min (19–1,893 L/min). They handle viscosities from 30 to 20,000 ssu (4,250 cP) at differential pressures of up to 150 psi (10.3 bars). Hall 8.0, Stand F43 — Blackmer, Grand Rapids, Mich.
www.blackmer.com
Biotech pumps feature clean gentle transfer, and more
To meet the strict parameters required for creating biologics, it is critical to use a pump that features a high level of purity and sterility, no mechanical spalling of contact materials, low shear, low pulsation and is self-priming with negative suction lift. The Quattroflow Biotech pumps meet these requirements, featuring no rotating parts that could be subjected to friction in their pump chambers. These pumps can run dry, are self priming and can deliver constant flows from 16 mL/min to 300 L/min. Single-use configurations are available, with replaceable wetted parts, which enables reduced downtime between batches, saving time and money. Hall 8.0, Stand L79 — Quattroflow, Kamp-Lintfort, Germany
www.quattroflow.com
Accurately pack bags onto pallets with this machine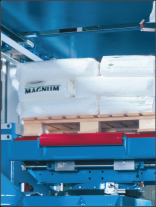 Beumer Group
The Paletpac high-capacity layer paletizer stacks polyethylene (PE) and polypropylene (PP) bags, layer-by-layer, on pallets of all common sizes up to a stack height of 2,400 mm with geometrical accuracy and extreme stability, says the manufacturer. Depending on the requirements, the Paletpac is fitted with a clamp-type turning device or double-belt turning device, which moves the filled bags quickly and gently into the required position. For demanding product-handling tasks, such as bags filled with PE granulates, a ventilated and specially coated layer-stacking table is used; the ventilation produces a cushion of air between bag and stacking table, which prevents bags from sticking to the support surface. Hall 3.0, Stand F50 —
Beumer Group GmbH & Co. KG, Beckum, Germany
www.beumergroup.com
Flexible containment ensured with this isolator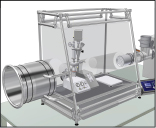 DEC Group
One of the highlights at this company's stand is its newly developed flexible isolator range. Tailored to each operator's requirements, the SafeFlex range of isolators offers improved ergonomics, user-friendly operation and high levels of safety. A newly developed film is tear resistant and allows for reliable protection against cross contamination. After completion of the work process, the films are easily removed and disposed of, thus reducing cleaning to a minimum. The system can achieve OEL values of less than 1 µg/m3, and are designed for handling all products, including those that are toxic or sterile. Hall 5.1, Stand B17 —
DEC Group, Ecublens, Switzerland
www.dec-group.ch
Micro-scored rupture discs offer added benefits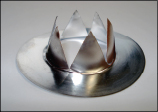 Donadon
This company has developed a laser-ablation process that allows high-precision scoring without negative impact on metal properties. Because the process directly vaporizes and removes material, without melting or oxidizing the surrounding area, the non-through cuts of rupture discs are obtained. The removal of material is extremely clean and is applicable to a full range of material thickness and rupture disc technology, down to very thin (20 microns) sheets used for manufacturing very low burst-pressure discs. The process is applicable to all materials used in rupture disc technology. The company recently introduced its SCD (forward acting) and SCR (reverse buckling) rupture discs with micro-scored calibration sections. The micro-scoring technology makes the discs very flexible so that scoring in six or more sections is possible instead of the usual four. This allows a better opening of the disc, which reduces the risk of petal detachment, even at higher pressures, says the manufacturer. The discs react to excessive pressure in a few milliseconds without fragmentation, have good resistance to corrosion and are especially suitable for protection of relief valves. Hall 11.0, Stand E2 —
Donadon SDD Srl., Corbetta, Milan, Italy
www.donadonsdd.com
This globe valve seals with the approval of EuroChlor
The WTA Bellows Sealed Globe Valve is said to provide the highest fugitive-emission protection for use in the CPI, including chlor-alkali, phosgene and fertilizer applications. WTA products meet the new Euro Chlor Standard, which defines demanding specifications for bellows-sealed globe valves used in chlor-alkali plants. The valve design features a full safety sealing system enabled by multiple-walled bellows, a sealed two-part rising stem, and its satellite coated, conical-shaped piston and seat. Hall 8.0, Stand C94 — Crane ChemPharma Flow Solutions, Lindau, Germany
www.cranechempharma.com
Everything you need from R&D to production
This company's integrated portfolio of products, systems, solutions and services offers high productivity, flexibility and efficiency throughout the entire plant and production life cycle. It will be showcasing its comprehensive range of process and analytical instruments, drive technology, process control, manufacturing execution systems and plant engineering for the entire life cycle — from R&D through process analysis and design, plant engineering and production, to maintenance, optimization and modernization. Hall 11.0, Stand C3 — Siemens, Industry Sector, Industry Automation Div., Nuremberg, Germany
www.siemens.com
A process for (nearly) chemical-free operation of MBRs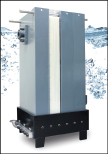 Microdyn-Nadir Group
The newly developed mechanical cleaning process (MCP) for membrane bioreactors (MBRs) is the latest innovation IN
wastewater
treatment processes. One of the biggest challenges of MBRs compared to conventional
wastewater
treatment plants is the relatively high-energy demand of MBR systems. In order to optimize MBR systems regarding the energy demand specifically, the Bio-Cel-MCP process utilizing granulates to mechanically clean the membranes has been developed. The MCP process also allows for almost chemical-free operation, and even more importantly, a significant enhancement of flux. In turn, not only the membrane area required can be reduced (or the output of an existing Bio-Cel installation increased) but also the required volume of the filtration tanks will be significantly smaller. Hence, the overall energy consumption can be reduced substantially. Studies show that the mechanical cleaning process can result in savings in energy and chemicals of up to 27%, says the company. In addition, when using an MBR with MCP, the process stability as well as the operational safety are increased. Hall 5.0, Stand E61 —
Microdyn-Nadir Group, Wiesbaden, Germany
www.microdyn-nadir.de
A gas-liquid reactor for laboratory to production
To date, more than 70 of this company's gas-liquid reaction systems have been built or are under construction worldwide. The scope of supply ranges from key equipment and basic engineering up to the delivery of complete, skid-mounted modular plants requiring only connection to services and utilities. While most of the gas-liquid reactors are for hydrogenations, others in operation include those for amination, carbonylation, hydroformulation and phosphination. More than 40% of the plants have been built for the pharmaceutical industry, in full compliance with the GMP requirements. The design relies on the Biazzi High Performance Reactor, a proprietary reactor designed to overcome the limitations of mass and heat transfer in conventional autoclaves. This reactor can be operated batchwise or continuously, and can be built up to 50 m3 of useful volume, handling temperatures and pressures up to 300°C and 200 bars. Hall 9.2, Stand B4 — Biazzi SA, Chailly/Montreux, Switzerland
www.biazzi.ch
Products for production, from bulk to biotech
Under the theme "Recipes for Success", this company will showcase its solutions for increasing reliability, efficiency and profitability in applications ranging from base chemicals to drug manufacturing using cell cultures. Energy efficiency, especially waste-heat recovery, is one of the focus areas, and visitors can learn about how this company has applied its range of heat exchangers — and the new Aalborg fluegas heat boilers — to help plants increase profits from waste heat. Among the products on display are the Compabloc 120 welded heat exchanger, the M15 gasketed plate heat exchanger, a membrane filter unit, the MBPX 810H high-speed separator, the P2 decanter centrifuge and the ART plate reactor series. Hall 4.0, Stand D4 — Alfa Laval AB, Lund, Sweden
www.alfalaval.com
Produce nitrogen onsite with this membrane system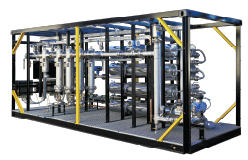 IGS Italia
In addition to its NitroSwing and OxySwing PSA (pressure swing adsorption) N2 and O2 generators, this company is presenting its Membrane Nitrogen Generators. The modules cover a wide range of production from 10 to 1,000 Nm3/h, and incorporate membranes the company manufactures itself, and therefore at a lower cost to the user. The polymers — specifically made for N2 production from compressed air — are said to have low air consumption, with "great saving" in operating costs for producing N2 at up to 99% purity. Hall 5.1, Stand C21 —
IGS Italia S.r.l., Grosseto, Italy
www.isg-italia.com
Determine when lube is aging with this smart sensor

Avenisense
The Cactus is a smart sensor that provides realtime access to oil aging by continuously monitoring a fluid's viscosity, density, relative humidity (water activity) and temperature. The microdevice quantifies the efficiency of the lubricating system (oil film quality) and detects upcoming changes in oil properties, that can lead to failures. Such changes — mainly due to increasing condensation, fuel leaks and oil oxidation — usually happen in the early stage of the failure cycle and cannot be detected using vibration analysis. The Cactus can either be embedded onto engines, turbines, lubrication systems or hydraulic units, or used as a laboratory analyzer. Hall 9.2, Stand C46 —
Avenisense S.A.S., Le Bourget du Lac, France
www.avenisense.com
Find where theres energy to be saved with this program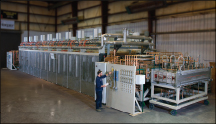 Harper International
This leader in thermal processing solutions for advanced materials will highlight Beacon, its innovative energy efficiency program. This first-of-a-kind program enables manufacturers of advanced materials the ability to evaluate the efficiency of their thermal processing equipment and identify opportunities for improvement. Beacon is part of the company's family of programs, including its Ignite process, which focuses on partnering with clients to ensure successful design of thermal-processing equipment as it is scaled up from the laboratory to full production. A new website,
www.harperbeacon.com
, is now available with a focus on the production of carbon fiber (photo). Hall 6.1, Stand D18 —
Harper International, Lancaster, N.Y.
www.harperint.com
A new concept for modular pharma-plant construction
This company has experience and know-how in the design and fabrication of the process areas of pharmaceutical facilities, using its modular concept. By offsite construction and simultaneous activities at site, the delivery of these highly complex process facilities are time and cost effective. The modular design divides the process into functional and repeatable modules. This allows for standardization and repeatability, which further simplifies prefabrication and improves the predictability of the project. Typically, 75–80% of the total work for the modular buildings is performed in the company's factory, with the remainder performed at the users site. Modules can vary in length from 8.6 to 15 m, width from 3.5–4.45 m, and height 4.1 to 4.5 m. Hall 3.1, Stand C49 — KeyPlants AB, Stockholm, Sweden
www.keyplants.com
Courses on valves, actuators and more offered here, or onsite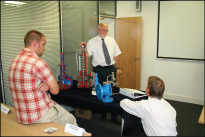 British Valve and Actuator Assn.
This organization delivers its own series of training courses on: introductions to valves, actuators, control and safety valves, as well as managing commercial risk, seals, safety integrity levels (SILs) and European Directives, such as PED and ATEX. These courses — delivered by highly experienced industry professionals in spring, summer and autumn each year at the headquarters — are also open to non-members and are competitively priced. Alternatively, the courses can be delivered in-house at a clients own premises. Hall 9.0, Stand A69 —
British Valve and Actuator Assn. (BVAA), Banbury, U.K.
www.bvaa.org.uk
A host of technologies for VOC abatement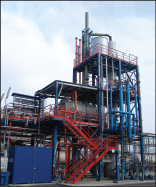 Brofind
This company provides consulting, engineering and turn-key solutions and support for VOC (volatile organic compounds) abatement plants. The main solutions available include: solvent recovery plants (with activated carbon and either steam or nitrogen stripping); oxidation plants (recuperative or regenerative, thermal or catalytic); adsorption plants; and concentration plants. The plants are designed with special attention to optimization, in terms of energy recovery, the opportunities for secondary heat recovery, reduction of operating costs and integration with production processes. Hall 9.1, Stand C19 —
Brofind S.p.A., Milan, Italy
www.brofind.it
A pump for hazardous fluids has TA Luft certification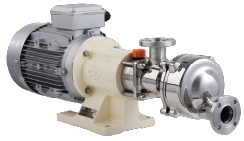 Mouvex
The SLC Series eccentric disc pumps safely handle the most dangerous chemicals thanks to a design that requires no magnets, no mechanical seals or packing. The ATEX-rated and TA-Luft-certified pumps are rated for explosive environments, and the sealless design allows these pumps to self-compensate for mechanical wear, which enables them to maintain consistent flowrates over time. All three SLC modules have speeds up to 1,000 rpm with flowrates from 1 to 3 m
3
/h, and differential pressures from 6 to 16 bars. Hall 8.0, Stand F43 and L79 —
Mouvex, Auxerre, France
www.mouvex.com
Almost nothing is left behind after using this mixing system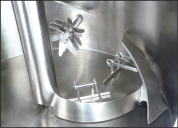 amixon
The ComDisc — short for complete discharge — is a new mixing system that provides a "carry out" of mixed goods up to 99.997% and more, says the manufacturer. This is achieved by having the lower mixer arm fitted with one or more wings. During mixing, the system moves into the shadow of the flow and turns to the rear. As the filling level decreases, the ComDisc elements turn in the direction of rotation and gently scrape the mixture residues toward the outlet. The device does not touch the floor of the mixer. Together with the SinConvex Technology, it is possible to achieve a nearly complete discharge of the mixer. Hall 6.0, Stand C76 —
amixon GmbH, Paderborn, Germany
www.amixon.com
These gear pumps are designed to handle the load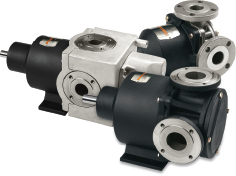 EnviroGear,
The EnviroGear line of internal gear pumps meet the demands of handling critical, hazardous chemicals because of their magnetically driven, sealless design. These pumps have a simple, one-fluid-chamber design, which has only seven primary parts, an optimized cooling path and a patented Eccentric Spindle that provides between-the-bearing support with no corresponding cantilever load. The gear pumps are constructed of carbon steel, ductile iron or stainless steel, deliver flowrates up to 200 gal/min (757 L/min), operate at temperatures from –40 to 260°C and can handle product viscosities from 0.5 to 50,000 cst. Hall 8.0, Stand L79 —
EnviroGear, Grand Terrace, Calif.
www.envirogearpump.com
The construction of these leaf filters makes them leak-free
This company's SolidWeave business unit is introducing its NeverLeak technology leaf-filter elements that can be re-screened several times. Complete sealing is guaranteed throughout thanks to automated welding of the filter mesh to the solid frame construction. The welding seam that is located along the perimeter of the frame provides a reliable monitoring option to immediately make leaks visible, whether during manufacturing or actual use. Exact seating, simple maintenance, high mechanical strength and an even buildup of the filter cake makes this concept especially suited for the filtration of edible oils and for use in the chemicals and pharmaceutical industries. The total cost of this filter leaf technology is said to be reduced by 40%, since each filter leaf is re-screened to its original quality condition multiple times over its life. Hall 5.0, Stand C37 — GKD – Gebr. Kufferath AG, Düren, Germany
www.gkd.de
One machine performs three operations for tablet coating
The new LC coater series was developed for coating tablets. All three sub-processes relevant for film-coating of tablets were optimized: spraying on the coating, mixing and drying. The LC coater features a new nozzle-arm concept for spraying on the coating, which enables easy adjustment of the spraying distance and angle. The optimum arrangement and number of nozzles accelerates the process compared to alternative coaters. A fully perforated drum with more than 50% free surface permits extremely high air flow, which provides excess energy for the coating process. Efficient mixing elements perform uniform and gentle mixing of tablets, even with filling levels of 30–100%. Effective use of the drying energy is ensured by directing the drying air flow beneath the spray zone. In total, the LC coater series operates up to 40% faster than conventional units, says the company. Hall 6.0, Stand D1 — Gebr. Lödige Machinenbau GmbH, Paderborn, Germany
www.loedige.de
This flexible machine fills up to 2,400 bags per hour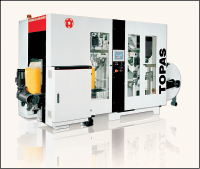 Windmöller & Hölscher
Among this company's FFS Bagging systems on display at Achema is the Topas, which has been enjoying increasing popularity at logistics terminals, says the manufacturer. The advantages of the Topas are its versatility and flexibility in the high-performance sector. It is suitable for bagging bulk products, including chunks and pellets as well as granular and powdery materials, in packaging units of between 5 and 50 kg. Gross weighing systems and volumetric product metering allow for the bagging of special products with the FFS process. Speeds of up to 2,400 bags per hour are possible (with PE pellets). Hall 3.0, Stand F74 —
Windmöller & Hölscher KG, Lengerich, Germany
www.wuh-group.com
Carry this FTIR to wherever its needed
The successor to the well-known DX4030 gas analyzer, DX4040 is this company's newest portable FTIR (Fourier transform infrared) gas analyzer. This is a complete redesign tailored to meet users' requirements. The DX4040 comes with a 200 gas library for identification and accurate analysis of gases in part-per-million concentrations. Up to 25 gases can be measured simultaneously, and the selection of these gases from the 200 gas list is easy with an intuitive touch screen display. — Hall 11.1, Stand C49 — Gasmet Technologies Oy, Helsinki, Finland
www.gasmet.fi
These crossflow modules have membranes fused to the support
The new, 61-tube crossflow filtration module provides 61 1/2-in.-dia. tubes for more than 4 m2 (45 ft2) of high-solids concentrating surface area for higher-volume projects, such as lime softening, desalination, prefiltering for reverse osmosis, and other applications. The company's Tubular Membrane Module features unique, structural membrane tubes with the membrane substantially "anchored in", or chemically fused to the sintered porous-plastic substrate tube — a patented composite that resists damage from scratching and abrasion, amd tolerates high pressure in forward and reverse osmosis. The modules are designed for crossflow filtration in the micro- and ultra-filtration range. Hall 6.0, Stand B49 — Porex Filtration, Fairburn, Ga.
www.porexfiltration.com
Gerald Ondrey