New Products & Services
June 1, 2009
Belt scales for large flowrates; customized boilers; kneading extruder for processing viscous fluids; mixing water and steam for hot water supply; new compressor generation; and more
These new products appeared in the June 2009 International edition
Belt scales for
very large flowrates
Milltronics MSI and MMI Belt scales (photo) are now available for use on systems with flowrates of up to 12,000 ton/h, an increase of 7,000 ton/h. The MSI and MMI, combined with a Milltronics BW500 Integrator and speed sensor now have OIML (International Organization of Legal Metrology) and MID (Measuring Instrument Directive) approval, which guarantees the belt scales meet strict requirements for weights and measures applications in accuracy and repeatability. The MSI is used for rugged applications in process and load-out control. It provides instant response to belt loading and overload protection to 300%. The MMI is a high-accuracy, multi-idler belt scale consisting of two or more MSI scales. Used for critical process and load-out control, the MMI-2 offers an accuracy of up to ±0.25%. For greater precision, the MMI-3 can be used for applications requiring accuracies up to ±0.125%. The MSI and MMI models can be installed without the use of cranes or other high-cost resources. — Siemens Industry Sector, Industry Automation Div., Nuremberg, Germany
Match the needed modules
to meet your boiler requirements
The Universal Modular Boiler U-MB (photo) steam-boiler series uses the shell structure with three-pass technology in the performance range of up to 2,000 kg/h. The boiler consists of several modules that are selected specifically per order. The heat generating component — the steam module and the Economizer module — are configured to suit the emissions and steam quality requirements. The basic equipment includes technology for teleservicing capability and an intuitive LBC TouchScreen control. An automatic startup mechanism means that the steam generator can be started up automatically at the press of a button or using an external starter from the cold state. Overload protection ensures high-quality steam irrespective of consumer behavior. — Loos Deutschland GmbH, Gunzenhausen, Germany
Process viscous material
with this kneading extruder
The Conterna (photo) is a continuous kneading and extrusion machine designed for processing highly viscous materials, such as plastic compounds with a high percentage of fillers. Besides plastics, the Conterna is also used in the food and chemical industry for manufacturing rubber, master batches, glues, sealants and other products. The system normally has six kneading chambers, but allows for the arrangement of as many chambers in line as necessary. Discharge units, such as a gear pump or an extruder, can be mounted to the last kneading chamber. The machine is available for throughputs from approximately 10 to 4,000 L/h. — IKA Werke GmbH & Co. KG, Staufen, Germany
Mix water and steam
for a steady hot-water supply
The CSF Steam Water Mixer (photo) provides a safe, simple and reliable source of hot water delivered at the correct temperature and pressure, so it is suitable for cleaning and wash-down applications. These mixers are constructed from stainless steel and are capable of delivering up to 10,000 L/h of water at temperatures up to 95°C. They are simple to install because existing steam and cold water supplies can be used. Running costs are minimal because the design of the mixer ensures that all the heat energy in the steam is transferred to the water. — Pump Engineering Ltd., Littlehampton, U.K.
A new generation of
compressors is now available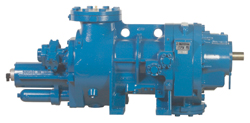 VMY '56 is the official designation of the new generation of this firm's refrigeration and process-gas compressors (photo). It is the synthesis of 35 years of experience with former VMY series and will replace the well-known series VMY '46 in the medium term. Designed for all common refrigerants, the VMY compressors are especially applied in the industrial refrigeration technology as well as for mixed gas and process gas in the chemical- and petrochemical industries and in power plants. At present, the first sizes VMY 256 M HR and VMY 256 M NR are available, reaching a conveying volume of 911 m3/h up to 1,375 m3/h at 50 Hz as well as a maximum pressure difference of 25 bar. In addition, the serial production of the size VMY 156 M — also available as male and female drive and with a volume flow of 444 m3/h up to 678 m3/h — will start in short time. The rotors of the new compressor stage are made of surface-hardened special steel for long service life. The profile 4 + 6 developed by Aerzen for the secondary rotor drive has been proven by its high reliability. The first rotors with this material and the drive on the secondary rotor side have been in operation quite successfully for more than ten years. — Aerzener Maschinenfabrik GmbH, Aerzen, Germany
Elemental analysis
in the palm of your hand

Since it was launched last September, Spectro xSORT's original metal analysis capabilities have been expanded to include applications for RoHS (Restriction of Hazardous Substances) Directive compliance and lead screening as well as for the examination of soil in environmental testing and the direct analysis of ores, concentrates and tailings. The xSORT (photo) is an analytical instrument for rapid, non-destructive XRF (X-ray fluorescence) screening analysis. The device analyzes the content of all of the important elements between sulfur and uranium contained in the sample with measurement times of a few seconds. The silicon drift detectors used in xSORT process signals up to ten times faster than the detectors conventionally used in handheld XRF instruments, says the firm. — Spectro Analytical Instruments GmbH, Kleve, Germany
Monitor/diagnose Profibus networks
with this coupler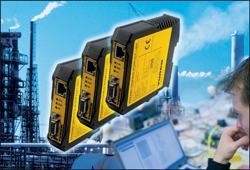 PB-XEPI is an Ethernet-Profibus coupler (photo) with integrated web-server software and diagnostics functionality. For the first time ever, users can monitor a large number of operating Profibus networks in a parallel and continuous manner. The coupler can easily be integrated into existing fieldbus networks where they autonomously establish a communications and diagnostics infrastructure for convenient remote maintenance over the internet — regardless of the number of networks being monitored. The coupler can be configured as a class II master. Actively participating in the fieldbus communication, the interface allows clients to be diagnosed and logged via additional OPC-Server software, or to be configured and parameterized via AMS-Suite. — Hans Turck GmbH & Co. KG, Mühlheim an der Ruhr, Germany
This flowmeter is designed
for monitoring stack emissions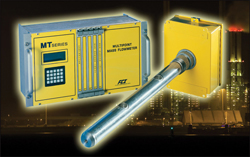 The MT Series of Multipoint Mass Flowmeters (photo) are designed for gas and air applications, including continuous emissions monitoring systems, and thus are suitable for measuring and monitoring stack emissions. The flowmeters are ISO 14164:1999 (E) Annex B compliant and specifically designed for combustion air and fluegas measurement and monitoring in large ducts with irregular velocity profiles. Accuracies of ±2% of reading and repeatability of ±0.5% are possible thanks to the flowmeter's ability to average up to 16 individual flow sensors at temperatures up to 450°C. The devices include continuous auto-test function and alarm diagnostics. Other features include averaging filters, which dampen response to rapid process fluctuations; RS 232C serial ports, to enable communication with field instruments; and menu-driven control for ease-of-use. — Allison Engineering, Basildon, U.K.
Make uniform slurries
with this inline mixer
The QC Combination Recirculation & Stirring Head is a patented, inline tool for stirring or mixing of slurries and similar chemicals to achieve and maintain the best possible uniform particle distribution. No additional mechanical stirrer is needed. The device has no moving parts, provides infinite adjustment of the liquid flowrate as required to achieve the desired mixture and particle distribution level, and securely connects through the dip-tube head — no further parts are needed. The system ensures safe handling of fluids without dripping and avoids operator contact with the chemicals. The unit is constructed of polyethylene with Kalrez seals. — AS Strömungstechnik GmbH, Ostfildern, Germany
A popular alignment tool
is now ATEX approved
This firm has released its ATEX-approved intrinsically safe version of its alignment system, Optalign smart. This system also complies with IEC Ex requirements for use in potentially explosive atmospheres. Optalign smart is a modular, mid-range alignment system that can cover both shaft and geometric applications. Its intuitive, ergonomic design and loaded features make it especially suitable for maintenance of rotating machinery, such as pumps, motors, gearboxes and compressors. — Prüftechnik Alignment Systems GmbH, Ismaning, Germany