New Products & Services
September 1, 2013
ChemInnovations 2013 Conference & Expo Show Preview
The ChemInnovations 2013 Conference and Expo will be held September 25 and 26 at the Moody Gardens Convention Center in Galveston, Tex. With eight conference tracks and a number of industry experts (See Chem. Eng., August p. 30–31 for more), the event will also feature exhibits from many vendors who will showcase their newest equipment and technologies on the show floor. The following descriptions are a selection of the exhibitors whose products and services will be on display at ChemInnovations 2013.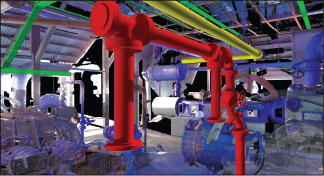 Kubit USA
This software makes deliverables from laser-scanned 3D plant data
New PointSense Plant software produces crucial deliverables for plant and piping design from point clouds. Used for industrial facility design, this software provides solutions for evaluation and post-processing of laser-scanned data in AutoCAD. Capabilities include three-dimensional piping and structural extraction, recognition of tie-in points, tank analysis and creation of AutoCAD Plant 3D deliverables. Booth 413 — Kubit USA, Houston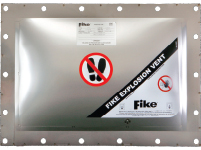 Fike
A rectangular explosion vent with non-fragmenting opening
The CV-S Explosion Vent, now available in a rectangular version, provides a non-fragmenting opening when protecting industrial processing equipment in applications including air-material separation, drying and conveyance. The CV-S is specially designed to support robust cycling, applications where operating pressure approaches burst pressure, or where moderate vacuum pressure exists. Available in a wide range of standard metric and custom sizes, the rectangular CV-S also has optional accessories, such as burst indicators, weather covers and atmospheric insulation kits. Booth 713 — Fike Corp., Blue Springs, Mo.
Telular
Use this ceramic DP sensor with corrosive media
The new TankLink90 with a ceramic differential pressure (DP) sensor is a wireless remote tank monitoring system designed for use with highly corrosive chemicals. It allows chemical manufacturers, distributors and end users to monitor their corrosive chemicals with an easy-to-install monitor and a ceramic differential pressure sensor that sits near the bottom of the tank and out of the way of chemical vapors at the top that can cloud measurement readings. Unlike ultrasonic sensors, the ceramic DP sits near the bottom of the tank so vapors are completely avoided, resulting in highly accurate level readings. By accessing the TankDataOnline Web-based data portal, users can improve scheduling and delivery. Booth 513 — Telular Corp., Chicago, Ill.
Restore glass-lined steel vessels on-site with this system
The patent-pending Mobile On-site Restore System (MORS) from this company is a new glass repair-and-restoration system that allows for in-place restoration of glass-lined vessels. Developed by highly experienced enameling experts, the MORS process has a one-year warranty, and is more cost-effective than shipping vessels to external locations for re-glass services. Other on-site service products require a three-day curing process, but MORS provides a much faster turnaround. Booth 211 — Glasslined Technologies, Inc., Greensboro, Ga.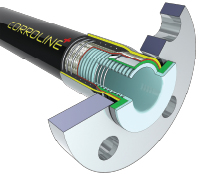 Aflex Hose USA


This flexible hose is both anti-static and fire resistant
New Corroline+ smoothbore PTFE hoses are designed to be extremely kink-proof, and have the flexibility, durability and chemical resistance required for chemical transfer applications. Featuring a proprietary tube design and stainless-steel braid reinforcement, the Corraline+ also incorporates a rubber cover that is both anti-static and fire-resistant. Lined fittings are available for critical applications that require all-PTFE wetted surfaces. Both non-conductive and conductive (anti-static) PTFE tubes are available. Booth 511 — Aflex Hose USA LLC., Pipersville, Pa.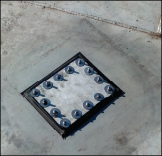 Forge Tech
An alternative method for leak repair in aboveground tanks
Portable Friction Forge Bonding (PFFB) technology is designed for mechanical repairs to in-service aboveground storage tanks (AST) in order to mitigate leaks, cracks and other damage. Specifically adapted for safe use within the AST normal work environment, this technology is useful for installation of mechanically joined, engineered repair plates suitable for most floating-roof leaks. When compared to traditional joining and welding methods for tank repair, PFFB features stronger bonds, lower operating temperatures and the ability to join dissimilar metals. Booth 204 — Forge Tech, Inc., Kemah, Tex.
This service offers tube repair and restoration in-situ
This company's condenser and heat-exchanger restoration services can extend the life of damaged or failed fin-fan bundles and shell-and-tube heat exchangers. These repairs are achieved in-situ and have been applied in many refineries and chemical plants. Using an eddy current or iris exam to determine where the failure is most severe, either a thin metallic shield or full-length liner is inserted in the partial or entire length of the damaged tubes, forming a sleeve. These sleeves are then expanded with 2,000–10,000 lb water pressure to create a metal-to-metal pressurized fit of the sleeve to the parent tube. This process can add years of service life, depending on metals of construction. Booth 605 — CTI Industries, Inc., Orange, Conn.
CEJN Industrial
These couplings are specially designed for fluid service
This company's non-drip couplings are designed for broad use in low-pressure fluid and vacuum applications. The couplings are constructed to eliminate spillage, pollution and air inclusion during connection and disconnection for a wide range of fluid lines, including electronic coolant, saltwater, oil transfer and beverage. All coupling components have standardized dimensions with a common interface, enabling numerous combinations and configurations, making them highly adaptable for many applications. Booth 815 — CEJN Industrial Corp., Gurnee, Ill.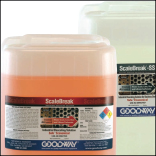 Goodway Technologies
These products remove scale deposits from a variety of materials
Scalebreak and Scalebreak SS biodegradable scale removers quickly and safely dissolve mineral deposits, such as lime, rust and lithium carbonate from water passages in equipment that is cooled or heated by water. While Scalebreak SS is intended for use on stainless-steel surfaces, Scalebreak is safe for use on steel, iron, brass, copper, plastic and rubber. Fortified with low-foaming wetting and penetrating agents, these descalers are idea for use in boilers, chillers, condensers, heat exchangers, oil coolers, cooling towers, furnaces and water piping systems. Booth 423 — Goodway Technologies Corp., Stamford, Conn.
Use these rubber seals for natural gas applications
This company offers a range of Underwriters Laboratories (UL) tested rubber compounds specifically designed for natural gas and liquid polypropylene applications, with low extraction characteristics, low compression set and low temperature capabilities. The rubbers have multiple end-uses and operating temperatures ranging from –60 to 105C. Among the company's products are innovative composite seals including rubber bonded to metal, plastic or nylon material. Also offered are brass-to-rubber bonded products to decrease valve assemblies and increase valve reliability. Booth 219 — Apple Rubber Products, Inc., Lancaster, N.Y.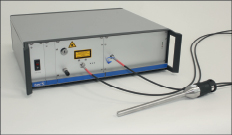 Tec5USA
This spectrometer has been updated for process control use
New to the U.S. market, this company's Raman spectrometer system for process control is based on the established MultiSpec spectrometer system, with a cassette containing a temperature-stabilized laser light source, a high-resolution spectrometer and a fiber-optic Raman probe. The laser, which provides 50–500 mW of 785-nm excitation light, is housed in a plug-in cassette with a fiber-optic output connector on the front panel. The spectrometer cassette uses a high-throughput spectrograph based on a sensitive thermoelectric-cooled scientific-grade charge-coupled device detector. Fiber-optic cables connect the high-efficiency Raman probe to the main system, providing flexibility for the measurement setup. A specialized version of the MultiSpec Pro software is available to create a Raman platform for process applications. Booth 812 — Tec5USA, Inc., Plainview, N.Y.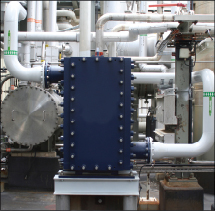 GEA PHE Systems North America
This welded plate heat exchanger has no plate-to-plate gaskets
The GEABloc fully welded plate heat exchanger (WPHE) provides the thermal advantages of plate heat exchangers, yet it has no plate-to-plate gaskets. The absence of gaskets enables the WPHE to achieve higher pressure and temperatures, up to 450 psig and 650°F, respectively. The GEABloc has two plate patterns, traditional chevron and a dimple design. The dimple design enables the maintenance team to mechanically clean the channels with a brush or high-pressure hydroblasting. The GEABloc is appropriate for prcess equipment, such as product heaters or coolers, evaporators, condensers, reboilers or process interchangers. Booth 617 — GEA PHE Systems North America, York, Pa.

Red Dog Services:
Use this compressed air foam for first-response fire suppression
New stored energy, compressed air foam systems (CAFS) used for fire suppression provide a first-response capability in the event of an emergency. When equipped with flame detection technology, the systems can be operated either manually or automatically. These standalone systems are independent of water supply, making them valuable in situations with limited water capabilities. Gas-powered by either nitrogen or air, CAFS are delivered pre-mixed, pressurized and ready for discharge with the turn of a knob. Available in sizes from 3- to 500- gal, these CAFS can be wheeled or skid-mounted. Booth 310 — Red Dog Services, Allen, Tex.
Mary Page Bailey