New Products & Services
December 1, 2013
ChemShow 2013 Show Preview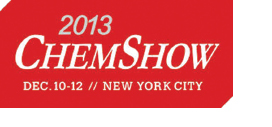 The 2013 Chem Show (www.chemshow.com) will take place in New York on December 10–12 at the Jacob Javits Convention Center. This biennial event will showcase process equipment and technology from across the chemicals processing industries (CPI), with over 300 exhibitors expected to participate with hands-on demonstrations, seminars and new product releases. The following is a preview of some of the products and services that will be exhibited at this year's event.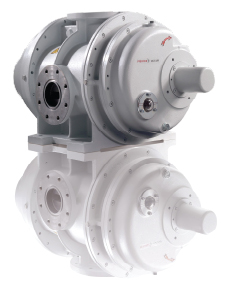 Pfeiffer Vacuum
These pumps are self-cooled via a recirculation process
OktaLine G Series gas-cooled pumps are suitable for harsh environments or where process gas has a narrow temperature limit. The pumps' self-cooling mechanism involves recirculation of a small amount of pumped process gas that is sent through a heat exchanger and injected back into the high-compression area inside the pump. This self-cooling process helps to extend bearing and seal lifetimes and decrease system complexity, since there are fewer pump stages. These pumps can also achieve large pressure differentials and can route exhaust directly to atmospheric pressure. Booth 551 — Pfeiffer Vacuum GmbH, Asslar, Germany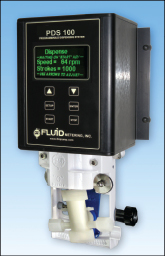 Fluid Metering
A 'no valve' solution for precise metering and dispensing
The PDS-100 is a valveless, programmable dispensing system, available in single- and dual-channel configurations. Ideal for accurate metering, dispensing and sampling, the system can handle liquids, slurries and gases for both laboratory and industrial applications. A chemically inert, ceramic piston is the only moving part that contacts the process fluid. Pump heads are integrally mounted to the control unit, with motors, drivers and electronics housed in a rugged aluminum enclosure. The system's menu-driven programming uses front-panel membrane switches on an LCD display. Booth 723 — Fluid Metering, Inc., Syosset, N.Y.
These flexible filter cartridges can be treated for many applications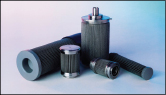 Porvair Filtration Group
This company's robust new cartridges for its stainless-steel purification filters are available in all standard cartridge lengths, micron ratings and 316L stainless-steel end fittings. For further customization, other alloys and dimensional modifications are available upon request. With optional patented surface-modification treatments, the cartridges can be specially prepared for applications where additional pH or temperature protection is required. Booth 655 — Porvair Filtration Group, Hampshire, U.K.
This continuous-flow reactor is fully scalable
The Coflore Agitated Cell Reactor (ACR) is a continuous-flow alternative to batch processing. This fully scalable unit develops chemistry at low throughput, and provides plug flow, while eliminating back-mixing and side reactions. Mechanically stirred with a patented stirring technology, the ACR can handle slurries, immiscible fluids and gas-liquid mixtures for a wide range of reaction times. The ACR is appropriate for scaleup applications in industries such as food, biofuels, specialty chemicals, polymers and pharmaceuticals, due to its ability to produce high yield and purity with less waste. Booth 236 — AM Technology, Cheshire, U.K.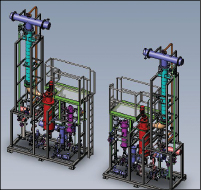 GIG Karasek
Improve evaporator performance with this rotor system
The new Powerfilm Rotor system can improve performance and product quality for many industrial evaporators, including wiped-film, short-path and thin-film, as well as vacuum-molecular distillation processes. Using a proprietary technology that optimally adjusts performance depending on a product's characteristics, this system increases process capacity and eliminates nearly all impurities, thus cutting operating costs. Booth 731 — GIG Karasek, Gloggnitz-Stuppach, Austria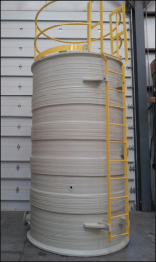 Houston Polytank
Highly customizable tanks give versatility
This company's polypropylene and polyethylene molded tanks can be produced to customer specifications, giving customers the ability to design and build a tank with the proper wall thickness for their application. Design considerations include corrosion properties, specific gravity and temperature requirements of the stored material. Built-in insulation and secondary-containment options are also available. Tank sizes can vary from 50 to 50,000 gal, with bottom configurations including flat, internal-slope or cone. NSF 61 certified, these tanks' versatility makes them appropriate for use in many industries, including chemical processing, agriculture, food products, electricity generation, medical, mining and water and wastewater applications. Booth 744 — Houston Polytank, LLC, Hopkins, Mo.
Mary Page Bailey