New Products & Services
March 1, 2014
Corrosion 2014 Show Preview


Corrosion 2014, the 69th annual meeting of the National Association of Corrosion Engineers (NACE) is taking place March 9–13 in San Antonio, Tex. More than 6,000 attendees are expected to gather in the Henry B. Gonzales Convention Center for lectures, forums, presentations and an expo hall featuring over 380 exhibitors. The following is a preview of some of the products and services that will be showcased at the event.
This new duplex alloy prevents intercrystalline corrosion
The new Ultra-Lean Duplex Centralloy G 2102 is said to have excellent corrosion resistance — especially against intercrystalline corrosion — yet is much less expensive than conventional duplex materials, according to the manufacturer. The alloy's considerably lower nickel content makes it less susceptible to highly fluctuating raw material prices, the company adds. The material can be welded using conventional consumables. The alloy is suitable for use in various areas with the most demanding requirements for wear and corrosion, such as for components in separators (decanters and centrifuges) used in the wastewater-treatment industry, as well as for pumps and process equipment in the food industry. Booth 2630 — Schmidt + Clemens GmbH + Co. KG, Lindlar, Germany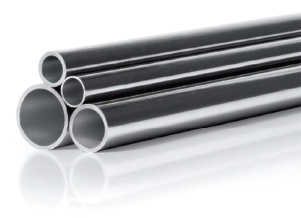 Sandvik Materials Technology
Use these materials in tubing
for hydraulics and instrumentation
The corrosion-resistant material grades for piping from this company are intended for use in harsh conditions, such as those experienced by tubing used in hydraulic, instrumentation and heat-exchanger applications. SAF 2507 material is an alternative to 316L stainless steel. This super-duplex stainless steel has a high resistance to pitting and crevice corrosion, as well as to stress corrosion cracking in chloride-bearing environments. 3R60 Urea Grade is a high-purity variant of 316L stainless steel, with a low ferrite content for greater resistance to intergranular, pitting and crevice corrosion. Sanicro 41 is a nickel alloy, intended for use in acidic media. Booth 1339 — Sandvik Materials Technology, Scranton, Pa.
A non-destructive method to analyze and identify alloys
New positive materials-identification tools from this company use X-ray fluorescence inspection technology for the identification and analysis of various metal alloys by their chemical composition through non-destructive methods. The analyzer tools are environmentally sealed for use in dusty, dirty or wet conditions commonly found in field applications. Advanced batteries support up to 10 hours of continuous use on a single charge. A library storing data for over 400 alloys allows for use in a wide range of industrial applications. Booth 1920 — GE Measurement & Control, Boston, Mass.
This system uses wireless technology to sense metal loss
This company's non-intrusive corrosion-monitoring systems use unique sensor technology and wireless communication to continuously monitor for metal loss from corrosion or erosion. The permanently installed systems can operate in extreme temperature environments and inaccessible locations, making them ideal for large-scale deployment in many upstream and downstream applications. Corrosion-monitoring solutions enable risk-based decision-making to increase throughputs, extend run lengths and allow for safe processing of low-quality feeds. Booth 1504 — Permasense Ltd., Horsham, U.K.
A coating that protects against very strong acids
SewerGard Industrial No. 210GN coating is used to protect concrete or steel from chemical attack in industrial wastewater applications. Featuring high resistance to strong acids — even sulfuric acid concentrations as high as 98% — this coating is specifically formulated as a sealer in strongly oxidizing environments. SewerGard Industrial No. 210GN can be applied by either spray or roller. Booth 2528 — Sauereisen, Pittsburgh, Pa.
Detect corrosion in vessels and pipes, even under insulation
The GridStation 8200 is a corrosion-imaging system, which in customer trials, has successfully detected corrosion in piping and vessels through jacketed insulation and fireproofing materials. The system applies a low-frequency magnetic-field methodology for realtime imaging of both internal and external corrosion, with defect sizing and automated reporting capabilities. In addition to corrosion imaging, the GridStation 8200 enables stress-corrosion crack mapping and crack-depth measurement. Booth 1302 — Jentek Sensors Inc., Waltham, Mass.
Mary Page Bailey