New Products & Services
July 1, 2009
Examine reaction kinetics and more with this system; This inline rotary batch mixer evacuates batch with no residual; and more
July 2009 North American edition
Examine reaction kinetics
and more with this system

With integrated mid-infrared (IR) capabilities, the fully automated Atlas FT-IR System (photo) for reaction monitoring combines the technology of the Atlas automated reactor with Bruker Optics' Matrix-MF, a process-ready fourier transform infrared (FT-IR) spectrometer. This system can be used to examine product yields, impurities, reaction kinetics, end points and more, with upgrades available to provide further functionality, such as reaction calorimetry, pH control, gravimetric or volumetric reagent addition, crystallization control. The system is available for a range of temperatures of –80 to 180 °C, pressures of up to 200 bar, and wavenumbers from 560 to 3,500 cm -1. — Syrris, Royston, U.K.
www.syrris.com
This inline rotary batch mixer
evacuates batch with no residual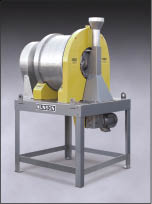 The Model 700-TH-5-SS inline miniature rotary batch mixer (photo) blends batches of up to 5.0 ft 3 in parts as small as one per million with complete uniformity in less than 3 min, then evacuates the batch with no residual. This stainless-steel, sanitary unit features a stationary inlet and outlet for inline operation, and a rotating drum with proprietary mixing flights that tumble, turn and fold material gently, imparting minimal energy to the batch while rapidly achieving uniformity regardless of disparities in the bulk densities, particle sizes or flow characteristics of batch ingredients. A batch weight capacity of 500 lb is standard, with higher capacities optional. — Munson Machinery, Utica, N.Y.
www.munsonmachinery.com
This infrared thermometer
has variable configuration software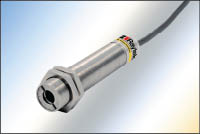 Raytek CM (photo) is an integrated infrared temperature-measurement sensor with precision, high-resolution silicon optics. An RS232 digital interface allows the configuration of all programmable sensor variables via Raytek DataTemp Multidrop software. These include a 24-V-d.c. alarm output triggered by target temperature or head ambient temperature, and more. The remote configuration capability simplifies installation and troubleshooting, especially when the sensor is located in a hostile or remote location. The Raytek CM sensor is designed to measure target temperatures ranging from –20°C to 500°C. Its onboard electronics are protected by a rugged IP 65 (NEMA-4) stainless-steel housing, allowing the sensor to function in ambient temperatures to 70°C without cooling. — Raytek, Santa Cruz, Calif.
www.raytek.com
Screen large particles
while drawing out air and dust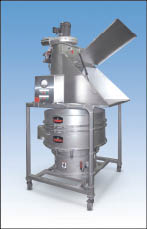 This circular vibratory bag dump screener removes oversize particles from manually dumped bulk materials while protecting against dust contamination. The 40 in.-dia. Vibroscreen separator (photo) causes bag scraps, agglomerates and other oversize material to travel across the screen and discharge through an upper spout, while on-size particles pass through apertures in the screen and a lower discharge spout. Ambient air and dust from dumping activities are drawn onto the exterior of two cartridge filters that derive vacuum from a top-mounted exhaust fan. On-size material gravity-discharged from the screener's outlet can be fed into a conveyor or other process equipment. The Bag Dump Screener is also offered in 24- and 30-in. dia., and available to industrial, 3-A, FDA, BISSC and other sanitary standards. — Kason Corp., Millburn, N.J.
www.kason.com
A power supply for a wide range
of welding applications,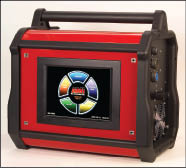 The new Model 205 Orbital Gas Tungsten Arc Welding (GTAW) Power Supply (photo) is the latest addition to this firm's range of orbital tube welding products. Whether joining 1/4-in.stainless-steel tube for a semiconductor plant, 3/4-in. titanium aircraft fuel lines, 1-1/2-in. electro-polished tube for a pharmaceutical application, a 2-in. schedule, 40-carbon-steel pipe steam line, or simply tack-welding two components together, the Model 205 fits the application. Key features include: a full size color touch screen; multi-use USB port; automatic weld schedule development; programming by time or temperature; and compatiblity with all AMI fusion weld heads. — Arc Machines, Inc., Pacoima, Calif.
www.arcmachines.com
These vapor-degreaser solvents
are safer and greener
Precision-V cleaners (photo, p. 32D-3) for vapor degreasing are powerful, leave no residue, evaporate quickly and are non-flammable with no flash-point. They are designed for the removal of oils, greases, silicones and other common industrial contaminants. Electronics, optics, and metal parts are quickly and thoroughly cleaned, eliminating the need for further rinsing. Precision-V is non-ozone depleting, making it an ideal replacement for cleaners containing Freon, HFC-141b or AK225. Exposure to Precision-V solvents is less hazardous than with many other solvents commonly used in vapor-degreasers. The Precision-V Vapor-Degreaser Parts Cleaner and Flux Remover have azeotropic properties that allow them to maintain stablity as they are cycled in a vapor-degreaser. They are not reactive nor corrosive to metals commonly found in the construction of vapor-degreasers. — Techspray, Amarillo, Tex.
www.techspray.com
For clean processes, this magmeter
has onboard sensor memory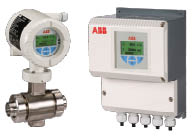 This range of electromagnetic flowmeters is designed for clean applications in the food and beverage, pharmaceutical and biotechnology industries. Part of the new FlowMaster product family, the HygienicMaster magmeter (photo) is available in sizes from 1/10 to 4 in. It is manufactured from FDA-approved materials and certified in accordance with EHEDG and 3A. The units feature electrodes that are embedded into the liner to ensure a smooth surface without any gaps, and a sensor that is clean-in-place (CIP) capable. A reinforced PFA liner improves vacuum stability and prevents liner deformation. Data storage inside the sensor eliminates the problems associated with pluggable data memory modules. — ABB Instrumentation, Warminster, Pa.
www.abb.com
This microfluidic chip
offers rapid fluid mixing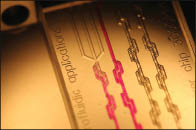 The glass Mitos Micromixer Chip (photo) is designed for the rapid mixing of two or three fluid streams. Compatible with the Mitos four-way edge connector, this novel chip enables extremely rapid mixing across a wide range of flowrates. This chip is ideal for the study of reaction kinetics, sample dilution, improving reaction selectivity, rapid crystallisation and nanoparticle synthesis. The chip measures 45 X 15 mm and incorporates two independent micromixer channels, each with a volume of 8 µL, to ensure efficient mixing of the fluid streams. Mixing of two or three fluid streams occurs within milliseconds. — Dolomite, Royston, U.K.
www.dolomite-microfluidics.com
Two-way valves with online
configuration tool for easy ordering
The 8262/8263 Series two-way direct acting solenoid valves are now available with increased pressure ratings and realtime online configuration and ordering. The valves come in normally-closed, brass and stainless-steel constructions. They can be used to control the flow of air, water, and light oil, and are available in 1/8-, 1/4-, and 3/8-in. pipe sizes. The online configuration tool allows customers to quickly build a valve to meet a set of specific requirements. It then displays the list price, availability, CAD drawings and specifications for the configured product. — Asco Valve, Inc., Florham Park, N.J.
www.ascovalve.com
Communication modules
for extreme environments

The Logix-XT product family (photo) is designed for applications requiring increased reliability in high-temperature and corrosive environments, such as those found in oil-and-gas, wind-turbine and ship-building applications. The Logix-XT product family includes the Logix-XT controller, Allen-Bradley FLEX I/O-XT products and ProSoft Technology communication modules. This product family operates in a broad temperature spectrum, –20º to 70ºC, and meets ANSI/ISA-S71.04-1985 Class G1, G2 and G3, as well as cULus, Class 1 Div 2, C-Tick, CE, ATEX Zone 2 and SIL 2 requirements for increased protection against salts, corrosives, moisture condensation, humidity and fungal growth. — Rockwell Automation, Milwaukee, Wis.
www.rockwellautomation.com
Sealing across a full range
of pressures, up to 15,000 psig
The FKB series ball valve provides a leak-tight seal for applications up to 15,000 psig. The Trunnion-style ball valve features a direct-load design, which delivers a more consistent seal across a full range of pressures. These valves feature a 0.209-in. orifice, 316-stainless-steel body construction, and reinforced PEEK seat seals. The valves are rated for temperatures of 0–250°F and maintain a full pressure rating throughout the operating temperature range. Available O-ring materials include nitrile, fluoroelastomer and perfluoroelastomer. All wetted materials are compatible with most hydrocarbons. Offered in a two-way configuration, the valves are available with medium-pressure tube fitting end connections, which provide single-turn makeup, or makeup by torque. The end connections employ a two-ferrule design to deliver robust tube grip, leak-tight gas seal and vibration resistance. End connections sizes are 1/4, 3/8, and 1/2 in. — Swagelok, Solon, Ohio
Kate Torzewski