New Products & Services
May 1, 2014
Focus on Agglomeration And Granulation
Using PAT to monitor and control granulation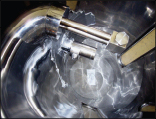 Malvern Instruments
Granulation is an important operation used for tableting, but its control can be challenging. The Parsum inline particle-sizing probe is being used as a PAT (process analytical technology) instrument in granulation research being conducted at Ghent University in Belgium. The instrument is being used to continuously monitor the granulation process and to develop effective automated strategies for process control. PAT is playing a key role in achieving the pharmaceutical industry's goal of moving away from batch operation and on-off monitoring toward continuous, integrated processing and realtime release. The Parsum probe measures particle sizes over the range from 50 to 6,000 microns using spatial particle velocimetry. Available in a number of different probe lengths, it is designed for in-process use and can be installed directly into a line or process vessel for realtime monitoring. — Malvern Instruments Ltd., Malvern, U.K.
www.malvern.com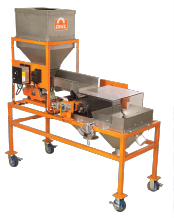 Eriez
An attractive way to recover mixed plastics
The PolyMag Process delivers a low-cost, effective and automated solution to recover manufacturing scrap and waste. PolyMag renders plastic resin magnetic with an additive (high-concentration pellets) in a process similar to adding color concentrate. The additive makes the resin susceptible to the powerful magnetic field produced by the PolyMag Rare Earth Roll Separator. Scrap parts are run through a traditional granulator and the PolyMag Separator can then separate the mixed polymer regrind. The quantity of magnetic additive is extremely small, and does not affect the physical properties of the plastic, says the company. — Eriez, Erie, Pa.
www.eriez.com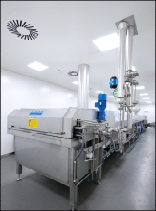 Sandvik Process Systems
Steel-belt granulation with hygienic-application features
The Rotoform G4 builds on more than 30 years' process experience and introduces a number of features relevant to hygiene-critical applications, including easier cleaning, enhanced bearing seals and a lubrication-free drive-belt option. The core process combines the Rotoform drop depositor with a steel belt cooler to create a system that produces granules of highly uniform shape, stability and quality. Typical applications include the granulation of fatty alcohols, which are used in a broad range of pharmaceutical and cosmetics products. Cleaning of the drop depositor has been simplified due to the introduction of a pneumatically actuated lifting device and a new hood design, eliminating the need for operator intervention during shutdown. — Sandvik Process Systems, Fellbach, Germany
www.processsystems.sandvik.com
Discharging agglomerated products from bags
Material Transfer
Discharging bulk bags containing material that has solidified, hardened, or agglomerated can cause serious operational bottlenecks. Conditioning and emptying bulk bags can be dangerous if the proper equipment is not utilized. This new, patented system utilizes hydraulically actuated, twin heavy wall tubular-steel pivoting conditioning arms. Each conditioning arm features V-shaped tubular-steel breaker profiles that safely and efficiently return solidified materials to a free-flowing state. A rotary lift table positions the bulk bag for complete material conditioning on all sides of the bulk bag, as well as the top and bottom. The unit features an ultra compact footprint and machine guarding for operator safety. — Material Transfer, Allegan, Mich.
www.materialtransfer.com
A compact pelletizing plant that facilitates integration
Introduced in January, the Circular Pelletizing Technology (CPT) is a new generation of iron-ore agglomeration facility featuring a circular induration furnace as its core element. Based on the well-proven travelling-grate pelletizing process, the circular induration furnace greatly reduces the footprint of the pelletizing plant, says the company. Overall space requirements for the CPT are approximately half of those needed for a conventional plant. Costs for civil works, equipment and steel structure are reduced accordingly, and plant installation can be completed more quickly, the company says. The circular induration furnace also results in a more efficient utilization of installed equipment, because nearly twice the number of pallet cars are always inside of the furnace compared to straight-type induration furnaces of the same capacity, the company adds. — Siemens Industry Sector, Metals Technology, Linz, Austria
www.siemens.com/metals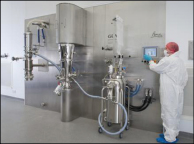 GEA Pharma Systems
This modular system has eight granulator sizes to pick from
On display at the Interphex 2014 exhibition (New York; March 18–29, 2014) was the PharmaConnect, a system that allows a number of diverse process modules from this company to be docked to a single control module. The primary processes are based around the Aeromatic-Feeder PMA granulation technology. The modular format enables special modules to be used to match a user's requirements, such as non-standard capacities, different shapes and even different materials, such as glass. In addition to the control unit, all process modules are "plug-and-play," with a range of eight high-shear granulators (from 1 to 60 L), and two size ranges of Buck Systems IBC blenders. With the Lighthouse Probe, complete online monitoring is possible for controlling blend homogeneity and to monitor moisture content within the granule to evaluate the endpoint of the granulation process. Designed for laboratory through pilot-plant scale, the PharmaConnect can process from 0.2 to 25 kg of product. — GEA Pharma Systems Ltd., Eastleigh, U.K.
www.gea-ps.com
Maximum fluidized-bed process flexibility in one unit
Glatt Ingenieurtechnik
Fluidized-bed (FB) equipment can be used for spray granulation, agglomeration and coating. The process can be controlled and the product quality optimized by changing various parameters, including the design of the processing chamber. Feasibility laboratory equipment typically offers a wide range of adjustments and evaluation of process parameters. However, normal production-scale equipment is usually designed for only one process and frequently for a very limited number of products. Last year, this company introduced its AGT System, which is said to offer more flexibility in pilot and even production scale. The system can be used for FB spray granulation, FB agglomeration and FB coating. The company can now offer laboratory equipment designed to test all of these processes in a 1-kg scale batch, a 1 kg/h continuous process and in pilot scale. At the company's technology center in Weimar, Germany is the AGT PilotSystem, a round FB unit that can be equipped with a circular insert, enabling plug flow through the unit. The capacity of the AGT PilotSystem varies between 10 and 120 kg/batch or 5 to 100 kg/h continuously. — Glatt Ingenieurtechnik GmbH, Weimar, Germany
www.glatt-weimar.de
A thermal fines agglomerator for powder coatings
Said to be the world's first thermal fines agglomerator, the HotCooler allows producers of powder coatings and toner to re-feed "unwanted" fine dust directly, quickly and easily as chips or flakes back into the production process, thereby significantly reducing the cost of materials, saving disposal costs and ensuring higher process reliability, says the manufacturer. The thermal fines agglomerator is nicknamed HotCooler because of the way it works. After the extrusion melting process, the cooling and solidification of the viscous mass, which is processed into flakes or chips, takes place. The chips are ground to obtain final product, and this produces fines (less than 30–50 µm). The HotCooler melts and agglomerates these fines in one, closed process step to form an amorphous, viscous mass, which is then cooled (in the same system) and returned to the grinding process. — BBA Innova AG, Aarau, Switzerland
www.bba-innova.com
Gerald Ondrey