New Products & Services
November 1, 2013
Focus on Analyzers
This handheld combustion analyzer comes pre-calibrated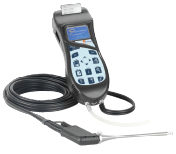 E Instruments International
The new E1100 handheld industrial combustion gas analyzer features sensors for oxygen and carbon dioxide that are capable of detecting a large range of concentrations for these components. These pre-calibrated and field-replaceable sensors allow for simple diagnostics and replacements to reduce downtime and repairs. This rugged unit performs stack-gas and ambient-air measurement, as well as draft and differential-pressure measurements, in many combustion applications, including boilers, burners, engines, turbines and furnaces. The E1100 comes equipped with a built-in non-thermal printer, a 12-in. probe with 10-ft dual hose, rechargeable battery and a vinyl carrying case. — E Instruments International, Langhorne, Pa.
www.e-inst.com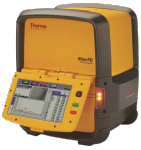 ThermoFisher Scientific
Use this mobile X-ray analyzer to detect trace elements in the field
The Niton Field X-ray Lab (FXL) analyzer, equipped with the new z-Cal calibration and operation functionality, can generate light-elemental composition information for accurate detection of trace elements, including aluminum and magnesium, in oil-and-gas exploration applications. With a new custom pellet holder, the portable and rugged Niton FXL analyzer can now easily accommodate prepared samples right in the field, making it useful in mobile laboratories to generate rapid sample analyses. — ThermoFisher Scientific Inc., Waltham, Mass.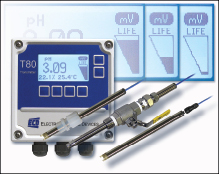 Electro-Chemical Devices
This analyzer series monitors sensor electrode wear
The new T80 Universal Transmitter, featuring this company's S80 Intelligent Sensor. minimizes maintenance time and labor by alerting technicians of equipment wear so that sensor electrodes are replaced only as necessary. The T80 is a single-channel transmitter that can analyze up to seven process parameters. The intelligent sensors store calibration data, have a common configuration for all measurements and have easily replaceable, application-specific electrode cartridges. Offering membrane-switch navigation and an easy-to-read menu and display screen, the T80 automatically uploads the sensor's calibration data and can configure the transmitter's menus and display screens to a particular parameter. — Electro-Chemical Devices, Inc., Irvine, Calif.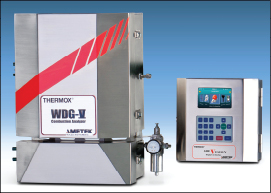 Ametek
This extractive sensor is an
alternative to in-situ probes
The Thermox WDG-V is a close-coupled extractive combustion analyzer for measuring oxygen, combustibles and methane levels in hot, wet fluegas. The WDG-V not only monitors combustion, but also lowers emissions of NOx, CO and CO2. The WDG-V provides a layer of control and safety to a basic process control system, while significantly reducing the risk of an uncontrolled combustion event. The instrument can enable control and safety permissives, interlock and shutdown functions for burner management and safety-instrumented systems. Designed for fast response, the analyzer's close-coupled extractive sensor style offers an alternative to in-situ probes, even in heavy-particulate-matter and high-temperature fluegas streams. The WDG-V mounts directly to the process flange and is suitable for process streams up to 3,200°F. — Ametek Inc., Berwyn, Pa.
This quick gasoline analyzer cuts run time in half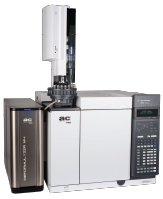 PAC
The new Reformulyzer M4 provides fast, group-type analysis of gasoline and gasoline-blend streams using multidimensional gas chromatography. By combining the analyses of paraffins, olefins, naphthenes, oxygenates and aromatics into a single instrument, the M4 increases instrument uptime and allows petroleum refiners to make quick decisions regarding product specifications. The M4 can complete analyses in under 40 minutes, whereas other group-type analyzers can take up to 75 minutes to run. The M4's durable design also means that traps do not require replacement as often, significantly decreasing maintenance costs. — The Petroleum Analyzer Company (PAC), L.P., Houston
Automated measurement for faster stability assessment
The newly launched CM Protégé Bioformulation Assessment System eliminates critical analytical bottlenecks in biological formation-stability assessment processes by automating visible particle detection, pH measurements and viscosity measurements. Typically, measurement of visible particles, viscosity and pH requires manual measurement on separate instruments, but this system's automation accelerates these analyses, completing them in less than two minutes per measurement. The CM Protégé features a visual inspection station, which gives the capability to digitally acquire and store images for post-run processing. — Freeslate, Inc., Sunnyvale, Calif.

Seahorse Bioscience
A bench-top analyzer for monitoring cellular metabolism
This company's XF96 extracellular flux analyzer quickly and simultaneously measures mitochondrial respiration and glycolysis in cells by measuring the oxygen consumption rate and the extracellular acidification rate. Using label-free, disposable solid-state sensor cartridges in a 96-well format, the XF96 allows investigators to measure the effects of up to four compounds on cellular metabolism, as well as determine the basal oxygen consumption and glycolysis rates. This analyzer can also generate data on respiratory capacity, mitochondrial function, fatty acid oxidation, glycolytic function and cell signaling. This cellular information is of considerable importance to pharmaceutical or biotech research aimed at developing new drugs. — Seahorse Bioscience, North Billerica, Mass.
This high-res spectrophotometer rapidly analyzes reactions
The IRTracer-100 Fourier transform infrared (FTIR) spectrophotometer combines high speed, sensitivity and resolution with enhanced expandability and easy-to-use software for accuracy in IR analysis. Able to collect data from ultra-small contaminants, the IRTracer's 0.25-cm–1 resolution allows for highly accurate quantitation and identification. A rapid-scan function enables analysis and kinetic studies of reactions occurring within a few seconds. In addition, the patented Advanced Dynamic Alignment system, sampling at over 5,000 times per second, works in combination with a smooth-moving mirror to ensure enhanced stability and shorter warm-up times. The IRTracer-100 features a stable, airtight interferometer that incorporates a built-in automatic dehumidifier, which protects the unit against moisture and other environmental influences. Self-diagnostics and monitoring technology allow for quick, easy instrument management. The IRTracer's validation program enables easy verification of the instrument's performance. The IRTracer-100 can be customized with a variety of software and hardware options to meet specific application requirements, including contaminant analysis and identification test programs, time-course analysis and three-dimensional mapping software and an IR microscope. — Shimadzu Corp., Kyoto, Japan
Simultaneously monitor 20 process points with this analyzer

LT Industries
The IsoChem near-infrared (NIR) chemical process analyzer is designed for realtime, online process monitoring, with high-temperature and pressure probes and protective enclosures where required. It can measure several key properties, including concentrations, reaction progress, moisture, viscosity, hydroxyl number, pH and more. Up to 20 process points can be monitored simultaneously and integrated into existing control systems via standard communication protocols. Online NIR analysis is used to monitor and control key chemical usage, optimize residence time, inspect quality and make realtime adjustments to changing process conditions. — LT Industries, Gaithersburg, Md.
Mary Page Bailey