New Products & Services
June 1, 2014
Focus on Analyzers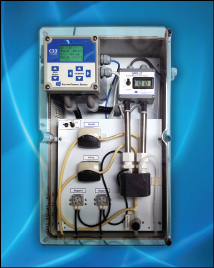 Electro-Chemical Devices
An all-in-one sulfide analyzer helps control odor
The new SMS-22 Sulfide Ion Measurement System (photo) can be quickly installed with no special tools, features user-selectable automated sequential sampling of sulfide ions in water and lowers plant technician and supply maintenance costs. The SMS-22 saves time and labor costs for municipal water operations by completing all the necessary steps to measure sulfide ions in a water sample. Because sulfide ions only exist at high pH values, this is a multi-step process. The SMS-22 conditions the sample, measures the sulfide, neutralizes the sample, measures the pH and drains and rinses the cell. After measurement, the highly caustic sample pH is reduced to a safe level near pH 8. The SMS-22 uses a sulfide ion selective electrode (ISE) to measure the total amount of sulfide present in the sample. — Electro-Chemical Devices, Inc., Irvine, Calif.
www.ecdi.com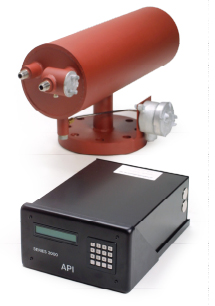 Automation Products
Density measurement with no moving parts
The Dynatrol CL 10-HY Density Cell and Series 2000 Density Digital Converter (photo) can be used to measure the density of ammonium hydroxide, caustic soda, ethylene glycol, hydrochloric acid, methanol, nitric acid, oleum, phosphoric acid, sodium chloride, sodium hydroxide, sulfuric acid and many more. These cells are available in a full range of corrosion-resistant materials and are both weather-tight and explosion-proof. With no moving parts, the unit it is virtually wear-free ensuring a long operating life. The Dynatrol Digital Density Converter has an onboard microcontroller, and the provided software calculates the specific gravity, percent concentration, and other parameters using the density and temperature information generated by the CL10-HY. A two-line LCD displays temperature, density, product frequency and status. — Automation Products, Inc., Dynatrol Div., Houston
www.dynatrolusa.com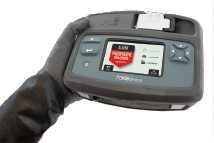 908 Devices
A handheld mass spectrometer for use in the field
The M908 (photo) is said to be the world's first truly handheld tool utilizing high-pressure mass spectrometry (HPMS). Specifically engineered for first responders and military teams, the M908 provides accurate, immediate detection and identification of trace-level chemical and explosive hazards at the point-of-action. The patented HPMS technology that powers the M908 uses diminutive ion traps that measure less than a millimeter in diameter and that are capable of operation at 10,000 times higher pressure than those in conventional MS systems. This enables the use of small, rugged vacuum pumps, micro-ionizers, detectors and efficient electronics. — 908 Devices, Boston, Mass.
www.908devices.com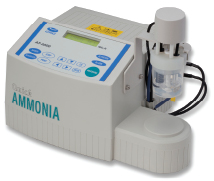 JM Science
Coulometric titration for analyzing ammonium-nitrogen
The AT-2000 Ammonia Analyzer (photo) is based on coulometric titration technology. It can measure ammonium-nitrogen (NH4-N) swiftly, accurately and easily without any specific skill on the part of the end-user. This system has a wide measurement range from low to high end with accurate measurement and is not affected by turbidity or color of the sample. It has a short measurement time of typically one minute. A very small volume of sample is necessary (0.1, 1 or 10 mL) and calibration is not required prior to the sample run. The electrode is stain resistant, has little influence on temperature change, and has a long life compared to ion-selective electrodes. Only one type of environmentally friendly reagent (dedicated electrolyte) is used, which means lower costs for budget-minded laboratories. — JM Science, Inc., Grand Island, N.Y.
www.jmscience.com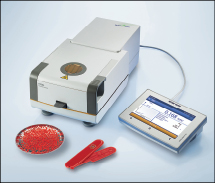 Mettler-Toledo
Transfer data easily with this analyzer
The latest models of Professional moisture analyzers (photo) from this company feature USB, Ethernet and WLAN connectivity for easy data transfer, and now can send measurement reports directly to a networked page printer. The built-in instrument tests are easy to perform and ensure accurate results. With a five-click guided procedure, the performance of all the instruments together can be qualified thanks to the certified reference substance SmartCal. Professional moisture analyzers are tested as with SmartCal to verify the performance of the instruments overall functionality. After following simple instructions, normalization for ambient conditions is automatic thanks to a new plug-in humidity and temperature sensor. — Mettler-Toledo AG, Greifensee, Switzerland
www.mt.com/moisture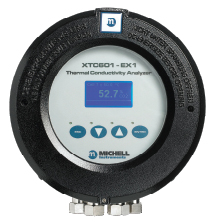 Michell Instruments Group
This binary gas analyzer offers longterm reliability
The XTC601 Thermal Conductivity Analyzer (photo) uses thermal conductivity technology to detect percent levels of a target gas mixed with another background gas. Typical applications would be: H2 generator cooling systems; H2 in heat-treatment furnaces; H2 in NH3, methanol or chlorine; CO2 in fermentation process; CO2 in biogas; H2 in blast-furnace top gas; H2 in hydrocarbons; He recovery; or N2 in CO2. The key advantages of the XTC601 binary gas analyzer is its low cost of ownership and compact dimensions (particularly in Ex d format), says the company. Thermal conductivity sensors are non-depleting which gives the analyzer minimal maintenance costs, and longterm reliable operation. The analyzer provides measurements with an accuracy of 2% full scale and a stability of ±0.5% per month of span. The sensor is highly flexible and is capable of measuring gases from 0–5% up to 0–100% (calibrated to suit application). — Michell Instruments Group, Ely, U.K.
www.michell.com/uk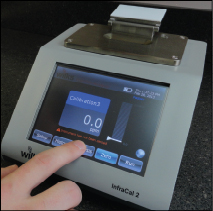 Wilks Enterprise
This portable IR device quickly measures sub-ppm oil-in-water
The new InfraCal 2 Field Portable IR (infrared) Analyzer (photo) can measure down to 0.1 ppm oil-in-water accurately, onsite and in less than 15 minutes. The analyzer combines improved electronics — which significantly increase signal-to-noise ratio for greater performance — with a touchscreen intuitive display that allows for multiple calibrations, internal data logging and data transfer capabilities, as well as alarm functions to ensure results are acceptable, and security and password settings to avoid unauthorized changes. — Wilks Enterprise, Inc., East Norwalk, Conn.
www.wilksir.com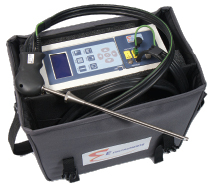 E Instruments International
A complete combustion-gas and emissions analyzer
The E8500 combustion analyzer (photo) is a complete portable tool for U.S. Environmental Protection Agency (EPA) compliance-level emissions monitoring and testing. The E8500 is suitable for regulatory and maintenance use in boiler, burner, engine, turbine, furnace and other combustion applications. The E8500 also includes electrochemical sensors (for O2, CO, NO, NO2, SO2, H2S); non-dispersive IR sensors for CO2, CxHy, high CO; and is low NOx and true NOx capable. The system has a realtime PC-software package with Bluetooth, and a wireless remote printer. — E Instruments International, Langhorne, Pa.
www.e-inst.com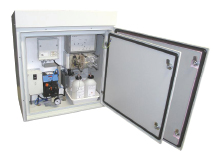 Xylem Analytics
An orthophosphate analyzer that stands alone
The P 700 IQ orthophosphate analyzer can be used as a stand-alone analyzer or in conjunction with other sensors in an IQ SensorNet 2020 XT continuous monitoring and control system. This analyzer can run itself continuously for up to 8 months without needing a user calibration or reagent changes, says the company. Because of its two measuring ranges, the P 700 can be used throughout a wastewater treatment plant to measure orthophosphates — from pre-sedimentation to the biological tanks and to the effluent. It provides continuous data to help improve operational efficiency as well as verification of phosphate elimination. — Xylem Analytics, Beverly, Mass.
Gerald Ondrey