New Products & Services
February 1, 2014
Focus on Drying and Evaporation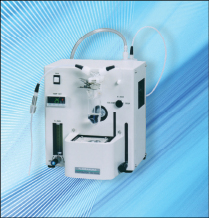 JM Science

An oil evaporator for difficult sample matrices
The AquaCounter EV-2000L oil evaporator (photo) utilizes azeotropic distillation and completely separates water from sample matrices, thus eliminating any side reactions with interfering substances. The oil evaporator is especially useful for determining moisture in difficult samples, such as heavy oils, grease, peanut butter and so on. The CE-approved EV-2000L can be used with the AquaCounter Karl Fischer titrators, or any other manufacturer's titrators. The heating range is from ambient temperature to 200°C. The carrier gas is N2 gas or dry air and flow is 30–300 mL/min with an inlet pressure at 0.8 MPa or less. The dessicant used is a molecular sieve and the unit has an aluminum block heater. — JM Science, Inc., Grand Island, N.Y.
www.jmscience.com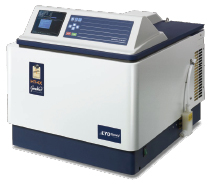 Genevac
A powerful evaporator for drug discovery
The HT-4X centrifugal evaporator (photo) provides optimized sample preparation capabilities for scientists working in the area of drug discovery. Corrosive vapors, such as trifluoroacetic acid, may be removed by the standard system and an inert purge option allows high-safety evaporation of flammable solvents. In addition, the HT-4X can also be used to achieve high-speed lyophilization of HPLC (high-performance liquid chromatography) fractions and solvents used for reformatting samples. The HT-4X features a built-in, dual-chamber refrigerated condenser that combines a powerful cryopump and solvent-recovery system, together with extra powerful infrared (IR) lamps. The combination accelerates the speed of evaporation, even for high-boiling-point solvents such as DMSO. In addition, efficient chamber cooling between runs is particularly useful to protect thermally sensitive samples when run immediately after higher boiling-point solvents. The company's patented SampleGuard and Dri-Pure technologies are included to protect samples from overheating and bumping. — Genevac Ltd., Ipswich, U.K.
www.genevac.com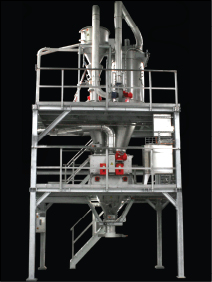 Dinnissen B.V.
A mixer that ' s also an energy-efficient dryer
The Pegasus Mixer features a double-shaft paddle mechanism that gently throws powders, granules and granulates into the air during mixing. The fluidized zone created allows the multifunctional processing unit to mix ingredients extremely gently, quickly and energy-efficiently, says the company. The new drying functionality built into the mixer also takes advantage of this fluidized zone, and prevents agglomeration during the drying process. — Dinnissen B.V., Sevenum, the Netherlands
www.dinnissen.nl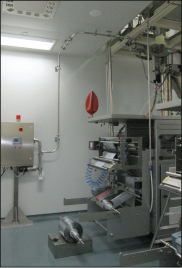 GEA Avapac

A stand-alone vacuum sampler for producing powders
This company has developed stand-alone vacuum sampler technology (photo) that can be retrofitted to large-volume powder-production lines widely used in the manufacture of infant formula and dairy powders. Vacuum sampling technology enables a plant to monitor product quality more effectively than traditional "bobbin" or "screw" sampling methods, which can themselves introduce bacteria to the powder being processed. The vacuum sampler extracts small amounts of product throughout the manufacturing process. These samples are transferred via a one-way airflow to the sample unit. Vacuum pipes and valves are kept clean with regular purging (air cleaning) to remove any powder residue. The sample is then tested in a laboratory for possible inconsistencies, such as composition or the unwanted presence of bacteria. After successful analysis, the corresponding batch is released for packaging and distribution. — GEA Avapac Ltd., Hamilton, New Zealand
www.avapac.com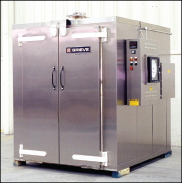 The Grieve Corp.
This walk-in oven dries resins at 750°F
The No. 941 (photo) is an electrically heated 750°F (~399°C) walk-in oven used for drying resin mixtures at an operators facility. Power (60 kW) to heat the unit is installed in Incoloy-sheathed tubular elements, while a 4,200 ft3/min, 3-hp recirculating blower provides horizontal airflow across the load. This walk-in oven features 6-in. insulated walls throughout, Type 304 2B stainless-steel interior with continuously welded seams, stainless-steel exterior with #4 brushed finish and heavy-duty double front doors. No. 941 also features a digital programming temperature controller and 10-in.-dia. circular chart recorder onboard. — The Grieve Corp., Round Lake, Ill.
www.grievecorp.com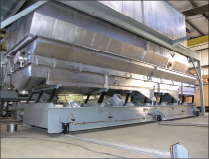 The Witte Co.
Rail-mounted FB dryers provide easy access for cleaning
Vibrating fluidized-bed (FB) dryers and coolers from this process-equipment manufacturer are available mounted on rails (optional; photo) to allow easy, unobstructed access for cleaning, maintenance and visual inspection. During washdowns or for product changeovers, the entire drying and cooling sections spanning the complete length of the thermal processing system may be rolled out by one person and then rolled back into place without any tools. Specified for high-capacity fluidized-bed dryers and coolers where access for inspection and cleaning are paramount, the rail-mounted vibratory dryers and coolers are ideal for foods, pharmaceuticals, chemicals, aggregates and other products that require dry processing. The steel rails include cushioned bumpers and are mounted into the flooring during dryer installation. — The Witte Co., Washington, N.J.
www.witte.com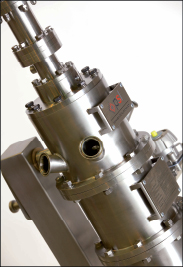 Powder Systems Ltd.
Microsphere formulation with this sterile filter dryer
Microspheres are small (5–250 µm) spherical particles manufactured from natural and synthetic materials, and are being used in applications from coatings to cosmetics and drug delivery. This company has developed processes for the production of such materials. The company's design uses side and bottom filtration, which achieves size classification — the most difficult task associated with microsphere production. Some processes require a scalping pre-filtration step to reduce the large volumes of liquid involved and to eliminate the oversized microspheres. This is achieved in the company's Scalping Filter prior to transfer into the Microsphere Filter Dryer. The equipment is designed with steam-in-place and drainability capabilities. The Microsphere Sterile Filter Dryer (photo) is tiltable to accommodate a sterile discharge. — Powder Systems Ltd. (PSL), Liverpool, U.K.
www.powdersystems.com
Gerald Ondrey