New Products & Services
December 1, 2013
Focus on Flowmeters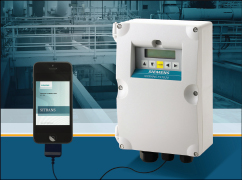 Siemens
Communicate with iOS devices with this new app
Introduced in September, the Sitrans Connection Apple iOS communication application is designed for all Sitrans F US clamp-on ultrasonic flowmeters. The Sitrans Connection enables direct communication between an Apple iOS device (iPhone, iPad or iPod Touch) and any Sitrans F US clamp-on flowmeter to enhance all metering functionalities, including programming, operational review, data logging and download. This application features full menu visibility and a complete keypad for easier navigation and programming. — Siemens AG, Industry Sector, Industry Automation Div., Nuremberg, Germany
www.siemens.com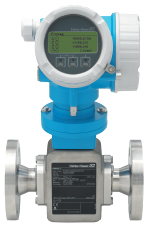 Endress+Hauser
This two-wire device is simpler to install
The Proline Promag 200 electromagnetic flowmeter is a two-wire magmeter with the same measuring performance as four-wire magmeters. Installation is simpler and less costly than a four-wire device because a separate power supply is not required. Promag H200 is available in line sizes of 1/12 to 1 in. and Promag P200 is available in line sizes of ½ to 8 in. for measuring flowrates of conductive fluids with an accuracy of ±0.5% of range and repeatability of ±0.2% of range. The flowmeter operates in process temperatures from –40 to 304°F. Connections include welded, threaded, hygienic and flanged versions that meet EN/DIN PN 16–40, ASME B16.5 CI 150, CI 300 and JIS 10K and 20K process-connection pressure ratings. — Endress+Hauser, Inc. Greenwood, Ind.
www.us.endress.com

ABB Measurement Products
Compact DP flowmeter family cuts installation & maintenance
This company's family of flowmeters has been extended to include four DP (differential pressure) technologies — orifice, wedge, averaging pilot and integral orifice. Each family member is a one-piece flowmeter incorporating the primary element, 3- or 5-valve instrument manifold and transmitter in a single, pressure-tested assembly. The compact construction enhances both performance and safety as it involves a minimal number of leakage points compared with the many potential sources of leaks found in a conventional, DP flow installation, says the manufacturer. The compact family close-couples the transmitter and the primary measurement device, thus eliminating the requirement for long lengths of small-bore impulse piping, reducing the risk of installation errors and of blockages within the tappings. — ABB Measurement Products, Warminster, Pa.
www.abb.com/measurement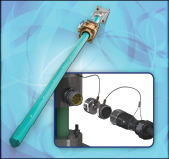 McCrometer
A new connector quickens installation and setup
With the new Quick Connect Cable, the FPI Mag electronic flowmeter is easier to install and setup for use. The Quick Connect cabling is easy to detach, making it possible to install it before the sensor, thereby allowing completion of wiring assembly prior to sensor installation. The Quick Connect Cable for the FPI Mag flowmeter is compliant with the IEC IP68 standard, and is resistant to dust and is watertight to a depth of 1 m. The Mag flowmeter's advanced microelectrode sensor compensates for variable flow profiles, including swirl and turbulent conditions. The device has an accuracy of ±0.5% of reading from 1 to 32 ft/s, and ±1% from 0.3 to 1 ft/s. The signal converter includes built-in 4–20-mA outputs and additional programmable outputs to support Scada systems. — McCrometer, Inc., Hemet, Calif.
www.mccrometer.com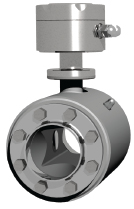 GEA Diessel


A space-saving redesign also improves accuracy
The new IZMAG2 features a redesigned measuring tube that eliminates the need for inlet or outlet pipe sections. This saves space, making the IZMAG2 easier to position precisely into tight spaces and improves its measurement accuracy by ±0.2%. Vacuum resistance is achieved by mechanically anchoring the synthetic material to a stainless-steel lattice, which makes the device impervious to water vapor and resistant to cleaning temperatures of up to 80°C. As with previous versions, the IZMAG2 also features a visual display, 360-deg positioning and Bluetooth compatibility. — GEA Diessel GmbH, Hildesheim, Germany
www.gea.com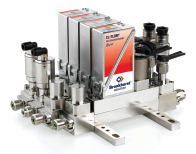 Bronkhorst High-Tech
Space- and cost-saving flow-control solution
By means of the innovative mounting concept Flow-SMS, a variety of components for mass flow and pressure measurement and control can be assembled to constitute a very compact gas delivery system. On a lightweight, but still-rugged mounting rail system, one or more mass flow (or pressure) sensor and control modules can be combined with mixing chambers, (pneumatic, electrical or manual) shut-off valves, filters or any other functional module as needed. Flow ranges can be selected between approximately 5 mL/min up to 50 L/min or even higher. In case a pressure sensor or controller is included, the pressure range can be chosen between 0–100 mbar and 0–10 bars absolute or gage. — Bronkhorst High-Tech B.V., Ruurlo, the Netherlands
www.bronkhorst.com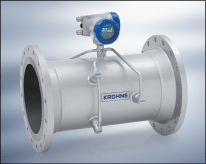 Krohne Messtechnik
A flowmeter for demanding applications
The New Optisonic 3400 ultrasonic flowmeter is a three-beam, inline device that can be used for both standard and more demanding applications, in terms of process temperature, pressure and high viscosity. This new multipurpose flowmeter offers bi-directional flow measurement independent of the medium's conductivity, temperature density and pressure. Based on the transit-time method, the device has three parallel ultrasonic beams that generate a measurement independent of flow profile, with a flow range of 0.3 to 20 m/s and accuracy of ±0.3%. The temperature range extends from –200 to 250°C, and viscosities can reach as high as 1,000 cSt. — Krohne Messtechnik GmbH, Duisburg, Germany
www.krohne.com
Sierra Instruments

Totalizing software monetizes up to four gases
This company recently released a new free-flow totalizer software module for its QuadraTherm 640i/7800i mass flowmeter. Via the QuadraTherm software interface program (SIP), users now have an efficient management tool to totalize and monetize gases with one device. The module leverages the flowmeter's high accuracy (±0.5% of full scale) to give the most accurate totalization of multiple gases. Up to four gases can be totalized from a single device and software package. — Sierra Instruments, Monterey, Calif.
www.sierrainstruments.com

This inline flowmeter accurately measures gases
The MTI10 Insertion and MTL10 Inline Mass Thermal Flowmeters provide accurate measurement of clean, dry gases and air using constant temperature sensing for fast response and low-flow accuracy. Additional transmitters or flow computers are not needed, and the devices are immune to changes in temperature and pressure over a wide flow range. The MTI10/MTL10 View software allows for quick setup, monitoring and data logging of the flowmeter using a PC. The Cal-V and Recalibration Verification allows users to perform in-situ testing of the meter's accuracy by testing the functionality of the sensor and the processing circuitry. — Spirax Sarco, Inc., Blythewood, S.C.
www.spiraxsarco.com/us
Gerald Ondrey