New Products & Services
July 1, 2013
Focus on Level Measurement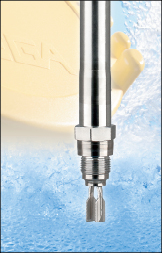 Vega Grieshaber KG
Reliable switching down to –196°C
The Vegaswing 66 vibrating level switch is said to be the first of a kind for extreme temperatures. Especially suitable for cryogenic liquids, the device switches reliably in process temperatures from –196 to 450°C, and operates at pressures from vacuum to 160 bars. The level switch offers increased protection and safety for gas-liquefaction plants and liquefied gas tanks used for processing, transporting or storing liquefied natural gas (LNG) or liquid nitrogen. The device has standard approval for explosion protection according to ATEX and FM, as well as for use on ships and offshore platforms. — Vega Grieshaber KG, Schiltach, Germany
www.vega.com
Corrosive environments are not a problem for these meters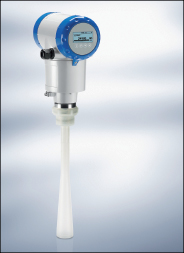 Krohne Messtechnik
Launched in February, the Optiwave 5200 C/F is a new 10 GHz FMCW (frequency modulated, continuous wave) radar level meter for liquid applications up to 300-m measuring range. The two-wire, loop-powered device measures level and volume in storage or process tanks with process temperatures up to 250°C and pressures up to 40 bars. The unit has been designed and developed for use in SIL-2 safety-related systems according to IEC 61508. The polypropylene (PP) and polytetrafluoroethylene (PTFE) Wave Horn antennas are process sealed by their antenna material instead of a traditional O-ring seal construction. These gasket-free antennas are therefore suited for extreme corrosive environments, says the company. The new meter is compliant with requirements such as SIL and Namur recommendations NE 107, 21, 43 and 53, and offers a 4–20-mA HART communication with dedicated PACTware DTMs. —
Krohne Messtechnik GmbH, Duisburg, Germany
www.krohne.com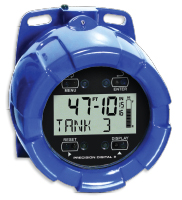 Precision Digital
This explosion-proof meter displays level and volume
The PD6801 ProtEX F&I Level Meter is an easy-to-read, explosion-proof meter designed for safe or hazardous environments, such as oil wells or chemical storage. The 4–20-mA loop-powered input displays level in feet and inches; a second line shows volume, percent or a custom label. The meter also features a 20-segment tank-level indicator that displays the height. The meter is optimized for wide-angle viewing of about 80 deg. The meter has FM, ATEX, CSA and IEC Ex approvals, and is housed in a cast-aluminum NEMA 4X enclosure. — Precision Digital Corp., Hollister, Pa.
www.predig.com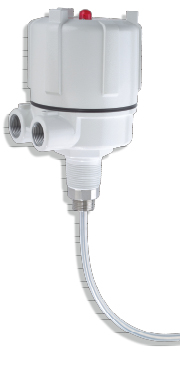 BinMaster
This capacitance probe is flexible for tight fits
This bendable capacitance probe is designed to fit into tight spaces or in vessels where obstructions prevent the installation of a straight probe. The probe can be bent to avoid obstructions in a vessel while still allowing adequate probe surface area to confirm the presence or absence of material. Mounted on the side of the bin, the bendable probe can be used in a wide range of solid materials or slurries. These capacitance probes work at 6 kHz — far below the radio-frequency (RF) level of 9 kHz — and will not interfere with two-way radios or other equipment operating in the radio spectrum, says the company. Standard probes feature a triple-threaded, screw-off cover that allows easy access to internal components and an FDA-recognized powder coat finish. — BinMaster, Lincoln, Neb.
www.binmaster.com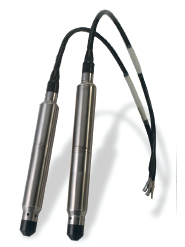 Omega Engineering
Submersible transmitters that measure depth or level
The PX709GW Series submersible level/depth transducers and transmitters are designed to make precision level or depth measurements in fresh water or liquids that are compatible with 316 stainless steel. The standard device has an accuracy of 0.20%, and optional high-accuracy models are available with 0.8% accuracy. They are available with lightning and surge protection, and have outputs of 4–20 mA, 0–5 V or 0–10 V. — Omega Engineering, Inc., Stamford, Conn.
www.omega.com


Conduit fittings protect this level sensors cables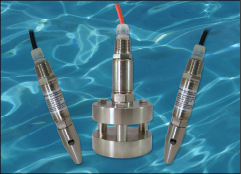 American Sensor Technologies
Since last August, this company has supplied its liquid level sensors with ½-in. NPT male conduit fittings before the cable interface. This is beneficial if the sensor is going to be exposed to a liquid not compatible with the material. It also adds stability in turbulent tanks. For installations where the level sensor is threaded into a tank, users prefer to install conduit to protect the cable from the work environment. AST 4500, 4510 and 4520 level sensors are Class I Div. 1 intrinsically safe, Group C and D when installed with a barrier as well as ABS (American Bureau of Shipping) certified. Pressure ranges are available as low as 0–1 psi (27.68 in. water column) —
American Sensor Technologies, Inc., Mt. Olive, N.J.
www.astsensors.com
Automation Products Group,



Monitoring tanks remotely through the cloud
Tank Cloud Remote Monitoring is a cost-effective remote tank-level-monitoring system that enables users to monitor facilities and processes from anywhere with an Internet connection, 24 hours per day, 7 days per week. Using the company's proprietary remote level sensors and modules, or any sensor with a 4–20-mA output, Tank Cloud users can remotely monitor level, pressure, temperature, flow, pH and other process variables through an easy-to-use online interface. Sensors and input modules connect to the user's network via an Ethernet cable and transmit data via the user's internet connection, whether landline, cellular, radio or satellite. On Tank Cloud remote monitoring Web portal, operators and managers have ready access to realtime and historical data, and can manage various alarms and set permission levels for various personnel. The system notifies all relevant workers of alarms via email and text messaging. — Automation Products Group, Inc., Logan, Utah
www.apgsensors.com
Control the level in hazardous areas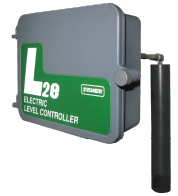 Emerson Process Management
The Fisher L2e level controller uses a rugged force-balanced displacer sensor to detect the level of a single liquid or the interface of two liquids. The controller's new knife-edge sensing design combines with aerospace-quality switch technology to provide rugged, reliable and accurate level control, says the company. The L2e zero and span adjustments enable tuning for a wide variety of level-loop applications. Additionally, the controller is certified for use in hazardous areas and is NACE-compliant for "sour" service. By scanning the QR code on the inside cover of the L2e, instrument technicians have access to 24/7 field support for setup, calibration and loop tuning. —
Emerson Process Management, Marshalltown, Iowa
www.emersonprocess.com
Fluid Components International
This switch has a SIL2 rating and many approvals
The FLT93 Series FlexSwitch is a precision flow/level/temperature switch for use in liquid, air, gas or interface service. Suitable for oil-and-gas upstream production or downstream refining, storage and distribution, the FLT93 Series FlexSwitch provides dependable relief-valve monitoring and flare-gas flow or leakage detection. The device is said to be the most advanced heavy-duty thermal-dispersion technology flow and level switch available. SIL2-rated for ultra reliability, the device also has Ex agency approvals for the entire instrument, including FM, FMc, ATEX and IECEx. — Fluid Components International, LLC, San Marcos, Calif.
www.fluidcomponents.com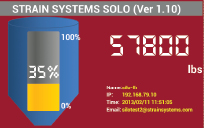 Strain Systems


This weighing system also has a level-measurement feature
Because raw materials are purchased, consumed and reconciled in terms of weight, this company's products are designed to provide direct weight measurement for bulk materials stored in silos. However, because many operators use level devices and then calculate weight from data, which may be uncertain, this company now offers a level measurement feature on its Solo product line, which combines the patented StrainCell sensor with intelligent electronics. As a result, users can see silo weight and level on the display at the same time. The technology has a proven accuracy of 1% of full scale for steel-legged silos and within 3% of full scale for steel-skirted silos. — Strain Systems Inc., Bellevue, Wash.
www.strainsystems.com
This GWR transmitter has three times better signal-to-noise
The Eclipse Model 706 guided-wave-radar (GWR) transmitter is said to be a best-in-class level-control solution. Designed to provide outstanding accuracy, reliability and safety, the latest-generation features include enhanced signal performance. The GWR circuitry achieves both a higher transmit-pulse amplitude and improved receiver sensitivity, which leads to a signal-to-noise ratio that is three times higher than competitive GWR devices, says the company. Unlike other GWR transmitters that use algorithms to infer level readings in top-of-the-probe dead zones, the Eclipse 706 measures true level to within specification all the way up to the process flange. The new transmitter also features advanced diagnostics, with LCD diagnostics conveyed in realtime waveform and trend data. — Magnetrol International, Inc., Downers Grove, Ill.
www.magnetrol.com
A multiparameter transmitter now includes batch controlling
In March, this company introduced the second generation Signet 9900 Transmitter, which includes a Batch Controller option along with the features of the original version. This new transmitter supports multiple parameters that include level, flow, pH/ORP, temperature, pressure and more — and now also for batch systems. Users can convert their second-generation 9900 transmitter to a batch controller system by simply plugging in the new Batch Module and Relay Module, thereby maintaining the product's original intent of consolidating multiple platforms into one while increasing their service level and reducing inventory, says the company. — GF Piping Systems, Tustin, Calif.
www.gfpiping.com


Measurements from remote sites right to your desktop
AutoLog GSM Wireless Probe is a new compact and robust device that performs liquid level measurements and sends the data to your desktop. The system uses widely spread GSM/GPRS networks as communication. Operators can access data from any computer's Web browser, anywhere and at any time. The system does not require a separate control room, server PC or special maintenance staff, so investment and operating costs are low. Data logging and sending is possible at programmable intervals. Measurements, alarms, trends and reports from objects can be shared by all users. — FF-Automation Oy, Vantaa, Finland
www.ff-automation.com
Endress+Hauser,

An imersion sensor that measures interfaces
The Turbimax CUS71D ultrasonic immersion sensor is used for interface measurements in processes where suspensions are separated into their liquid and solid components by sedimentation. The device can continuously monitor the separation and transition zones of the clarification and settling phases. The sensor uses a piezoelectric crystal to generate ultrasound, and measures the time required for the signal to reach solid particles in the separation zone, and then return to the receiver. The sensor is used with the company's M CM44x multi-parameter/multiple-sensor transmitters — one sensor for the CM442, and up to four can be connected to a CM444 or CM448 transmitter. — Endress+Hauser, Inc., Greenwood, Ind.
www.us.endress.com
Level control is simplified with non-steady-state tuning
This company's software includes non-steady-state (NSS) modeling features for integrating control loops. These tools are said to provide fast, simple modeling and tuning of level controls. Unlike temperature, pressure and flow, level controls have different dynamics, and these new tools make it simple to tune level controls, even while the level is moving, says the company. NSS tuning integrates seamlessly with the company's PlantTriage and PID Loop Optimizer software. These tools also provide capabilities for both tight control and surge-tank scenarios. NSS modeling is included with PlantTriage Version 11 and higher, and with PID Loop Optimizer Version 21 and higher. — ExperTune Inc., Hartland, Wisc.
www.expertune.com
Gerald Ondrey