New Products & Services
December 1, 2012
Focus on Mechanical Conveying
This weighing system can incorporate up to three loadcells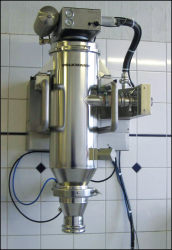 Volkmann


The Conweigh (photo) weighing system complements this company's VS and PPC Series of vacuum conveyors, and can accurately weigh powders, granules, food particles, pellets, capsules and other bulk materials that are being transferred into and out of production processes. The unit registers weight to within ±1% or better, allowing adjustments to be made to avoid weight gain or losses during transfer. Conweigh can work with one, three or four load cells, depending on the production application. For weighing into vacuum conveyors, Conweigh is available in two configurations: a single loadcell to accompany the company's VS or PPC200 and 250 conveyor models, and three load cells for the VS or PPC350 and 450 models. — Volkmann, Inc., Hainesport, N.J.
www.volkmannusa.com
A better, safer way to lift bags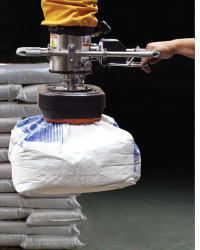 Anver
The vacuum-tube (VT) Series Bag Lifter (photo) is said to provide an ergonomically sound alternative to manual lifting, for loading and unloading bags and sacks from skids, pallets and conveyors. Developed for production use, this vacuum-operated bag or sack lifter provides 100% duty cycle, features instant attach and release, and speeds bag-handling operations. The Bag Lifter is constructed from stainless steel for washdown environments, and has an ergonomic handlebar with fingertip controls. The vacuum pad attachments have foam-rubber sealing rings, and the housing is available in plastic or stainless steel. The lifter is suitable for 50-, 100- and 125-lb bags. — Anver Corp., Hudson, Mass.
www.anver.com
A liquid helps move solids with this jet pump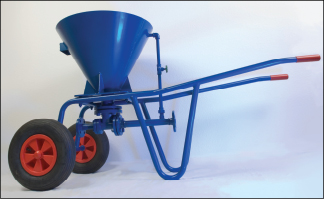 GEA Wiegand
Liquid-jet solids pumps are jet pumps that, with the help of a motive liquid, can convey flowable granular material. The motive liquid (usually water) flows at high velocity out of the motive nozzle into the mixing chamber of the pump, thereby entraining the material that is present in the mixing chamber. The mixture of liquid and solids can be conveyed directly to the point of application, by pipe or hose, without the need of another pump. Liquid-jet solids pumps are used for conveying sand, gravel, activated carbon, ion-exchange resins and other solids. They can also be used for filling and emptying reactors, in the decarbonizing and neutralizing units of water plants and for mixing in precipitating agents during the treatment of sludge and effluent. These pumps can also be supplied as mobile units complete with hopper and rinse-water connection (photo). —
GEA Wiegand GmbH, Ettlingen, Germany
www.gea-wiegand.com
Dust-free handling of empty bags without product waste
The Manual Dump System collects dust generated during manual dumping, compacts empty bags and conveys bulk material downstream. The dust-free system consists of a receiving hopper, dust collector and flexible-screw conveyor. A bag infeed chute through the sidewall of the hopper hood allows the operator to pass empty bags directly into the compactor, causing dust generated from both the dumping and compaction to be drawn into the system's two cartridge filters. An automatic reverse-pulse filter-cleaning system releases short blasts of compressed air regularly, causing dust buildup on the outer surfaces to fall into the hopper, thereby conserving usable product. The compactor accommodates 50 to 80 bags. The hopper discharges into an enclosed, flexible screw conveyor, designed to handle a wide range of materials, including free- and non-free-flowing bulk materials from large pellets to sub-micron-sized powders. — Flexicon Corp., Bethlehem, Pa.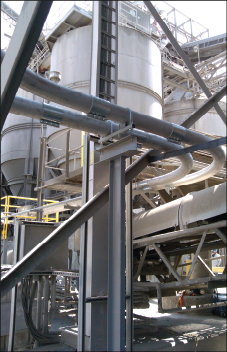 Modern Process Equipment
Gentle conveying of heavy loads
The Chain-Vey tubular drag conveyor (photo) has been proven to convey hundreds of different products, including ingredients for cement. The system transports products gently and efficiently, both vertically and horizontally, in a dust-tight environment without product degradation or declassification, says the manufacturer. Other features include a case-hardened carbon-steel link chain to convey high bulk densities (cable systems cannot handle the load) and XP (explosion-proof) rating upgrading capability. Systems are available for handling 650, 1,000 and 1,400 ft3/h. — Modern Process Equipment (MPE), Chicago, Ill.
www.mpechicago.com
Reduce energy consumption while doubling the capacity
The piFlow i powder-conveying concept makes it possible to double the conveying capacity for many materials compared to traditional conveyors, says the company. Like all of the company's conveying machines, the piFlow i is ATEX Dust classified. The unit is equipped with Coax cartridges, claimed to be the most energy efficient way to produce a vacuum. Smaller, more efficient and reliable than conventional ejectors, a vacuum system based on Coax technology can provide users with three times more vacuum flow than conventional systems, while reducing energy consumption, says the company. — Piab, Hingham, Mass.
www.piab.com
These feeders handle up to 850 ton/h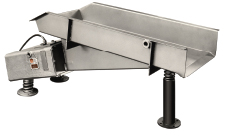 Eriez Manufacturing
The Heavy Duty Electromagnetic Vibratory Feeders (photo) are suitable for handling coal, ore, aggregates, slag or whenever high-volume, controlled feeding is required. The feeders feature an energy-saving intermeshed a.c./permanent magnet drive. The feeders are available in nine models with capacities of up to 850 ton/h, and can be supplied with overhead drives, multiple-drive arrangements, "grizzlie" decks and dust covers to meet users application requirements. They feature an electromagnetic design that has no moving parts, such as shafts, cams or bearings, thus eliminating the need for lubrication. Controls come standard in NEMA 12 enclosures for dusty environments; other enclosures are also available. —
Eriez Manufacturing Co., Erie, Pa.
www.eriez.com
David Round

A jib crane for pharmaceutical manufacturing
These new all-stainless-steel articulating jib cranes (photo) are ideal for lifting bulk bags or other materials (up to 1,000 lb) in cleanroom environments. Explosion-proof models of these jib cranes are available to meet electrical standards required in hazardous-environment processing areas. The cranes feature fully enclosed mechanical components, including wire-rope hoist, gearbox and motor drum. Lift height and boom/knuckle configurations can be varied to meet user specifications. Structural components are prepared with a glass-bead finish that is applied in a dedicated, in-house metal-treatment facility. This results in smoother, more hygienic surfaces that are free of imperfections, such as weld scars, says the manufacturer. — The David Round Co., Streetboro, Ohio
www.davidround.com
These sanitary receivers are easy to clean
The P-Series Sanitary Receivers are designed to convey difficult powders for continuous conveying applications, such as hopper loading and loss-in-weight feeder refill applications, that require a high level of sanitary design and frequent cleaning. The receiver body is made of stainless steel (DIN 1.4404, AISI 316L), with internal and external electro-polished surfaces. Modular design allows for easy disassembly and cleaning. Tri-Clover fittings allow for quick disconnection from the conveying and vacuum piping. All units have reverse-jet filter cleaning. Models available include P-10, P-30 and P-100 with conveying rates of up to 4,000 kg/h (8,800 lb/h). — K-Tron, Salina, Kan.
www.ktron.com
A sanitary weigh belt for conveying food materials
The new Model SI Ultra-Sanitary Weigh Belt is designed to provide accurate, reliable weighing performance and quick, easy cleaning for a variety of sanitary applications. The system was built to exceed U.S. Dept. of Agriculture (USDA) standards for cheese, dairy, prepared foods and more. The USDA and U.S. Food and Drug Admin. (FDA) drum motor is hermetically sealed in a food-grade bath and ideally suited for applications requiring daily high-pressure washdown. The 30-in. long conveyor is suspended from the scale on an open, cantilevered C-frame pipe support, which is said to simplify belt removal and replacement for washdown applications. — Thayer Scale, Pembroke, Mass.
www.thayerscale.com
Gerald Ondrey