New Products & Services
October 1, 2013
Focus on Packaging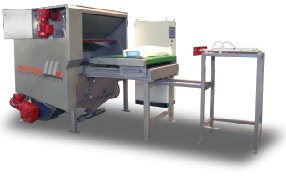 Dinnissen B.V.
A system to reduce losses when emptying bags
Bags of 10–90 kg typically lose between 0.4 and 1% of the products — often expensive ingredients — due to residues left behind when the bags are emptied, says this company. To reduce losses, the company has developed a new system for emptying bags. Up to 99.9% of the contents can be removed by the system, which uses vibration-, air-pulse- and suction-based technology. The system is especially suited for processing expensive and contamination-sensitive ingredients. The system is suitable for all types and sizes of bags (10–90 kg) and can be used with products having a wide range of transport characteristics. — Dinnissen B.V., Sevenum, the Netherlands
www.dinnissen.nl
Packing paper that protects against corrosion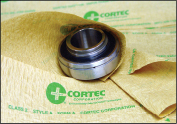 Cortec
Bio Wrap Creped — powered by Nano-VpCI (vapor-phase corrosion inhibiting technology) — is a corrosion-inhibiting paper for protecting metals that are in an enclosed package. This non-toxic, biodegradable crepe paper combines multi-metal corrosion protection with the packaging benefits of paper creping, which increases the tensile strength and degree of pliancy. The paper provides cushioning and surface protection for wrapped parts and a "pooling" effect for oiled parts. The paper is effective against aggressive environments, including humidity, SO2, H2S and galvanic corrosion from dissimilar metals. It can be used for the protection of products for storage and shipment, as end enclosures for shipping tubes, insert paper for recess areas in large packages and as sheet liners or separators between products. — Cortec Corp., St. Paul, Minn.
www.cortecvci.com
Flexicon
Integrate this tubular conveyor anywhere up- or down-stream
The new Flexi-Disc line of Tubular Cable Conveyors is suitable for the gentle transfer of friable food and non-food products, and is offered as a standalone system, or fully integrated with upstream and downstream equipment, including bag-dump stations, bulk-bag dischargers, bulk-bag fillers, container dumpers and more. The conveyor moves material using high-strength polymer discs — affixed to a stainless-steel or galvanized cable — that slides within a smooth stainless-steel tubing. The system can have single or multiple inlets and outlets, and can convey over short distances or hundreds of meters. — Flexicon Corp., Bethlehem, Pa.
www.flexicon.com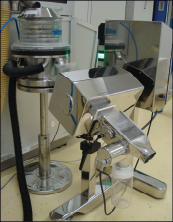 Lock Inspection Systems


Detect and reject metals from pills with this machine
The standalone Insight PH metal detector combines core technologies with additional features to deliver benefits to manufacturers of tablets and capsules. The system is highly resistant to vibration, and its integrated digital search head and Optix detector-management software guarantee detection and rejection of minute metal fragments, while maintaining high productivity. The detector is sensitive to all metals, and can inspect up to 30,000 tablets or capsules per minute. — Lock Inspection Systems Ltd., Oldham, U.K.
www.lockinspection.com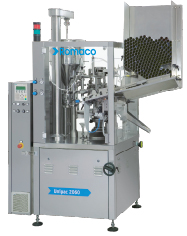 Romaco Group
This automatic tube filler has a small footprint
The Unipac U 2060 automatic tube filler has an enclosed design that meets ergonomic requirements. With a compact structure (footprint less than 1.5 m2), the unit is easy to access. Equipped with eight stations, the system is suitable for filling semi-solids, such as ointments, creams, gels, pastes and other products in the pharmaceutical and cosmetics industries. The products are filled into aluminum, laminate or polyethylene tubes, which are closed either mechanically (by means of a series of folds) or in a heat-sealing or hot-air process. The machine has a maximum output of 60 tubes/min. — Romaco Group, Karlsruhe, Germany
www.romaco.com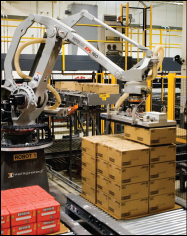 Intelligrated


A robot to add or load or unload pallets automatically
At Pack Expo (Las Vegas, Nev.; September 23–25), this company presented its Avley robotic palletizing and depalletizing machine. The robot's flexibility, combined with advanced software and vision technology, enables handling of variable loads and products and brings the speed and accuracy of automation to previously manual processes, says the company. The manufacturer offers all the components for complete order-fulfillment solutions, enabling users to phase out manual processes. — Intelligrated, Mason, Ohio
www.intelligrated.com
Shrink films for beverage multipacks
Introduced in August, the Bemis Titan brand shrink films and labels are designed to enhance beverage packaging quality, efficiency and brand appeal using advanced polyethylene shrink technology. The film creates vibrant, sustainable shrink multipacks that replace corrugated, paperboard or plastic rings. Multipacks made with these shrink films reduce material weight by 50% and decrease packaging costs by up to 30% compared to paperboard, says the company. — Bemis Performance Packaging, Oshkosh, Wisc.
www.bemisperformancepackaging.com
Instant product authentication with a new barcode
Unlike traditional 2D barcodes, which are limited in data capacity and require an internet connection or time consuming database look-ups, the HD Barcode has none of these shortcomings, making it suitable for absolute product authentication. A single code can hold 175 times more data than a traditional 2D barcode, and may contain text, images, HTML and other file types. HD Barcode uses a proprietary reading application that allows an authorized user to scan and read these comprehensive product details in any location. Manufacturers can track and trace information, product specifications, e-pedigree data, plant location, manufacturing date, distribution regions, package carton or label identifiers, user data, and more. — Complete Inspection Systems, Inc., Indialantic, Fla.
www.completeinspectionsystems.net
Rigid packaging manufactured from only polyethylene
This company continues to expand its sustainable packaging portfolio with the recent launch of a 100% PE Standup Pouch (SUP). The SUPs structure is made with only one raw material, PE, enabling easier recycling with 83% less plastic used when compared to traditional rigid plastic packages. Also, the monomaterial composition and improved trimmings contribute to lighter weight, which leads to additional cost savings and storage and transportation benefits. The SUPs can be used for cleaning products, beverages, cosmetics, dry and frozen foods and products in the building and construction sector. — The Dow Chemical Company, Midland, Mich.
www.dow.com/packaging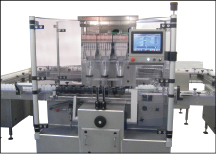 NJMPackaging
A modular tablet counter that delivers
fast and accurate filling
The Cremer CFS-622 Tablet Counter is a servo-driven counting and filling system that features a modular design, accommodating up to four counting modules to fill up to 170 bottles per minute. It handles almost any size tablet, capsule or softgel and fills almost any bottle while achieving 100% counting accuracy, says the manufacturer. The unit's servo-driven feed screw and dipping filling nozzles provide fast and accurate transportation and filling of almost any size bottle. Servo-driven vibratory plates, product separator flaps and discharge flaps provide fast and consistent product flow while minimizing maintenance, adds the company. The system meets 21 CFR Part 11 guidelines. — NJMPackaging, Lebanon, N.H.
www.njmpackaging.com
Print compliant labels faster and with better quality
ColorWorks Label Printer technology was introduced to help manufacturers that produce a large number of SKUs (stock-keeping units) manage the chaos associated with different label varieties and to meet new regulatory labeling standards. Launched last month at Pack Expo, ColorWorks offers improved image quality and production speeds. The company says this new technology can help reduce total labeling costs by up to 50% for a wide range of packaging and manufacturing applications. The company also launched its ColorWorks C831 Wide Label Printer to help manufacturers and transporters comply with Globally Harmonized System (GHS) labeling standards. — Epson America, Inc., Long Beach, Calif.
www.pos.epson.com
New applications available with this PP film
Polypropylene Lumicene Random is based on proprietary metallocene technology from this company's Refining & Chemicals Div. The new material is said to expand the range of applications for conventional PP and adds a new dimension to the more traditional applications. The product offers ultra-low extractables and "best-in-class" organoleptic properties, to give universal grade status for food packaging from the refrigerator to microwave applications, says the company. Converters can achieve higher productivity as a result of 150 MPa more rigidity and reduce cycle times thanks to the material's higher fluidity. Downgaging of between 4 and 8% has been proven, the company says. — Total S.A., Paris, France
www.total.com
A redesigned filling machine has improved accuracy, and more
The redesigned RPF Rotary Piston Filling Machine accommodates a wide range of containers and products of most viscosities at high production speeds of 600+ per minute. This series is available in different frame sizes and models, from four to 36 filling nozzles. The overhead driven pistons feature fine-fill piston adjustment, achieving ±0.5% fill accuracy. The cylinders and pistons are easily removed for cleaning and changeover to other sizes. New features include an improved starwheel drive system with factory set overload clutches and improved spiral-drive clutch, both offering more precise adjustment that never requires readjustment, says the company. — Cozzoli Machine Co., Somerset, N.J.
www.cozzoli.com
A PP film with functional layers on both sides
Introduced last April, Torayfan MWX6 metallized white cavitated biaxially-oriented polypropylene (PP) film is designed with a proprietary "ultra-barrier" layer on one side for "superior" moisture- and oxygen-barrier functionality, and the other side of this MWX6 film is a hermetic, heat-sealable layer. The new film can be used as a "monoweb" or a lamination, and thus runs on horizontal form-fill-seal (HFFS) and vertical FFS machines. Available in 100 and 110 gages (1–1.1 mil), MWX6 film is suitable for packaging food products (snacks, baked goods, confectionary items and refrigereated and frozen foods) as well as agricultural and chemical packaging. — Toray Plastics (America), Inc., North Kingstown, R.I.
www.torayfilms.com
Gerald Ondrey