New Products & Services
January 1, 2014
Focus on Performance Materials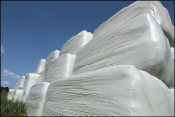 Total Refining & Chemicals
A new polyethylene grade for large-width films
The new Supertough 22ST05 metallocene polyethylene grade is aimed at the industrial films sector, embracing the need for easy-to-process, high-performance downgauging film solutions. Supertough 22ST05 films feature excellent bubble stability and mechanical properties that give them the potential to downgauge by up to 25%, allowing for the development of large-width films, says the manufacturer. Large-width films are important in agriculture and transportation applications, among others. — Total Refining & Chemicals, Brussels, Belgium
www.totalrefiningchemicals.com
This material is an alternative to glass and polycarbonate
Akestra is a new high-performance plastic material whose properties make it a viable alternative to polycarbonate, polystyrene and glass. Featuring a high glass-transition temperature, clarity, heat resistance, high melt strength and amorphous characteristics, this durable material can be blended with other plastics to improve their properties. In packaging applications, Akestra can be used in either reusable or disposable products. The high melt strength of Akestra makes it particularly suitable for extrusion blow-molding and extrusion foaming processes. In combination with polyethylene terephthalate (PET), it creates a fine cell structure, resulting in desirable mechanical properties for structural and packaging foam applications. — Perstorp Holding AB, Perstorp, Sweden
www.perstorp.com



This moldable optical silicone will not degrade in high heat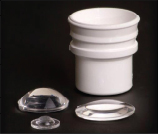 Dow Corning
MS-2002 Moldable White Reflector Silicone is a highly reflective optical-grade white material that is intended for light-emitting diode (LED) lamp and luminaire applications. MS-2002 material targets a reflectivity as high as 98%, which boosts light output from LED devices, improves energy efficiency and prolongs device reliability, says the company. This material also delivers mechanical, thermal and optical stability at temperatures exceeding 150ºC. Unlike conventional LED materials, such as epoxies, polycarbonates and acrylics, MS-2002 silicone is said to retain its properties and performance over the lifetime of a device without physical degradation. This product also does not require the additional mixture of liquid silicone rubber or color pigmentation. — Dow Corning, Midland, Mich.
Use these retaining compounds on contaminated surfaces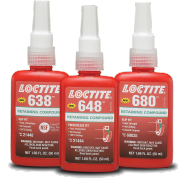 Henkel
The newly enhanced Loctite anaerobic retaining compounds allow primerless performance on oily or contaminated surfaces, even at very high operating temperatures. Used in combination with interference fits to secure bearings, bushings, gears and cylindrical assemblies into housings or shafts, the Loctite line of products allow for high load transmission, relaxed machine tolerances and a general reduction in assembly size. Loctite 638 is a general-purpose retaining compound recommended for press fits that will need subsequent disassembly. Designed for use on loose-fitting parts, this high-strength adhesive resists temperatures to 175°C and can be used on applications with gaps approaching 0.25 mm. Loctite 648 is recommended for continuous working temperatures to 180°C. This general-purpose retaining adhesive fixes in five minutes with full cure in 24 hours and is designed for use on close-fitting parts. The high-strength formulation bonds well to stainless-steel press and interference fits, and fills gaps to 0.15 mm. Loctite 680 is a low-viscosity, high-strength retaining adhesive for use on slip-fitted parts with gaps as large as 0.38 mm. Both Loctite 648 and 680 are certified to ANSI/NSF Standard 61 for use in potable water systems. — Henkel Corp., Rocky Hill, Conn.
A new polypropylene resin with a high melt flowrate
This company's new clarified random copolymer 80R90CD polypropylene (PP) resin delivers stiffness, desirable impact performance and clarity. Its lower processing temperatures, when compared to other similar materials, allow for simplified mold design, extended tool and equipment lifetime and decreased energy usage. The high melt flowrate of 80R90CD clarified PP reduces maximum molding pressure, allowing lower-tonnage machines to be used and contributing to longer tool life and reduced maintenance. From a design standpoint, higher flow — together with the stiffness and impact of this new grade — makes it appropriate for thin-wall injection molding. Higher flow also makes it easier to design parts because there are fewer flow-related challenges to overcome compared to conventional materials. Target applications for the new grade include food storage containers, food packaging, housewares and household storage items. — Propilco, S.A., Bogotá, Colombia
Use these thermally conductive materials with LEDs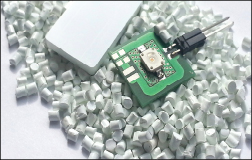 Lehvoss North America
New thermally conductive Luvocom compounds are designed to meet specific requirements for LED applications. These materials are characterized by a thermal conductivity ranging from 0.6 to 1.5 W/mK, are electrically insulative, and have a tensile strength of up to 8,000 psi (55 MPa) and an impact strength up to 14 ft-lb/in.2 (29 kJ/m2). Typical Luvocom materials use PET and aliphatic polyamide (PA 6) as base polymers, giving the compounds processing characteristics which enable injection molding of complex geometries and thin wall sections, says the manufacturer. — Lehvoss North America LLC, Pawcatuck, Conn.
This corrosion-resistant water-based coating is low in VOCs
This newly released Teflon industrial coating is water-based, easy to use and is very corrosion resistant — up to 3,000 salt-spray hours. Specifically engineered for coating offshore, chemical processing and water-treatment fasteners, the new coating is targeted for applications demanding high levels of corrosion resistance, anti-galling and dry lubrication. This coating is also very low in volatile organic compounds (VOCs). Coatings are available in blue and red, with yellow and black options being added in the near future. — DuPont, Wilmington, Del.
This microwave laminate compound exhibits high stability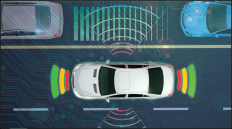 Isola Group S.a.r.l.
Astra is a new compound with a low-loss dielectric constant for radio-frequency (RF) and microwave designs. The compound's lead-free laminate materials exhibit electric properties that are constant over a broad frequency and temperature range, for simple processing. Featuring a dielectric constant that is stable between –55 and 125ºC and a low dissipation factor, Astra can be processed at lower temperatures (under 200ºC) than competitive products, making it a cost-effective alternative to other commercial microwave laminate products, such as PTFE. Key applications include long antennas and radar applications for automobiles, such as adaptive cruise control, pre-crash, and blind-spot detection. — Isola Group S.a.r.l., Chandler, Ariz.
This material improves industrial ceramics' performance
This company has produced a new 3YSZ (3-mol% yttria-stabilized zirconia) material for high-strength industrial ceramic applications, such as valve components and process equipment. Manufactured to ensure retention of an intrinsic nanostructure, this product's high density and chemical homogeneity give ceramics increased bonding strength, thermal stability and fracture resistance. Featuring an expansion coefficient similar to that of steel, 3YSZ materials are corrosion-resistant and can be supplied in application-specific forms — as a spray-dried granulated power (with or without binder), suspension or slurry. These materials' inherent nanostructure increases chemical activity, allowing for ceramics to be processed at lower temperatures. — Innovnano, Porto Salvo, Portugal
Enhance thermoplastics with these custom flame retardants
Exolit OP flame retardant solutions support high-temperature thermoplastics in the electrical and electronic industries. Exolit OP 1400 is formulated for polyamides while Exolit OP 1260 is compatible with polyesters. These new compounds are designed to improve fire safety, along with processing and mechanical performance of these thermoplastic families. According to the company, these formulations can be customized to the fire protection challenges of specific thermoplastics. Exolit OP 1400's thermal stability helps to avoid issues, such as polymer degradation, formation of decompositions products and discoloration. Exolit OP 1260's synergistic blend addresses fire safety and enhances melt flow, without the need for additional flame-retardant additives. — Clariant, Muttenz, Switzerland