New Products & Services
August 1, 2012
Focus on Pipes & Fittings
A tube welder for sterile biopharmaceutical applications
The Biowelder Total Containment (TC) system features innovative technology that permits sterile connection of liquid-liquid thermoplastic tubing that has an outer diameter of up to 1 in. and that is used on disposable bag assemblies in all biopharmaceutical manufacturing processes. The sterile welding process is fully automated and can be performed in non-classified or classified environments while maintaining product sterility. The thermal weld produced by BioWelder TC ensures stability, thus guaranteeing an ultra-safe connection. The system has been qualified; biological, physical and extractables tests were conducted to obtain data representing a variety of process conditions, including critical ones. —
Sartorius Stedim Biotech, Aubagne, France
fr.sartorius.com
This hose is suited for food and pharma applications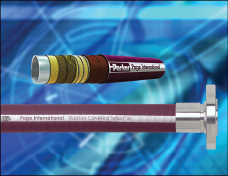 ParkerHannifin
This company offers USP Class VI certified RCTW (rubber covered fluoropolymer hose) to transfer materials without contaminating the integrity of the product. USP Class VI certification includes stringent testing of the tube materials to determine biocompatibility, toxicity and extractables of a product. For end users, especially in the pharmaceutical and food industries, purity, taste, smell, color and extractables are critical characteristics. These RCTW hoses are extremely flexible, easy to clean and handle temperatures up to 300°F. The EPDM rubber covers the FEP tube with multi-layers of rubber and polyester reinforcement with an added helical wire for support. The rubber and polyester insulates the tube, and the wire helix supports full vacuum service. Sizes range from 1/2- to 4-in. inner diameter. — ParkerHannifin/Parflex Div., Parker Page International Hose, Fort Worth, Tex.
www.pageintl.com
Custom-made pipes in just about any geometry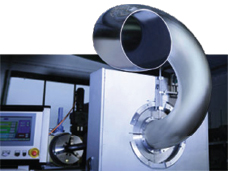 Tube-Tec
This company is a specialist for manufacturing cylindrical, helical coil systems, flat coils, spirals, elbows and circular manifolds. The company has 20 mandrel and three-reel bending machines capable of bending pipes with an outer diameter of up to 168.3 mm. Elbows with thin walls, such as those used for pneumatic conveying, are manufactured in a special procedure, bending tubes with an outer diameter up to 355.6 mm, minimum radius 2.5 mm x O.D. The company is equipped to form any material such as carbon steel, high- and medium-alloyed steels, austenitic materials, high-strength, heat-resistant nickel alloys (incoloy, Hastelloy, a high nickel ferrous material) zirconium and titanium for aggressive acids. —
Tube-Tec Rohverformungstechnik GmbH, Nistertal, Germany
www.tube-tec.com
A new double-containment system for hazardous liquids
Introduced in May, the Double-See was developed in response to market demand for an improved pressure-rated double containment system for transporting hazardous liquids. The new system offers a simplified installation method, a patented coupling closure design that allows conformance to the ASME B31.3 test inspection requirements, and a unique 3D thermal-expansion compensation feature. With the Double-See system, both primary and secondary pipes are cut to the same length and can be joined simultaneously. This saves significant time and prevents potential mistakes caused by staggered pipe-cut measurement errors, says the company. Double-See is available in PVC and CPVC; either material can be primary or secondary, with Clear PVC always being an option for the containment pipe. System sizes range from 1/2 in. x 2 in. to 6 in. x 10 in. The new piping systems are suitable for a wide range of applications, including water and wastewater treatment, chemical delivery, dosing and processing, microelectronics, life sciences, metal working/finishing, waste collection and more. — Georg Fischer Piping Systems, Tustin, Calif.
www.us.piping.georgfischer.com
Leak-free couplings that also prevent contamination

Walther-Präzision
Clean-break couplings of the new CP Series were developed for water hydraulic applications and for demanding media in the chemical and medical sectors, for process technology and engineering. Ergonomic and non-squirting operation — even under residual pressure — is made possible by means of a special clean-break valve technology. The function-related residual leakage is thus minimized in such a way that very little media is lost when the fitting is disconnected. At the same time, very little foreign media enters into the pipe system when it is reconnected. Couplings are made in stainless steel (as standard), and are available in nominal sizes 6, 9, 12 and 16. —
Walther-Präzision, Carl Kurt Walther GmbH & Co. KG, Haan, Germany
www.walther-praezision.de
A new size for this range of pipe couplings
This leading manufacturer of mechanical pipe-joining systems has introduced a major update to its Style 77 coupling. The two-piece coupling, a mainstay in the mining industry, is now available in 14- to 24-in. sizes. The Style 77 coupling, designed for cut grooved systems, creates a flexible joint and is ideal for abrasive service piping, such as tailings and slurry lines. Maintaining the same design characteristics as the multi-segment coupling, the new two-piece design reduces handling and enables easier and quicker installation, says the manufacturer. The Style 77 is rated for 300-psi service from 14–22 in., and for 250-psi service in the 24-in. size. It is available with a grade "E" EPDM (ethylene propylene diene monomer) gasket for water service, or grade "T" nitrile gasket for air with oil vapors. — Victaulic Co., Easton, Pa.
www.victaulic.com
Gasket tape for very large flanges
W.L. Gore
This ePTFE tape can save time and money when joining large flanges
Based on this company's patented expanded polytetrafluoroethylene (ePTFE), the new Series 500 Gasket Tape for large steel flanges enables industrial plants to save time, money and trouble compared to conventional large gaskets, says the manufacturer. The new gasket tape is said to deliver at least a 50% greater creep resistance than other ePTFE gasket tapes, which gives greater assurance of a secure seal, maximizing operational reliability and performance of flanged connections, says product specialist Peter Wagner. Because the user can create a gasket instantly in any shape, regardless of flange size or complexity, Series 500 Gasket Tape is a great time saver; it eliminates the time needed for large, custom gaskets to be fabricated off-site. — W.L. Gore & Associates, Inc., Newark, Del.
www.gore.com
Gerald Ondrey