New Products & Services
January 1, 2012
Focus on Process Instrumentation & Control
A limit controller that is suited for oven applications

Yokogawa
This company has recently introduced the UT35A-L Limit Controller (photo), which is an FM-approved instrument suited for oven, furnace and kiln applications. The UT35A-L can be configured as a high or low limit. It comes standard with universal input, three alarm outputs and retransmission output. There is also a timer for exceeded duration and a display for maximum temperature. RS485 and Ethernet communications are available as an option. — Yokogawa Corp. of America, Sugar Land, Tex.
www.yokogawa.com/us
A new mass flow controller expands this series' flow range
Sierra Instruments
The Smart-Trak 50 Series Medium Flow Controller (photo) is a mass flow controller that increases the maximum flow range of the Smart-Trak 50 Series from 50 to 200 standard L/min. The 50 Series has a standard accuracy of ±1.5% of full scale. A flexible and powerful direct-acting frictionless-hovering control valve minimizes leak-by, while offering ±0.25% repeatability, according to the manufacturer. Both analog and digital inputs and outputs are available, enabling the 50 Series to work with older analog systems or the newest multi-drop digital tools. Field adjustment of zero and span enable the small adjustments in calibration necessary to align with onsite process conditions. — Sierra Instruments, Monterey, Calif.
www.sierrainstruments.com
New digital pressure gage offers simple set up and readability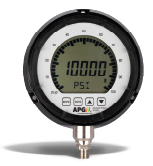 Automation Products
The PG10 Digital Pressure Gauge (photo) is an IP65-rated indoor/outdoor gage featuring a 5.5-in. display casing, a full five-digit display with characters at 0.68-in. tall, and a 270-deg. digital "dial" or radial bar graph that shows a user-selectable pressure range from 0 to 100%. Standard features include tare, peak hold, and maximum and minimum readings, as well as user-selectable units of measure and an auto-off timer. The gage has an operating temperature range from 0 to 160°F, boasts ±0.25% accuracy of full scale, and features pressure ranges from vacuum to 500 psi, or 0 to 10,000 psi. Data logging provides local access to the latest 60 readings. These features and functions make the PG10 digital pressure gage well-suited for use in applications where visibility, functionality and stability are of primary concern. — Automation Products Group, Inc., Logan, Utah
www.apgsensors.com
An airflow conditioner that increases accuracy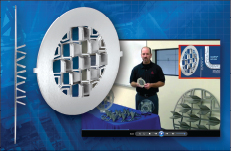 Fluid Components International
A new video demonstrates how the Vortab VIP (Vortab Insertion Panel) Flow Conditioner (photo) can maximize the accuracy of air/gas flowmeter-measurement performance with a design that significantly reduces flowmeter straight-run requirements. Vortab tab-type flow conditioning technology greatly reduces line pressure drop compared to alternative technologies, such as tube bundles, screens and perforated plates, says the manufacturer. Many flowmeter technologies require several diameters of straight pipe run to provide the flow profile required for accurate and repeatable measurement. Most chemical process industries (CPI) plants, however, are rich with elbows, valves and tees. The Model VIP Insertion Panel Flow Conditioner's tab-type plate design neutralizes distorted flow profiles caused by elbows, valves and tees that commonly occur in piping and duct runs. The thin, lightweight panel design of VIP is easily installed between flanges or can be welded in place. — Fluid Components International (FCI), San Marcos, Calif.
www.fluidcomponents.com
Process monitoring software helps avoid forced shutdowns
CAMO Software
The Unscrambler X Process Pulse realtime process-monitoring software uses powerful multivariate predictive models and diagnostics to give a more complete view of a process than some traditional statistical tools. This provides early event-detection capabilities so users can identify and correct process issues before they become problems. The software is designed for CPI companies and is particularly useful for helping resolve issues during scaleup from R&D to production. Process Pulse can be used either as a stand-alone process-monitoring tool or integrated into a third-party control system. A free trial of the software can be downloaded at the company's website. CAMO Software, Oslo, Norway
www.camo.com
Easily monitor energized circuits in tight spaces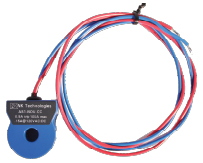 NK Technologies
The AS1 Series Compact Case Current Sensing Switch (photo), with its 1-in. housing, is a compact and cost-effective solution that enables users to monitor an energized circuit in tight spaces. The easy-to-use ring design slips onto a conductor to detect currents as low as 0.5 A. The AS1 has 24-in. leads that can be connected directly to controller input terminals or brought out to a terminal block to facilitate remote operation. The contact can control either a.c. or d.c. circuits to 120 V, with a maximum load capacity of 150 mA. This current sensing switch is powered directly from the monitored circuit to monitor and report electric motor-load status, identify open heater-circuit connections and independently verify that a load is energized. It is also useful for confirming current flow to and operation of critical lighting and other equipment, such as fans, heaters, pumps or other a.c.-powered devices. The AS1 is rated for use in ambient temperatures ranging from –4 to 122F (–20 to 50C). — NK Technologies, San Jose, Calif.
www.nktechnologies.com.



Reduce wiring in hazardous areas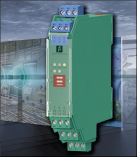 Pepperl+Fuchs
Three new Switch Amplifiers (photo) with Line Fault Transparency (LFT) have recently been introduced by this company. NIC2831 and HIC2832 are one- and two-channel switch amplifiers with LFT suitable for mounting on termination boards. The K-System KFD2-SOT2-EX1.N provides line fault transparency to the control system in a standard DIN rail-mounting configuration. These switch amplifiers reduce the amount of wiring required in hazardous area applications. Using switch amplifiers with LFT, switching and fault signals from the hazardous area are simultaneously transferred to the control level via a single output to maximize signal transmission integrity. Integrating switch amplifier with LFT technology requires a digital input with line fault detection in the control system. — Pepperl+Fuchs,Twinsburg, Ohio
www.pepperl-fuchs.us
Electronic marshalling technology for hazardous areas
Building on its electronic marshalling and single-channel characterization module (Charm) technology, this company now offers intrinsically safe (IS) Charms. I/O in hazardous areas traditionally requires explosion-proof mounting or isolation barriers. These approaches are costly, require space for additional barrier and termination cabinets, and need ongoing maintenance to ensure safety requirements continue to be met. IS Charms deliver a reduced footprint and eliminate the need for separate barriers and the associated intercabinet wiring. The DeltaV Charm I/O Card supports both conventional and IS Charms. I/O can be added anywhere it is needed using standard Ethernet hardware. Each I/O channel has a dedicated CHARM that provides both signal characterization and galvanic isolation for intrinsically safe applications. IS barriers are integrated inside the Charm to provide single-channel fault isolation as well as electrical isolation and energy limiting circuitry that meets IEC Ex ia ratings. — Emerson Process Management, St. Louis Mo.
www.EmersonProcess.com
Programmable controllers for small and large applications
This company has expanded its Integrated Architecture portfolio for smaller applications with a series of scalable, CompactLogix programmable automation controllers (PACs), servo drives, I/O, visualization and simplification tools. With features such as integrated motion, safety and Ethernet/IP connectivity, users can standardize on a single control platform for small- to large-scale applications. The Integrated Architecture features the Allen-Bradley ControlLogix PAC family that is ideally suited for applications that have up to 10,000 I/O and 100 axes of motion, and the CompactLogix PAC family that is ideal for applications with fewer than 200 I/O and up to 16 axes of motion. — Rockwell Automation, Inc., Milwaukee, Wis.
www.rockwellautomation.com
Dorothy Lozowski