New Products & Services
March 1, 2013
Focus on Pumps
Dickow Pump
No cooling water needed for these hot-water pumps
This company offers a wide range of hot-water pumps for temperatures up to 530°F and design pressures up to 1,160 psi. Due to high vapor pressures, standard mechanical seals cannot be used for higher temperatures. Although cooled mechanical seals are the easiest solution, the required cooling water adds additional costs. An alternative is a standard mechanical seal with a pumping device and an external air cooler (photo). The cooler is a new development for this application. It needs no cooling water and is self-venting. — Dickow Pump Co., Marietta, Ga.
www.dickow.com
These pumps deliver non-pulsating, metered flow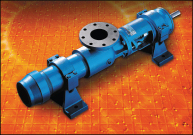 Moyno
The L-Frame Progressing Cavity Pumps (photo) are said to be ideal for handling clean, thin, shear-sensitive products to viscous, corrosive, abrasive slurries and sludges in many sectors of the chemical process industries (CPI). Standard flange models feature a modular design with a simple pin-type universal joint for easy maintenance. Open-throat models are also available. All models are available with a wide variety of drive options, sealing configurations, motors and controls. Other features include non-pulsating, metered flow; quiet, vibration-free operation; capacities to 450 gal/min and pressures to 2,100 psi; and handling entrained air and gases without vapor locking. —
Moyno, Inc., a unit of Robbins & Myers, Inc., Springfield, Ohio
www.moyno.com
This sliding vane pump has 180-deg ports, and more
Blackmer
The NPH4F Sliding Vane Pump (photo) is a positive-displacement pump featuring 180-deg ports — a distinction from the 90-deg ports of its NP4F predecessor. Like the NP4F, the NPH4F has ductile-iron construction with an internal relief valve that protects against excessive pressures. Additional features include an optional cartridge mechanical seal, lip seal or triple-lip cartridge seal over the standard shaft packing; 4-in. weld, 4-in. ANSI 150# RF compatible or 4-in. NPT flanges. Options for jacketed heads are also available. The pump delivers maximum speeds of 500 rpm with differential pressures up to 200 psi. —
Blackmer, part of Pump Solutions Group, Grand Rapids, Mich.
www.blackmer.com
Handle corrosives with these AODD pumps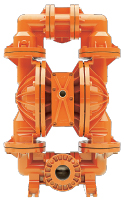 Wilden
Available in polypropylene (PP) and polyvinylidene fluoride (PVDF), the Advanced Series AODD (air-operated double-diaphragm) pumps (photo) are said to provide "superior" containment of dangerous chemicals (including acids, solvents and caustics) because the pumps do not have a mechanical seal or packing that can fail. The pumps also feature a bolted design and single-piece integral piston diaphragm, which eliminates a potential leak point. These ATEX-rated pumps also feature the Pro-Flo X Air Distribution System with Efficiency Management System, which allows the operator to dial in the actual operating parameters, regardless of the application demands or pump size. —
Wilden, part of Pump Solutions Group, Grand Terrace, Calif.
www.wildenpump.com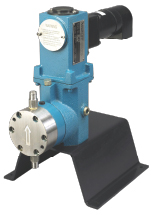 Neptune Chemical Pump

A solar-powered injection pump for remote applications
The Solar D Series Chemical Injection Pump (photo) provides maximum containment, precise and consistent chemical-injection rates at pressures up to 1,200 psi (83 bars), and reduced field service and downtime. The accurate dosing rates (from 0 to 40 gal/d) translate into increased production with a corresponding reduction in chemical expenses. The unit is equipped with brushless motors; standard corrosion-resistant 316 stainless steel and PTFE chemical ends; hydraulically balanced diaphragm designed for reduced wear; and no dynamic seals for reduced leak points. — Neptune Chemical Pump Co., North Wales, Pa.
www.neptune1.com
Only two non-metallic parts contact fluid in this pump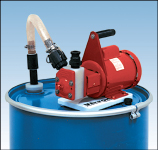 Vanton Pump & Equipment
The portable, non-metallic Flex-I-Liner rotary peristaltic pump (photo) evacuates drums and totes containing acids, caustics, salts, chlorides and reagent-grade chemicals, without corrosion of the pump or contamination of the fluid. The self-priming design has no seals to leak or valves to clog, and can run dry for extended periods without damage, says the company. Only two non-metallic parts contact fluid: a thermoplastic body block and an elastomeric flexible liner that can be replaced in the field without special tools. The pump is suitable for flows from 0.33 to 40 gal/min (1.25–151 L/h) and pressures to 45 psig (310 kPa) at temperatures to 250°F (121°C). —
Vanton Pump & Equipment Corp., Hillside, N.J.
www.vanton.com
This peristaltic pump handles sludge and slurry with ease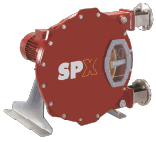 Watson-Marlow Bredel Pumps
This hose pump (photo) reliably handles a variety of harsh materials, including abrasive sewage and slurry, making it suitable for the feeding of primary or thickened sewage to digesters or filter pressers. Advanced hose technology enables this pump to handle grit-filled sludge for extended periods of time. Peristaltic hose pumps are said to be virtually maintenance-free, with no seals to replace, no check valves to clog and no rotors and stators to wear out. —
Watson-Marlow Bredel Pumps, part of the Watson-Marlow Pump Groups, Wilmington, Mass.
www.wmpg.com
Self-priming trash pump handles solids of up to three-inch size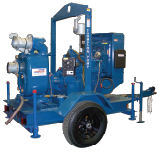 Thompson Pump
TSC portable pumps (photo) are a multi-purpose, automatic-priming trash-pump series that provides flows up to 1,460 gal/min and heads up to 15 ft. Available as 4- and 6-in. models, they handle solids with sizes up to 3 in. The pump end is self-priming, and capable of re-priming should the add-on automatic priming system fail. The pump case offers a large "clean out" that can be used to remove debris from the impeller or repair common wear components without having to disconnect the suction hose or pipe. —
Thompson Pump, Port Orange, Fla.
www.thompsonpump.com
Consider this cordless hydraulic pump for remote applications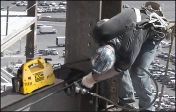 Enerpac
The new XC-Series cordless hydraulic pump (photo) delivers oil flow of 125 in.
3
/min at its low-pressure setting, and 15 in.
3
/min when operating at full pressure, up to 10,000 psi. The lithium-ion battery ensures the XC-Series pumps provide users with runtimes necessary to accommodate demanding application requirements. The pump offers the performance capabilities of an electric- or pneumatic-powered pump with the convenient portability of a hand pump, making it suitable for use in remote locations. —
Enerpac, Menomonee Falls, Wisc.
www.enerpac.com
Metering pumps for precise, small dosing

KNF Neuberger
The new FMM80 solenoid-driven diaphragm metering pump (photo) can be driven with single impulses to deliver discrete micro-volumes, or can be operated with a pulsed signal at a frequency up to 10 Hz to provide continuous flowrates up to 48 mL/min. With a long service life (more than 500 million strokes), the pump exhibits stability against varying pressure and sustains high repeatability over the pump's entire lifecycle. It also integrates a patented noise-suppression system for quiet-running operation and remains flow-tight in both directions with pressures of 14.5 psig at rest. The pump's diaphragm and patented valve system contributes to overall reliability and high performance, says the company. —
KNF Neuberger, Inc., Trenton, N.J.
www.knfoem.com
Centrifugal pumps for LACT applications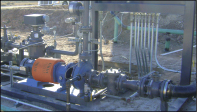 Griswold Pump
The 811 Series ANSI centrifugal pumps (photo) meet the challenges that can be associated with leased asset-custody transfer (LACT) operations because they are capable of completely transferring oil from a tanker to a users storage tank, as well as transloading product from a tanker to a railcar, even under a variety of extreme operating conditions, says the company. These pumps have two times the wear area between the case and impeller, compared to closed-impeller designs. The casing of the 811 Series can be constructed of ductile iron, CDM4Cu, Alloy 20 or stainless steel. Pumps are available for flowrates to 4,000 gal/min with the ability to operate at temperatures up to 500°F. —
Griswold Pump Co., Grand Terrace, Calif.
www.griswoldpump.com
An enhanced mag-drive pump covers a wide flowrate range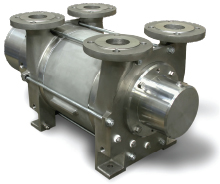 Gardner Denver Nash
The 2BM1 magnetic drive pump Series (photo) is an enhancement to the 2BE1 Series, and is capable of achieving flowrates of 550–13,870 gal/min (125–3,150 m
3
/h) and vacuum of 1 in. Hg, absolute (33 mbar, a). They can also be used as low-pressure compressors. Non-contact torque transmission is achieved via a permanent-magnet drive system. The 2BM1 pump is hermetically sealed, and certificates of compliance with all ATEX categories are available. —
Gardner Denver Nash, Charleroi, Pa.
www.gdnash.com
A dry Roots pump slashes energy consumption in half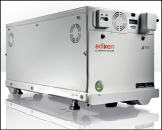 Pfeiffer Vacuum
Introduced last month, the A 100 L ES dry multi-stage Roots pump (photo) is said to cut energy consumption by 50% compared to its predecessor, and its pumping speed is significantly higher in the low-pressure range. The fully integrated ES module reduces energy use to a minimum in the low-pressure range, which can lead to annual savings per pump up to 7,900 kWh, says the company. In addition to energy savings, the final pressure of the A 100 L ES is reduced to 710
–4
mbar, which opens up new potential applications requiring an enhanced pumping capacity combined with low pressure. The noise level has also been reduced from 58 dB(A) to 55 dB(A). —
Pfeiffer Vacuum GmbH, Asslar, Germany
www.pfeiffer-vacuum.com
Consider these pumps for high-purity, single-use systems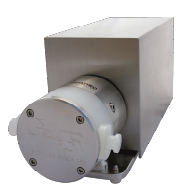 Quattroflow
Quattroflow positive-displacement pumps (photo) are said to be ideal for single-use systems in biologics handling applications because they incorporate a four-piston diaphragm technology (with no mechanical seals) that is driven by an eccentric shaft and motor. The pumps are used in pharmaceutical and biotech industries in applications that require high containment, purity and cleanability, and are well known for transferring shear-sensitive media of aqueous solutions and biological products without damage. Four sizes are available covering capacities of 1 to 20,000 L/h. —
Quattroflow, a brand of Almatec Maschinenbau GmbH, Kamp-Linfort, Germany
www.quatroflow.com
RO energy costs are slashed with this pressure controller
KSB
Scheduled for launch early this year is the Salino Pressure Center (photo), a compact unit for reverse osmosis (RO) seawater desalination. The Salino consists of an axial piston pump and an axial piston motor, arranged on a common shaft. Driven by the diaphragm return flow, the axial piston motor transfers its power directly to the pump shaft. This single unit performs three functions: creating high pressure, compensating pressure losses and recovering energy. No separate booster pump is required. Compared to conventional energy-recovery systems with pressure exchangers or Pelton turbines, the Salino design saves up to 50% in energy costs, says the manufacturer. The system is designed for RO systems with capacities up to 480 m
3
/d. —
KSB AG, Frankenthal, Germany
www.ksb.com
This mag-drive pump has multiple static-seal options
The new Model TM magnetic-drive rotary-vane pump is available in brass or AISI 303 stainless steel, and is offered with NBR, Viton or EPDM static seals with carbon graphite internal components. The pumps can be equipped with an optional built-in relief or bypass valve. The pump handles flows up to 1,250 L/h (330 gal/min) and pressures up to 18 bars (260 psi. — Clark Solutions, Hudson, Mass.
www.clarksol.com
This pump safely transfers and contains isocyanates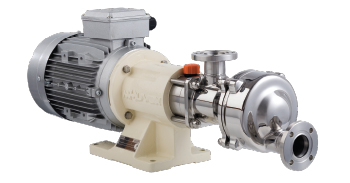 Mouvex
Handling isocyanates requires a pump with low shearing, a strong suction capability and one that offers a low-maintenance wear-compensating design, says this company. The SLC Series Eccentric Disc Pump (photo) features superior suction at low speeds, ensuring minimum product is left in the piping prior to maintenance. The pumps design allows it to self-compensate for mechanical wear, giving the eccentric disc pump the ability to maintain consistent flowrates over time. All three SLC models have speeds up to 1,000 rpm with flowrates from 1 to 3 m
3
/h, and differential pressures from 6 to 16 bars. —
Mouvex, an operating company within the Pump Solutions Group, Auxerre, France
www.mouvex.com
Gerald Ondrey