New Products & Services
May 1, 2012
Focus on Pumps
Use these pumps where product containment is important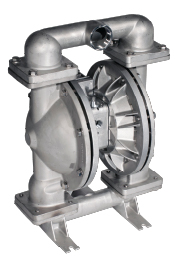 Wilden
This company recently announced the availability of its PX800 Advanced Series Stainless Steel AODD Pump (photo). The new PX800 design is center-ported and features a full 51-mm (2-in.) flow path and threaded 51-mm horizontal fluid connections. This construction makes the PX800 pump well suited for liquid-transfer applications where product containment, high flowrates and efficiency are required. Additionally, the footprint of the PX800 Advanced pump matches that of the company's Original Series PX8 (clamped) Stainless Steel AODD pump, which enables "drop-in" replacement of an Original PX8 pump with no need to disturb existing piping. The PX800 model features bolted construction, and is constructed with a 316 stainless-steel wetted path, featuring BSPT or NPT threaded inlet and discharge connections, and a variety of elastomer options, including Neoprene. The design of these pumps allows them to deliver flowrates as high as 176 gal/min (665 L/min) at operating pressures up to 8.6 bars (125 psig). —
Wilden, an operating company within Dover Corp.'s Pump Solutions Group (PSG), Grand Terrace, Calif.
www.wildenpump.com
Peristaltic pumps for abrasive materials applications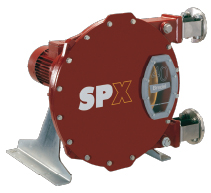 Watson-Marlow Bredel Pumps
The heavy-duty SPX hose pumps (photo) are well-suited for challenging environmental applications, such as sludge handling, filter press and centrifuge feed, and lime and carbon slurries. Advanced hose technology enables the SPX to pump grit-filled sludge dependably and reliably. SPX hose pumps are virtually maintenance-free, with no expensive seals to replace, no check valves to clog, and no rotors, stators or lobes to wear out. Unlike other pump types, the highly abrasive nature of sludge does not affect pump life. With its self-loading design, hose replacement is quick and easy. —
Watson-Marlow Bredel Pumps, part of the Watson-Marlow Pump Groups, Wilmington, Mass.
www.bredel.com
Diaphragm metering pumps for water applications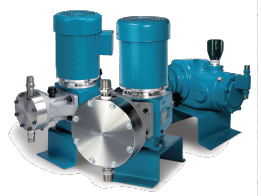 Neptune
The Series 7000 mechanically actuated, diaphragm metering pump (photo) has specifically been designed with water and
wastewater
applications in mind. The mechanical design of the Series 7000 eliminates the use of contour plates on the liquid side of the diaphragm while the simple, straight-through valve and head design allows for improved flow characteristics. The Series 7000 is self-priming and has a maximum capacity range up to 300 gal/h at 150 psi. —
Neptune, an operating company within Dover Corp's PSG, North Wales, Pa.
www.neptune1.com.
These pumps provide corrosion resistance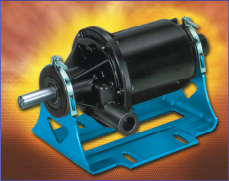 Moyno
This company's 500 Series 301 Pumps (photo) are suitable for use in corrosive, chemical dosing and transfer applications. The 500 Series 301 Pumps feature a reverse covered-seal design between the rotor and shaft, which eliminates metal exposure to fluids. Phenolic housings and rotors offer superior corrosion resistance. Hose connections, resilient cushion and cradle mounting provide easy installation, maintenance and replacement. Suitable for direct or belt drive, the 500 Series 301 Pumps offer capacities ranging from 0.45 to 13 gal/min and pressures up to 25 psi. —
Moyno, Inc., Springfield, Ohio
www.moyno.com
Gentle material transfers are this pump's specialty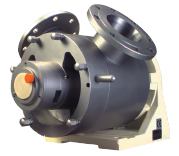 Watson-Marlow Masosine
The MasoSine pump (photo, p. 31)is designed to transfer material gently and economically, making it well suited for algae transfer or for pumping enzymes. MasoSine pumps provide consistent flowrates and minimize damage with a non-contacting rotor liner. These economical pumps offer speed of transfer, powerful suction, quick unloading time and ease of maintenance. For applications, such as in biofuels, the MasoSine's consistent flowrates prevent damage to the live products and even allow them to multiply during transfer. With a low horsepower requirement the MasoSine pumps generate at least a 20% energy savings over many other pump types, according to the manufacturer. With only one shaft, one seal and one rotor, maintenance is minimal. The pulse-free flow characteristics benefit flow control and heat transfer as well as filtration, and the pump handles flows up to 440 gal/min. —
Watson-Marlow Masosine, part of the Watson-Marlow Pump Groups
,
Wilmington, Mass.
www.masosine.com
A chemical metering system that is suited up to 100 psi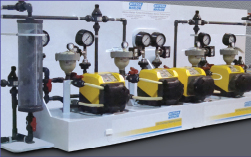 Watson-Marlow
Using peristaltic pumping, this system (photo) delivers metering accuracy of ±0.1% and far better reliability than diaphragm pump systems, according to the manufacturer. There are no back-pressure regulators or de-gassing valves required. Designed for easy operation and low-maintenance metering of water-purification chemicals, such as sodium hypochlorite and ferric chloride, these chemical metering systems are also easy to install. A turnkey wall- or floor-mounted solution for precision metering — including the pumps, valves, pressure relief, gages, calibration column, leak detection and all interface pipe work can be provided. These systems are suited for chemical injection up to 100 psi, can indefinitely run dry without damage and provide up to 30 ft of suction lift. —
Watson-Marlow, Wilmington, Mass.
www.wmpg.com
Pumps satisfy both E.U. and U.S. standards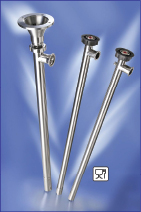 Flux-Geräte
The Flux Food Series of pumps are certified for food contact applications. They satisfy E.U. Regulations 1935/2004 and 10/2011 for plastics that come into contact with food and bear the European glass-fork symbol (photo). They also satisfy U.S. Food and Drug Administration (FDA) requirements. The series can cover a wide range of applications ranging from low- to high-viscosity fluids. All Flux Food pumps can be completely dismantled and cleaned quickly. The new pumps come in all stainless-steel, and include the barrel and container pumps FP 427 Food; FP 430 Food, with explosion protection for alcohols; and the eccentric worm-drive pump, F 560 Food, in a flange and transmission model for high-viscosity media. —
Flux-Geräte GmbH, Maulbronn, Germany
www.flux-pumpen.de
These pumps primarily serve high-purity applications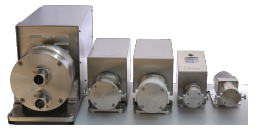 Almatec Maschinenbau
Quattroflow positive displacement (PD) pumps (photo) incorporate a four piston-diaphragm technology with no mechanical seals that is driven by an eccentric shaft and motor. Available for multiple and single-use applications, Quattroflow PD pumps primarily serve the pharmaceutical and biotechnology industries that require high containment, purity and cleanability, and are best known for transferring shear-sensitive media of aqueous solutions and biological products without damage. Quattroflow pumps feature wetted housing parts constructed with electro-polished 316L (Basel Standard II, ferrite content <1%) stainless steel, while the valves are made of EPDM and the diaphragms of EPDM/PP compound. The Quattroflow product line consists of four sizes — QF150, QF1200, QF4400 and QF20K — with capacities of 2.6 to 333 L/min (0.7 to 88 gal/min). —
Almatec Maschinenbau GmbH, an operating company within Dover Corp.'s PSG, Kamp-Lintfort, Germany
www.almatec.de
A micro-diaphragm pump for high-pressure applications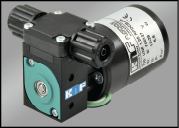 KNF Neuberger
The new KNF Type NF1.25 micro-diaphragm pump (photo) introduces a high-pressure solution for dosing or transferring liquids or liquid-gas mixtures at flowrates up to 300 mL/min. This small and powerful pump is engineered to operate either intermittently or continuously against pressure up to 6 barg (87 psig) over the pump's entire lifetime. Versions can be specially developed to handle even greater pressure up to 10 barg (145 psig). Typical applications include analyzers, cleaning and disinfectant devices, water treatment systems, fuel cells and semiconductors. These pumps are self-priming, can run dry, and require virtually no maintenance over a long lifetime, says the manufacturer. They offer chemical resistance, and most neutral and aggressive liquids can be handled without risk of corrosion or other damage. Specialized complementary accessories can be supplied, including an innovative anti-vibration mounting plate with the capability to dramatically reduce vibration levels and audible noise. Pumps can be mounted in any position. —
KNF Neuberger GmbH, Freiburg-Munzingen, Germany
www.knfoem.com
A new generation of rotary lobe pump is unveiled
This company has optimized the design of its rotary lobe pump, so that it eliminates any possibility of transmission damage due to leakage or contamination. Longer service life than any other rotary lobe pump is obtained by the clever exchange of the lobe and housing materials, says the manufacturer. Free access to the pump chamber through to the piping flange guarantees simpler and faster assembly. — Netzsch Mohnopumpen GmbH, Selb, Germany
www.netzsch.com
This pump line is expanded to include level control
This company expanded its Liqui-Mover pressure-powered pump line to include a replacement float-free level-control assembly. Now, major float-operated pump brands can be converted to a float-free assembly to provide a cost-effective solution for high-maintenance, pressure-powered pumps. The replacement float-free level control assembly has no moving parts in contact with the condensate, and no springs, linkage or floats that are prone to wear and failure. Designed to retrofit major float-operated pump brands, the float-free assembly features a drop-in, bolt-on mounting flange creating a fast and easy upgrade. The motive pressure three-way valve is external to the tank for quick visual check of the operation. A two-probe level control and a NEMA-classified control assembly are also incorporated into the float-free level control. — Kadant Johnson Inc., Three Rivers, Mich.
www.kadant.com
Dorothy Lozowski