New Products & Services
September 1, 2013
Focus on Safety Equipment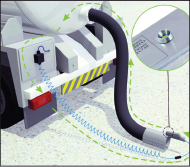 Newson Gale
Avert static electricity buildup with this hose-continuity tester
The OhmGuard Hose-Continuity Tester is designed to continuously ensure that a string of assembled hoses are safely grounded to the transferring vehicle during operations that may produce potentially combustible gas, vapor or dust atmospheres. These testers protect against static electricity that can accumulate to dangerous levels in isolated metal components of commonly used helix-wire transfer hoses. In practice, the new instrument operates as a simple "pass or fail" test, wherein a green LED mounted on the OhmGuard clamp will pulse continuously if the hoses have been properly grounded. If there is a break in the continuity the pulsing will cease, warning the operator of potential danger. — Newson Gale, Inc., Jackson, N.J.
www.newson-gale.com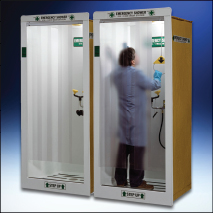 Hemco
Emergency safety showers offer response to chemical exposure
This company's emergency showers provide protection for personnel working with hazardous chemicals in industrial, laboratory or academic settings. Compliant with both ANSI and OSHA requirements, the fully assembled showers are constructed of a one-piece fiberglass composite, allowing for simple installation to water supply and drainage systems. This unit is equipped with a pull-rod activated shower and push-handle eye and face wash for immediately drenching of personnel that have been exposed to hazardous chemicals. Optional accessories include grab-bars, hand-held body wash and curtains. — Hemco Corp., Independence, Mo.
Larson Electronics
Use this explosion-proof traffic light in hazardous locations
The EPL-TL-3X10W-C LED Traffic Light provides workers in industrial operations with a durable signaling fixture that can be used in a variety of applications, including routing traffic through refueling stations and indicating a stop, running or caution status during the operation of manufacturing machinery. Featuring three colored LED lamps in red, yellow and green, the unit provides high visibility in a durable package, with each lamp enclosed in a rigid cage capable of withstanding 1,490-psi hydrostatic pressure. The traffic light unit is also explosion-proof and appropriate for use in hazardous locations. The traffic light's customizable mounting assembly is constructed from heavy-gauge aluminum. The LED lamps boast a service life of 50,000 hours. Several voltage configurations are available. — Larson Electronics, LLC, Dallas, Tex.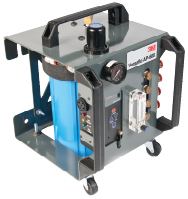 3M
Avoid breathing hazards with this CO-removing filtration panel
The new air-filtration system and disposable respirators from this company expand its personal protective equipment (PPE) portfolio with enhanced breathing protection. The Versaflo AP-600 Series Air Filtration Panel is designed for applications in a variety of industries including automotive, petrochemical, pharmaceutical and construction. Able to accommodate five to 12 users, the Versaflo AP-600 features a short filter-change time of approximately 5 min. Multiple configurations are available, and the addition of proprietary gold-catalyst technology allows the filtration panel to remove up to 95% of carbon monoxide from a work environment. New FDA-cleared disposable respirators — the VFlex 1805 and the Aura 1870+ — further expand the PPE offerings. Available in two sizes, the VFlex 1805 features a unique pleated design to enhance comfort and ease of breathing. Individually packaged to prevent contamination, the Aura 1870+ is designed with many features to enhance user protection, such as a flat-fold design to ensure fluid resistance, an embossed top panel to accommodate eyewear and reduce fogging and an adjustable chin tab for comfortable positioning. — 3M, St. Paul, Minn.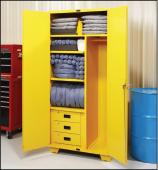 New Pig
This spill kit provides a centrally located response center
The Spill Kit in a Cabinet is a fully assembled central spill response center. Painted safety yellow, and constructed from heavy-gauge steel, the lockable cabinet comes with many accessories, such as absorbent mats and pillows, wipers, disposal bags and more. The absorbent materials included with the spill kit aid in the containment of fluid spills of oils, coolants, solvents or water. Featuring tamperproof seals, adjustable shelves, lockable drawers and a coat rack, this spill kit can be customized to fit into a variety of locations. — New Pig Corp., Tipton, Pa.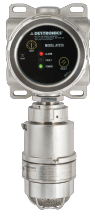 Detector Electronics
This acoustic gas leak detector learns to ignore random noise
The FlexSonic Acoustic Gas Leak Detector analyzes 24 discrete ultrasonic bands, continuously monitoring for the distinct ultrasound emitted by pressurized gas leaks while ignoring nuisance ultrasonic sources. Designed to withstand harsh environments, the FlexSonic features a high-fidelity microphone and can be programmed to discern between gas leaks and environmental noises, such as fans, machinery or vehicles. By diminishing the occurrence of false positive readings, the FlexSonic adds an additional layer of protection in hazardous locations that complements traditional gas-leak detectors. — Detector Electronics Corp. (Det-Tronics), Minneapolis, Minn.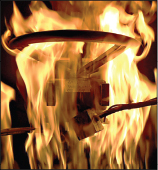 Netherlocks Safety Systems
A multi-rotation lock that withstands high temperatures
The MRL Multi-Rotation Lock is an interlock for multi-rotation handwheel-operated valves. Following the interlocking principle, it only allows the handwheel to be turned when two keys are inserted into the lock, ensuring that it can only be operated when it is safe to do so. The MRL has been thoroughly tested and awarded the Fire Test Certificate according to ANSI/API and ISO standards, meaning that the lock will continue to function safely as intended in the event of a fire. Testing has shown that the MRL remains secure and operable, even when subjected to temperatures as high as 1,800°F. — Netherlocks Safety Systems, Houston
Protect personnel from moving equipment with contact mats
ABB Jokab Safety North America
These safety contact mats are used for safeguarding personnel around active machinery in industrial applications including machining centers, robotic work cells, automated cells and conveyor transfer stations. When someone steps on a mat, the surface triggers a control signal to the stop circuit of the nearby equipment. A switch design inside the mat assures that the equipment-motion stoppage is immediate, providing a valuable layer of safety in industrial environments. These safety contact mats feature a dotted polyurethane non-slip surface layer and are impervious to spills from oils, acids or caustic substances. Available in a large range of standard sizes, the mats can be connected in series and mounted to the floor with either aluminum ramp rails or integrated rubber ramp trim. The mats consist of two conductive plates separated by an isolating layer. — ABB Jokab Safety North America, Westland, Mich.
An online selector tool matches gloves with users' needs
The SafeSpec Glove Selector Tool (www.safespecgloves.dupont.com) is an online-searchable database of more than 300 Kevlar gloves and sleeves from 10 different manufacturers, helping personnel quickly make informed decisions about which gloves will meet their needs. Taking advantage of the tool's dynamic search capabilities, users can conduct a search based on a single factor or multiple requirements. Selection variables include ANSI level for abrasion, cut or puncture; types of coatings; glove construction; and features such as size, weight, cuff type and thumb and finger details. Users can then peruse full-color photographs and detailed descriptions of the items that meet their criteria, as well as contact manufacturers and distributors.— DuPont, Wilmington, Del.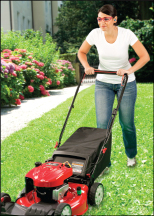 Gateway Safety
Safety glasses that are comfortable for all-day wear
Metro safety eyewear is designed to embrace vigilant eye protection by delivering the comfort that true compliance requires. Weighing less than an ounce, Metro safety eyewear has a soft nosepiece and contoured temple tips, making it comfortable for all-day wear. Metro offers a choice of four polished frame colors and all styles come in a variety of lens options. The durable, wraparound polycarbonate lens meets ANSI Z87.1+ requirements and blocks more than 99.9% of damaging UVA, B, and C rays. — Gateway Safety, Inc., Cleveland, Ohio
Mary Page Bailey