New Products & Services
March 1, 2014
Focus on Safety Equipment
Safety glove for broader industrial use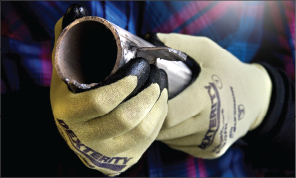 Superior Glove Works
This company has harnessed an advanced knowledge of yarn technology to create an affordable and innovative glove, allowing a broader industrial market of workers to benefit from premium safety solutions. The Dexterity Ultrafine 18-Gauge Cut-Resistant Glove (photo) is said to be incredibly dexterous, allowing a sleeker fit and improved finger dexterity to allow workers to complete precise tasks requiring agility. The gloves are made with DuPont Kevlar fiber, which combines high dexterity and cut-resistance to keep workers safe while performing tasks that require ultra-lightweight protection. — Superior Glove Works, Acton, Ont., Canada
www.superiorglove.com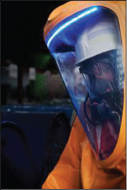 Ansell
Hands-free lighting for safety of first responders
Trellchem encapsulating gastight suits are used by a variety of responders in emergency situations, where the environment can be both very dangerous and most often very demanding in terms of lighting. This company recently introduced the Trellchem Hands-Free Visor Light System (photo), which offers first responders a built-in, hands-free LED lighting solution, designed to offer improved visibility and a safer working environment for any first responder, including hazmat, chemical, fire, police and military. With this new, integrated, lightweight lighting solution, the responder can focus on the mission without having the hands tied up by carrying a separate torch. — Ansell, Iselin, N.J.
www.ansell.com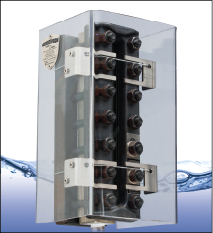 Clark-Reliance
This shield protects against high-pressure gage leaks
Safe View Shields (photo) are used on armored-glass liquid-level gages to protect nearby operators from high-pressure leaks — a rare but potentially dangerous situation. The shields are easily retrofitted to the company's Jerguson-brand level gages, as well as on similar gages from other vendors. The shields are made of Lexan polycarbonate, and are available in lengths to fit most flat-glass gage styles. — Clark-Reliance Corp., Strongsville, Ohio
www.clark-reliance.com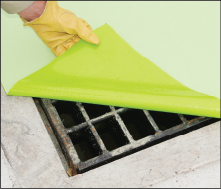 Newpig
A cover to seal off drains in the event of a spill
The Pig Rapid Response Drainblocker Drain Cover (photo) is designed to deliver affordable emergency response protection in spill-prone areas near drains. Packaged in an easy-to-open high-visibility storage tube, the Drain Cover's super-sealing urethane bottom creates a tight seal to seal both floor and storm drains during spill emergencies, both indoors and outdoors. The Drain Cover features an ultraviolet-resistant polypropylene top layer that will not stretch or tear when picked up. The covers are available in four sizes for square or round drains from 9 to 36 in. — New Pig Corp., Tipton, Pa.
www.newpig.com
Manage dust-explosion risks with safe indoor venting
The Q-Rohr-3 family of products is an indoor flameless-venting system that eliminates the need for relocating dust collectors or other enclosures outside. The Q-Rohr-3 consists of a specialized stainless-steel mesh construction and the company's rupture disc. An integrated signaling unit connects to any audible or visual alarm and shutdown to alert plant personnel, should there be an incident. In an event, flames are extinguished, and pressure, noise and dust are reduced to negligible levels. The device is FM and ATEX approved, NFPA compliant, and is approved for use with dusts (ncluiding metal dists), gases and hybrid mixtures. — Rembe, Inc., Charlotte, N.C.
www.rembe.us
Pepperl+Fuchs
Eliminate downtime in critical applications
with this module
The PS3500 Diagnostic Module (photo) continuously monitors the health and efficiency of PS3500 power supplies and primary side power conditions. The module provides realtime diagnostics with configurable warning and alarm levels, and alerts maintenance and operations personnel to irregularities, faults and impending failures. This promotes proactive maintenance to help eliminate unexpected and expensive downtime. The power-supply diagnostic module is modular and "hot-swappable," and easily integrates into plant asset-management systems through RS485/HART, EDDL or FDT/DTM technologies. — Pepperl+Fuchs, Twinsburg, Ohio
www.pepperl-fuchs.us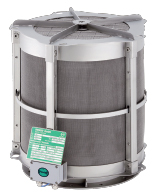 Rembe
New workbench to configure safety applications faster
The AADvance Workbench 2.0 was recently introduced to help manufacturers get process-safety applications up and running faster. Ideally suited for applications that require a flexible architecture, distributed safety and mixed safety integrity levels (SILs), the AADvance Workbench is a complete design, configuration and maintenance software environment. The system consists of the scalable AADvance controller platform configured to any mix of SIL1 to SIL3 simplex, redundant or triplicated safety loops. Several units can be used to form a network of distributed safety controllers seamlessly integrated to monitor and control thousands of safety I/O points. A system is configured using the workbench software to suit any functional-safety or critical-control application using a standard range of modules and assemblies. It is particularly well-suited to emergency shutdowns and protection applications for fire-and-gas detection by providing a system solution with integrated and distributed fault tolerance. — Rockwell Automation Inc., Milwaukee, Wisc.
www.rockwellautomation.com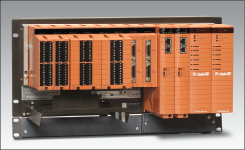 Yokogawa
This SIS now has ISASecure EDSA certification
This company recently obtained the ISASecure Embedded Device Security Assurance (EDSA) certification for its ProSafe-RS safety instrumented system (SIS; photo). The ISASecure program was developed by the ISA Security Compliance Institute with the goal of accelerating the industry-wide improvement of cyber security for industrial automation and control systems. The ISASecure EDSA certification has three elements: communication robustness testing, functional security assessment, and software development security assessment, and is based on the IEC 62443-4 standard. — Yokogawa Corp. of America, Sugar Land, Tex.
www.yokogawa.com/us
Software to speed safety system engineering and design
To address the challenge of designing safety systems, this company recently introduced SafeGuard Profiler software, a design and analysis tool that speeds and simplifies safety system engineering and design. SafeGuard Profiler is a safety integrity level (SIL) lifecycle tool that gives process automation professionals the information and the power they need to conduct successful engineering failure analysis, SIL determination, SIL verification/validation (SIL-V), SIL optimization and other related tasks. SafeGuard Profiler provides a two-pronged approach to analysis of safety systems and processes, using a LOPA (Layer of Protection Analysis) module and a SIL-V software module for designing and evaluating SIL-rated systems. The two modules work together to help improve and maintain process plant applications at all stages of development. — ACM Facility Safety, Calgary, Alberta, Canada
www.safeguardprofiler.com
Gerald Ondrey