New Products & Services
August 1, 2013
Focus on Screening
Great Western Manufacturing
All screening needs are contained in this mobile trailer
The Mobile Quality Assurance Sifter (photo) is said to be ideal for inline sifting on product delivery or receipt; sifting at a trans-loading location; silo evacuation or load-out; and emergency situations. The self-contained trailer includes this company's inline sifter, which features stainless-steel trays containing all of the interior serviceable components (gaskets, screens and cleaners). The screens are mechanically stretched and bonded to the screen trays, which can be rescreened indefinitely. Because the tray is a structural component, the intermediate stainless-steel sieve rings are of simple design, thereby eliminating much internal structure making the trays lightweight and easy to clean. Hinged guards provide full access to the sifter and drives for inspection and maintenance. The trailer also includes a touchscreen PLC workstation; smooth Al interior panels, Al diamond-plate decking; hydraulic leveling legs and controls; generator and compressor. — Great Western Manufacturing Co., Inc., Leavenworth, Kan.
www.gwmfg.com
Magnetic, metal-detectable screen cleaners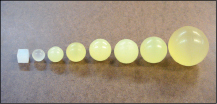 Sifter Parts & Services
This company recommends the use of U.S. Food and Drug Admin. (FDA; Washington, D.C.) approved polyurethane (PU) screen-cleaning balls (photo) and cubes to prevent sifter screens from clogging with product. PU balls are said to be more abrasion-resistant than screen cleaners manufactured from other materials, and provide a much longer life. Unlike rubber, PU balls are non-porous and extremely oil-, moisture- and chemical-resistant, says the company. The addition of a stainless-steel core to the ball and cube make them both magnetic and metal-detectable. PU balls range in size from 5/8- to 2-in. dia. —
Sifter Parts & Services, Inc. Wesley Chapel, Fla.
www.sifterparts.com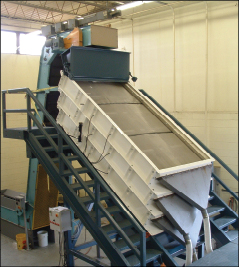 Triple/S Dynamics
Reduce power, noise and more with this fine-mesh screener
Unlike typical vibrating screens that shake the entire screen box, the new Longhorn Fine Mesh Screener moves only the screen cloth through a vibrating rail. Among the advantages of the Longhorn are the following: minimal structural vibration; low power consumption; very low noise levels; very low maintenance requirements; and no screen blinding, even at very fine mesh sizes, says the company. The Longhorn can screen down to 325 mesh. Standard size decks (in feet) include 4 x 8, 5 x 10, 6 x 10 and 6 x 12. Up to five decks can be configured in series. A 5 x 10, three-deck unit (photo) is available for free testing of products at the company's laboratory. — Triple/S Dynamics, Dallas, Tex.
www.sssdynamics.com
Screens with variable-frequency ultrasound cleaners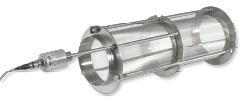 Haver & Boecker
This company offers ultrasonic screening systems (photo) with innovative frequency variation, developed in cooperation with Artech Ultrasonic Systems. This type of equipped screening system provides efficient screening that improves screen throughput, promotes the disintegration of agglomerates, reduces the share of oversized material and delivers a permanent cleaning effect for the screen, says the company. Ultrasonic solutions can be used for cut sizes from approximately 25 to 1,000 μm. With ultrasonic screening, a special sound conductor is put into high frequency vibration, which spreads over the screen deck. Through this action, the frictional resistance between the particles and screen mesh is less, the tendency to clog is reduced, clog cleaning is minimized, and throughput is increased. What's special about the Artech process is that the varying frequency — as opposed to the usual resonance processes — avoids patterns of continuous large resonance amplitudes. As a result, not only the mechanical loads on the screen decks are reduced, but so is the formation of so-called hot spots. —
Haver & Boecker, Oelde, Germany
www.haverboecker.com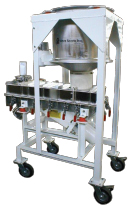 Vibra Screw
Meter, screen and convey just about any dry material
This company's line of vibrating pan feeders and conveyers (photo) offers a simple and efficient way to meter, screen and convey virtually any dry bulk material. Feeders are available with variable speed drives and can be paired with the company's vibrated pins to provide a compact, low-cost hopper/feeder package. With the addition of one or two screen decks, these machines offer an alternative to conventional gyratory screens. As conveyers, they can handle up to 15,000 ft3/h and are available in lengths up to 25 ft. All feeders, screeners and conveyors are in carbon steel and stainless steel with a variety of surface finishes and liners. — Vibra Screw, Totowa, N.J.
www.vibrascrew.com
An alternative to bar rakes and screens in headworks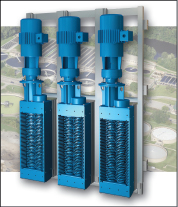 Moyno
The Max-Flow Annihilator Grinder System (photo) is a custom-engineered headworks debris-handling system that protects pumps, valves and process equipment in water treatment plants. The low-maintenance system can be used in place of bar rakes and screens, as well as drum screen grinders for enhanced performance, says the company. The Max-Flow system contains two or more Annihilator grinders mounted side-by-side in a stainless-steel retrieval frame. They can be installed in an inline, staggered or offset configuration to accommodate a variety of channel widths. The frame includes guide rails to permit the independent retrieval of each grinder. Steel panels can also be inserted in place of a grinder to divert the flow to the remaining grinders during maintenance. —
Moyno, Inc., Springfield, Ohio
www.moyno.com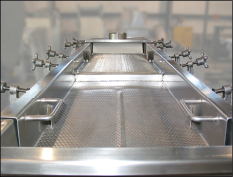 Rotex Global
This minerals screener also accepts hot materials
The Megatex XD/Mineral Separator (photo) is designed for superior screening performance and increased uptime. The machine's design also allows for material with temperatures up to 400°F (205°C) to be effectively screened at constant feedrates. The elliptical-linear motion of the separator and equal feed distribution to all screening decks ensures material quickly stratifies and quickly spreads across the width of the screen surface. The long-stroke, low-frequency of the unit gently separates material without violent action that can reduce yield of on-specification product. — Rotex Global, LLC, Cincinnati, Ohio
www.rotex.com
Screeners with full access, fast disassembly for easy cleaning
Witte
Vibrating screeners (photo) from this company are designed to permit fast, easy and full access to the loading tray, screening area and pan to allow frequent, thorough cleaning and speed product changeover while minimizing downtime. Easily disassembled in minutes by a single person with no tools, these low-maintenance vibratory screeners are accessed by opening the company's one-handed C-clamps mounted around the perimeter. This releases the optional dust-control covers and screens for removal and reveals the entire pan for inspection. The screeners are available with a choice of wire mesh or perforated screens in standard widths of 10, 23, 35 and 47 in. The screen is also available in 100% stainless steel with continuously welded and polished seams to meet FDA requirements. —
Witte Company, Inc., South Washington, N.J.
www.witte.com
Backflush screen changers can reduce material losses
This company recently equipped a food-packaging-film producer's recycling lines with backflush screen changers. The filtration process enables PET flakes to be processed at a throughput of 500 kg/h. The backflush screen changer has a self-cleaning function, which is activated when the specified pressure limit is reached. In this process, a filter screen is automatically moved out of the production position, and then backflushed by the redirected melt stream. The contamination is removed from the screen cavity and ejected via the drain channels. Compared to the use of a screen-wheel filter, the backflush screen changer reduced product losses by 50%, says the manufacturer. It was also possible to increase the fineness of the filter mesh, the company adds. — Kreyenborg GmbH, Muenster, Germany
www.kreyenborg.com
Clean-in-place sanitary screener scalps and dedusts
A new sanitary, clean-in-place (CIP) Vibroscreen Double-Deck Screener removes oversize and undersize particles from on-size chemicals, minerals, plastics, foods, dairy products, pharmaceuticals and other bulk materials. The 40-in.-dia. unit contains two horizontally mounted screens in a cylindrical housing supported on a circular base by rugged springs. The screener is equipped with quick-disconnect clamps between each screen frame, providing rapid interior access for inspection and screen changes. An integral CIP wash system employs spray nozzles strategically placed to emit cleaning solutions, rinsing solutions or steam for sanitizing the interior of the screening chambers without the need to open or otherwise disassemble the unit. Constructed of stainless steel with ground and polished welds, it meets 3-A, FDA and BISSC sanitary standards, as well as UL, ATEX, CSA and CE electrical standards. The unit is also offered in diameters from 18 to 100 in., and can operate on a batch or continuous basis, screening several pounds to 70 ton/h. — Kason Corp., Millburn, N.J.
www.kason.com
Gerald Ondrey