New Products & Services
September 1, 2013
Focus on Sensors

Steute Industrial Controls
Inductive sensors for operation in hazardous zones
The new line of ATEX-IECEx-certified inductive sensors (photo) is designed for use in Zone 0 and 20 explosive atmospheres and extreme environments. Units are available in M8, M12, M18 and M30 sizes with a cable or plug-in connector. Models are also available with IP68K or IP69K ratings and for temperatures between –40 and 120°C. Applications include conveyors, food and chemical processing, valve-position monitoring, grains storage and more. — Steute Industrial Controls, Inc., Ridgefield, Conn.
www.steutextreme.com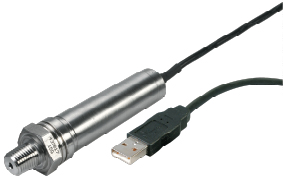 Omega Engineering
These pressure transducers operate at high speed
The new PX-409-USBH Series of high-speed pressure transducers (photo) features long-term stability, 316L stainless-steel wetted parts and can make 1,000 readings per second. The sensor is "ruggedized" with secondary containment, has an accuracy of ±0.08% and a broad temperature compensation range of –29 to 85°C. The device connects directly to a PC via USB cable. — Omega Engineering, Inc., Stamford, Conn.
www.omega.com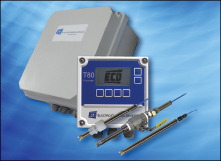 Electro-Chemical Devices
A complete system for fluoride monitoring
The combination of the S80 fluoride-specific ion sensor, the AC10 self-cleaning module and the Model T80 universal transmitter (photo) forms a complete fluoride analyzer system, which can be used for monitoring F– ion levels in water. The Model S80 Intelligent Sensors are available in two designs: insertion/submersion, and valve retractable with flared end to prevent blowout. They feature long-life, replaceable electrode cartridges to lower operating costs, and are available with multiple measurement parameters in the same mechanical configuration: pH, oxidation-reduction potential (ORP), dissolved oxygen, conductivity and resistivity as well as specific ion. — Electro-Chemical Devices, Irvine, Calif.
www.ecdi.com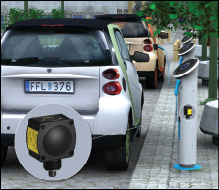 Banner Engineering
Radar sensors for detecting objects outdoors
Four new models have been added to this company's R-Gage QT50R Radar Sensors (photo) for detecting moving or stationary objects. Designed to meet flexible application requirements and weather conditions, this enhanced line of radar sensors is suitable for collision avoidance on mobile equipment, outdoor crane-to-crane proximity detection, high-volume parking and vehicle detection and flatbed or box truck detection at loading docks. Operating with frequency-modulated continuous-wave (FMCW) radar, the sensors feature IP67-rated housings to withstand harsh environments. — Banner Engineering Corp., Minneapolis, Minn.
www.bannerengineering.com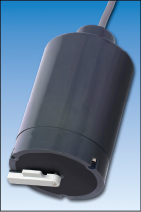 Endress + Hauser
Monitor interface levels with this immersion sensor
The Turbimax CUS71D ultrasonic immersion sensor (photo) is suitable for interface measurements in processes where suspensions are separated into their liquid and solid components by sedimentation. The sensor can continuously monitor the separation and transition zones of the clarification and settling phases. The sensor uses a piezoelectric crystal to generate an ultrasonic signal, and measures the time required for the signal to reflect from solid particles in the separation zone. The sensor is used with the company's Liquiline M CM44x Series of transmitters, which are able to compensate and adjust for changing process conditions, such as temperature and air pressure. — Endress + Hauser, Inc., Greenwood, Ind.
www.us.endress.com
Fittings for sealing sensors into process equipment
These compression fittings provide an efficient, economical means of securing and sealing a variety of sensors into tanks, chambers and pipes. The fittings are available in many different types, sizes and materials of construction, and can be custom-designed to meet the application requirements. — Electronic Development Labs, Inc., Danville, Va.
www.edl-inc.com

Honeywell
Tiny pressure transducers that handle extreme pressures
Featuring 1% accuracy, the Model S Series of subminiature pressure transducers fits into tight spaces with little clearance, and measures pressure ranges from 100 to 15,000 psi. These gage-only transducers have a high natural frequency and utilize a flush diaphragm that is manufactured from 17-4 PH (precipitation hardening) stainless steel. Temperature compensation is accomplished by using temperature-sensitive components located inside the transducer. — Honeywell Sensing and Control, Columbus, Ohio
www.honeywell.com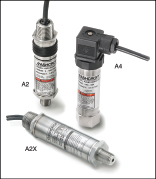 Ashcroft

Pressure transducers for routine and hazardous service
The A2, A2X and A4 pressure transmitters (photo) are rugged heavy-duty sensors with accuracies of up to ±0.25% of full scale. The A2 has a variety of electrical connections, analog output signals and pressure ports. The A2X (explosion and flame proof) and A4 (intrinsically safe) models are designed for hazardous environments. — Ashcroft Inc., Stratford, Conn.
www.ashcroft.com
New connector options extend pressure-sensor use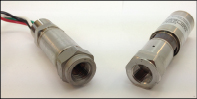 American Sensor Technologies
This company now offers its pressure transmitters with high-pressure process connections using 316L stainless steel to enable users to integrate products that require liquid or gas compatible with 316L stainless steel, such as hydrogen, natural gas or water. The two new options — a ¼-in. female NPT and F250C female (photo, p. 39) — are available on all the company's explosion-proof transmitters, and can also be ordered on the AST20HA precision-pressure transducer or AST20SW solid-state pressure switch. —
American Sensor Technologies, Inc., Mt. Olive, N.J.
www.astsensors.com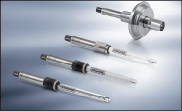 Krohne Messtechnik
Analytical sensors with a transmitter built in
SmartSens is said to be the first family of two-wire, loop-powered analytical sensors (photo) with integrated transmitter technology. Prior to this, analytical sensors have required an external proprietary transmitter onsite to deliver the sensor signals to the process control system. The company has miniaturized the transmitter and fitted it into the sensor head, thereby eliminating sources of error caused by false installation, cabling or configuration of the transmitter. The first sensors available are for pH, ORP and conductivity, with other process parameters to follow. These sensors can be connected directly to the process-control system, and feature direct communication via 4–20-mA HART. — Krohne Messtechnik GmbH, Duisburg, Germany
www.krohne.com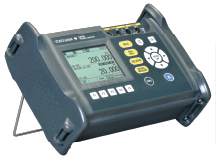 Yokogawa
This portable pressure calibrator is very accurate
The new CA700 Portable Pressure Calibrator is equipped with a silicon resonant sensor that uses the company's proprietary DPharp technology. The CA700 can measure pressures with an accuracy that is within ±0.01 of reading. It can also output and measure current and voltage within ±0.015% of rdg. This highly accurate portable calibrator features a variety of functions, including a wide selection of measuring ranges, "as found/as left" data storage, and memory capacity to store calibration procedures. — Yokogawa Corp. of America, Newnan, Ga.
www.yokogawa.com/us
A variety of temperature sensors that can also be customized

Oven Industries
This company offers a wide variety of temperature sensor probes, from thermistors and thermocouples, to resistance thermometers. The high-quality sensor probes are easily integrated with other PID temperature controller systems, and have a tolerance of up to ±0.1°C. As a full-service temperature-control-solution provider, the company also has a complete selection of other temperature control products. Each sensor available can also be customized. —
Oven Industries, Inc., Mechanicsburg, Pa.

www.ovenind.com

Clark Solutions
Flow sensors that are quickly exchanged
Originally designed for the pharmaceutical industry, the PFAD exchangeable turbine flow sensor (photo) enables users to quickly exchange flow tubes in biomedical, chemical-feed and flow-control-loop applications. The sensor features PFA (perfluoroalkoxy) wetted parts with ruby bearings to meet U.S. Pharmacopeia Class VI requirements. These sensors are chemical and corrosion resistant. Optional elements built into the sensor's circuit include a programmable K factor, flow switch and programmable batch feedback function for pump control. — Clark Solutions, Hudson, Mass.
www.clarksol.com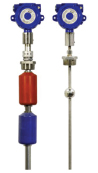 Automation Products
An accurate sensor for interface level measurement
The MPX Series magnetostrictive level sensors (photo) has an explosion-proof housing — certified by CSA for Class 1, Div. 1 environments — and is commonly used in hazardous locations for interface measurements. The probe stem is constructed to withstand powerful forces in turbulent tanks, and the floats are designed to operate without sticking. Accurate to ±4 mm, the MPX level sensor is suitable for high-value liquids and has an optional second float for interface-level measurements. Two different baser sizes are available, with 0.5- and 1-in. stems and lengths of up to 25 ft. — Automation Products Group, Inc., Logan, Utah
www.apgsensors.com
Gerald Ondrey