New Products & Services
June 1, 2012
Focus on Software
Plant-management software for increased integration, and more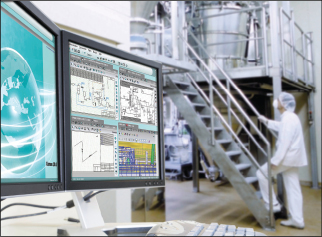 Siemens Industry Sector
This company has expanded its Comos software solution for plant engineering and operation to include considerably enhanced functionality. Comos 10 now provides an enterprise platform for plant engineers and operators that can handle even the largest volumes of data. New functions allow project teams to collaborate with each other across different systems and locations, enabling parallel processing of different work packages. Comos 10 also allows further integration of Comos in the Simatic PCS 7 process-control system. A new interface ensures a consistent, bidirectional exchange of information between both systems, which allows previously serial engineering processes to be organized in parallel. Initial pilot projects have produced time savings of up to 11 weeks (or 12.5%), and up to 315 fewer person-weeks. Cosmos 10 is being released in several stages, the first version became available last month. Achema Hall 11.0, Stand C3 — Siemens Industry Sector, Industry Automation Div., Nuremberg, Germany
www.siemens.com
Major updates of gSolids for process design and operation
Last month saw the release of gSolids, a second-generation, integrated drag-and-drop graphical flowsheet environment for model-based engineering and optimization of solids processes. New in gSolids is the ability to handle multiple solid phases, each with its own particle-size distribution. There are also enhancements to a large number of the software's capabilities, such as the use of dynamic modeling to handle batch, continuous and hybrid processes; advanced parameter estimation and optimization capabilities; and integration with the company's gCrystal modeling software and gas-liquid process models. Hall 9.2, Stand C9 — Process Systems Enterprise Ltd., London, U.K.
www.psenterprise.com
Track equipment health at large operations
In February, this company introduced Proficy SmartSignal Shield 4.0 software for the oil-and-gas and power industries. The Shield software helps operators detect equipment problems early and avoid surprise equipment failure, thereby increasing productivity while minimizing costs. This software solution provides early warning of impending equipment problems, diagnostic guidance and prioritized actionable intelligence. The Shield software's diagnostic algorithms combine observations on multiple individual sensors to pinpoint failure effects. Beyond vibration and thermal analysis, the solution uniquely models all data on all critical rotating and non-rotating equipment. — GE Intelligent Platforms, Chicago, Ill.
www.ge-ip.com/smartsignal
Enhancements for simulation of batch reactors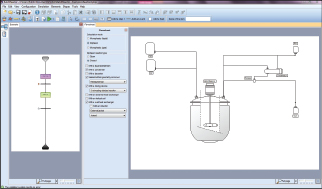 ProSim
Released earlier this year, this new version of BatchReactor combines detailed equipment modeling, reaction engineering and advanced numerical methods to create a state-of-the-art simulation environment for chemists and chemical engineers. By providing a complete understanding of the production recipe, the new simulation software enables users from the pharmaceutical and fine-chemicals industries to test alternative synthesis routes and new production strategies through effective use of simulation in parallel with laboratory and pilot-plant experiments. The software features an efficient thermodynamic package and relies on proven and efficient numerical methods. Hall 9.1, Stand E66a — ProSim, Toulouse, France
www.prosim.net
Save man-hours with this electrical-design software
This completely new Electrical software application is said to be a feature-rich design solution for electrical engineers and designers in the plant environment. Pre-released customer testing has demonstrated man-hour savings of up to 30% when compared to traditional design applications, says the company. It is quick and easy to deploy, and has a very open interface, allowing it to be used with design applications from other vendors or as part of this company's Integrated Engineering & Design approach. Electrical can be used on both new projects, as well as on brownfield activities where the integration legacy data is critical. Hall 9.2, Stand C29 — Aveva, Solutions Ltd., Cambridge, U.K
www.aveva.com
A new version of a smart plant design and modeling solution
Last month, this company launched CADWorx Plant Professional 2013, the newest version of its AutoCAD-based intelligent 3D plant design and modeling solution. The software features a powerful new pipe routing engine in which the piping components operate as a single system. This allows a plant designer to move, resize and change the specification as a single line without the need to modify each component individually. Another new feature is the Assembly View Pallette. The assembly builder lets the designer build and save a complete assembly of a piping system that can be reused in the future parametrically, thereby boosting the efficiency of the design by allowing for common assemblies used throughout a project to be designed, developed and modeled once, then reused quickly in different areas of the plant system. Hall 9.2, Stand D28— Intergraph Corp., Huntsville, Ala.
www.intergraph.com
This release enables more users to perform simulations
The new release of Aspen Plus software, launched in March, is said to significantly improve the user experience in process simulation. The completely redesigned user interface and workflow improve engineering productivity and enable the use of process simulation to a wider range of new users, says the company. Users can now experience a fully integrated simulation environment to easily access other aspenONE Engineering products. This enables easy and intuitive access to the comprehensive physical-properties database, the capital-cost estimating product and the "most-complete" heat exchanger thermal and mechanical design products, says the company. Process engineers can also jump-start projects and optimize operations by efficiently finding and accessing models and data throughout the Aspen Search tool. — Aspen Technology, Inc., Burlington, Mass.
www.aspentech.com
A tool to test for HART compliance
In April, the new enhanced HART DDL/EDDL (electronic device description language) Host Test Suite v2.0 was released. The test suite is used by suppliers and developers of host products to test compliance of their HART implementation and is used by this foundation to verify and validate compliance of host products submitted for HART registration. The new Suite v.2.0 includes: improved Encoded Test DDs updated to align with the current Test Specifications; test report spreadsheets for documenting test results; new and improved Xmtr-MV v2.5; and other ancillary files needed to facilitate HART DDL/EDDL host testing. Hall 11.V, Stand B29 — HART Communication Foundation, Austin, Tex.
www.hartcomm.org
Save energy at data centers and more with this suite
In December, this company introduced its Decathlon suite including software, hardware and services for data centers to provide a single view of IT, facilities and energy management information for improved data access and use, while making data centers themselves more reliable and energy efficient. Decathlon is said to enable better control and proactive maintenance of data center operations, with access to information from multiple systems, and provides potential energy savings of 10 to 50%. Decathlon provides realtime equipment health status to ensure reliability and proactive maintenance. It also transforms energy consumption data into valuable information so that data center operators can optimize power use while maintaining high levels of productivity and reliability. Hall 11.1, Stand A61 — ABB Warminster, Pa.
www.abb.com
A tool to help design heat-trace systems
Released at the end of last year, TraceCalc Pro version 2.5 is an industrial heat-trace-system design software that provides users with a step-by-step process to design an effective and efficient heat-trace system for pipes and vessels. Users can input their heat-trace design parameters (such as pipe size and material, insulation type and thickness, service voltage, maximum exposure temperature, pipe length, the number and size of valves and more) into TraceCalc Pro. The software then provides the information needed to complete the heat-trace-system design process, such as the amount of heat loss from the pipe, types of heat-trace products required, number of circuits used, and electrical and thermal performance of the system. — Tyco Thermal Controls, Houston, Tex.

www.tycothermal.com

Gerald Ondrey