New Products & Services
August 1, 2012
Focus on Temperature Measurement & Control
This pH probe has an integrated temperature sensor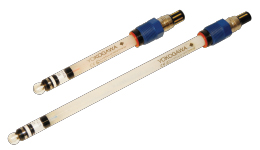 Yokogawa
The new SC25V (photo) is a reliable, very stable and highly accurate 12-mm pH sensor that uses a VP-type connector to integrate multiple measuring elements in a single package, including a built-in temperature sensor and liquid earth. Two versions of the sensor are available, both with pH range from 0 to 14 and designed for pressures up to 10 bars. The general purpose version has an operating temperature range from –10 to 80°C, while the high-temperature/alkaline version is designed for harsher applications, and has a temperature range from 15 to 130°C, as well as a chemical-resistant glass to prolong its life in alkaline applications. Both types include a PT100 temperature sensor integrated into the pH compartment for more accurate temperature compensation. —
Yokogawa Corp. of America, Newnan, Ga.
www.us.yokogawa.com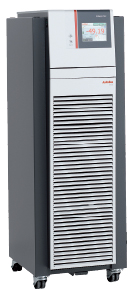 Julabo Labortechnik
Precise temperature control, even when viscosity changes
The Presto A80 and W80 are this company's latest highly dynamic temperature control systems. They unite high efficiency and performance for laboratory applications. Both instruments cover a working temperature range from –80 to 250°C, provide 1.2 kW of cooling capacity and 1.8 kW of heating capacity. The powerful, maintenance-free pumps deliver 1.7 bars and pump up to 40 L/min, and the high flowrates at consistent pressure dynamically adjust to viscosity changes of the bath fluids. The required pump capacity can be adjusted in four stages or as a pre-programmed pressure value. Extensive interfaces permit flexible applications with remote control via an Ethernet network, wireless control with the company's Wireless TEMP solution or integration into a control system. — Julabo Labortechnik GmbH, Seelbach, Germany
www.julabo.de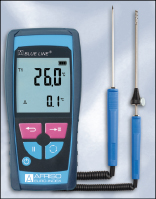 Afriso-Euro-Index
This handheld device measures
a wide temperature range
The TMD7 electronic thermometer is designed to measure the temperature of surfaces, liquids and soft plastic media as well as air and gases. The lightweight measuring device is protected against dirt and shocks by means of a plastic protective sleeve. A magnet at the back enables hands-free operation, such as for adjustment work at gas heaters. The instrument measures temperatures from –50 to 1,100°C with a resolution of 0.1–1°C. The lit display allows simultaneous indication of two measured values (current value, minimum or maximum values). — Afriso-Euro-Index GmbH, Güglingen, Germany
www.afriso.de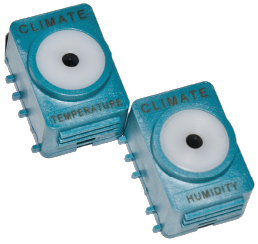 Trolex
Monitor mine environments
with these systems
The Sentro 8 and Sentro 1 systems now have humidity and temperature modules available for environmental monitoring in the mining industry. The temperature module can sense temperatures in the range from –10 to 40°C with an accuracy of ±2°C, whereas the humidity module ranges from 10 to 95% relative humidity with ±8% accuracy. The temperature (or humidity) module also gives a sub display of the current humidity (or temperature). — Trolex Ltd., Stockport, U.K.
www.trolex.com





Detect a flame from a distance within seconds
The Sierra Monitor 3600-I Triple IR (IR3) Flame Detector detects fuel and gas fires at long distances with a high immunity to false alarms. The device can detect a 1-ft2 gasoline pan fire at 215 ft in less than 5 s. It features a heated window to eliminate condensation and icing; HART capabilities for digital communications; low power requirements; and a compact, lighter design. The unit can perform automatic and manual built-in-tests to assure continued reliable operation, with a mean-time-between failure (minimum) of 150,000 h. Multiple output options are available, including three relays for alarm, fault and auxiliary; 0–20 mA (stepped), HART Protocol for maintenance and asset management, and RS-486 (Modbus compatible). — Sierra Monitor Corp., Milpitas, Calif.
www.sierramonitor.com
Temperature regulation from –80 to 350°C and higher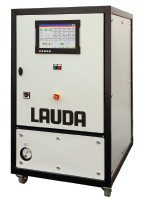 Laude Dr. R. Wobser
The process-cooling system Kryoheater KH 150 is a refrigeration system with an extremely wide temperature range that covers the technical areas of application between laboratory thermostat and heating and cooling system for production. It can be used, for example, to control the temperature of reactors, for environmental simulation, automotive and solar technology, material testing, and for thermostating heat exchangers and evaporators. Depending on the module used, the Kryoheater can operate at temperatures down to –35°C (single-stage compressor), –50°C (two-stage compressor) or –80°C (two refrigeration systems in cascade). The electrical heater enables operation up to 200°C, with an optional system for up to 350°C. Explosion-protected versions are also available. —
Lauda Dr. R. Wobser GmbH & Co. KG, Lauda-Königshofen, Germany
www.lauda.de
This thermal-imaging camera covers a wide temperature range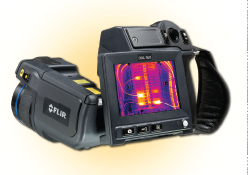 Omega Engineering
The OSXL-T60 series of thermal imaging cameras is CE compliant (FLIF T62), and is said to have the highest thermal imaging resolution in its class. It also features the industry's first Wi-Fi connectivity, which adds power to analysis, reporting and sharing. Other features include high thermal sensitivity (0.05°C at 30°C), a wide temperature range (–20 to 650°C) with ±2% accuracy, a focal plane array detector with 640  480 pixels infrared (IR) resolution, interchangeable lens with four times continuous zoom, MeterLink Wireless Communication and an SD card slot for image storage of more than 1,000 radiometric jpeg images. — Omega Engineering, Inc., Stamford, Conn.
www.omega.com
A sensor tailor made for monitoring flat-glass production
This company produces solutions tailored to specific conditions of use. For example, the recently introduced MMG7 sensor is the latest addition to its Marathon pyrometer series, and was specifically developed for use in the production of thin glass. The MMG7 measures IR radiation at a wavelength of 7.9 µm, which is precisely adjusted to the measurement spectrum of the reflecting medium and to the temperature range from 300 to 900°C. At shorter wavelengths, the background radiation could distort the results, while surface reflection is too strong in the longer wavelength region. This point sensor has a 100:1 resolution and achieves a precision of ±1% and a repeatability of ±0.5% or ±0.5°C. With a response time of just 120 ms, the device delivers reliable data even in very fast processes. — Raytek GmbH, a Fluke Company, Berlin, Germany
www.raytek.de
Reed contacts enable fast switching with this thermometer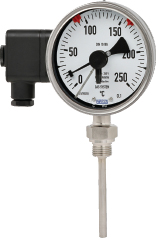 WIKA Alexander Wiegand
This company now offers gas-actuated thermometers with reed contacts. The recently developed Models 73 and 74 are suited for a wide range of applications, especially for use with programmable logic controllers (PLCs). The reed contacts can be operated in a temperature range of –200 to 600°C. Because of their low contact transition resistance, reed contacts feature a high switching accuracy and a long service life (switching cycle of up to 108). With changeover contacts as a standard switching function, they are also very flexible. The slender design of the reed contacts enables the case height to be reduced by 35% compared to a design with other contacts, says the manufacturer. —
WIKA Alexander Wiegand SE & Co. KG, Klingenberg, Germany
www.wika.de
An amplifier for converting temperatures to voltages
The Type 5155A multi-channel temperature and pressure charge amplifier is designed to convert the charge signal from all types of piezoelectric sensors and Type K thermocouples into a proportional voltage output signal, for the effective monitor, control and optimization of injection molding processes. Offered in two measurement ranges, with a choice of single, two- or four-channel operation, the device's measurement range inputs can be switched over individually for each channel by remote control. Amplifiers equipped with temperature inputs are provided with one charge amplifier unit and one temperature amplifier, or two charge amplifiers and two temperature amplifiers, in an IP65-rated seal. — Kistler North America, Novi, Mich.
www.kistler.com
Gerald Ondrey