New Products & Services
April 1, 2014
IFAT 2014 Show Preview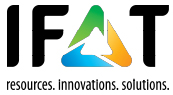 The world's largest environmental technology trade show, IFAT (www.ifat.de), takes place in Munich May 5–9. A record of nearly 3,000 companies from 50 countries are presenting innovations and services in water, sewage, waste and raw materials management, covering some 230,000 m2 of exhibition space. What follows is a small sample of new products being exhibited at the show.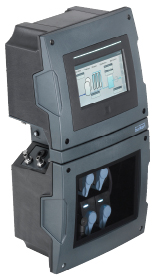 Bürkert Werke

This modular analyzer measures water parameters
As the population continues to grow, the need for clean drinking water is rising. Today, water-treatment plants utilize a wide variety of different analysis tools to measure various water parameters. This company has made its mission to simplify industrial water treatment, and is introducing its new online analysis system, the Type 8905, which is said to combine, for the first time, the largest number of measurement functions in potable-water treatment into a single, modular device. Hall A5, Stand 423 — Bürkert Werke GmbH & Co. KG, Ingelfingen, Germany
www.buerkert.de
The launch of a new membrane for MBRs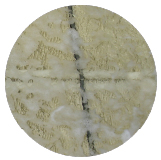 Microdyn-Nadir Group
Membrane bioreactors (MBRs) are a well-established and indispensable technology in
wastewater
treatment. This company offers its Bio-Cel membrane module with an integrated mechanical cleaning process (MCP). The patented MCP helps reduce operating costs by reducing the formation of a fouling layer by supporting the crossflow aeration through the use of inert, organic material. The MCP granulate is added directly into the activated sludge. The airflow induced by the module-integrated membrane aeration system draws the MCP granulate up between the membrane sheets. As the MCP granulate rises, the membrane area is continuously cleaned through the direct contact of the granulate with the sludge on the membrane surface. The Bio-Cel MCP system enables much higher specific flowrates. This lowers investment costs (smaller membrane area needed) and reduces energy consumption (crossflow) for the entire system by 30–50%. At IFAT, the company will be introducing the next generation of Bio-Cel. Hall A2, Stand 516 —
Microdyn-Nadir Group, Wiesbaden, Germany
www.microdyn-nadir.de
Positive displacement pumps for all your needs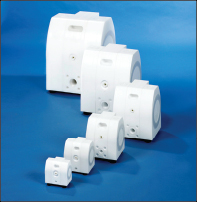 Pump Solutions Group
On display at the stand of this major manufacturer of positive-displacement pumps is the Almatec E-Series of air-operated double diaphragm (AODD) pumps, which feature a plastic, solid-body design for use in general chemical transfer, and the AH-Series AODD pumps in high-pressure configurations for charging filter presses with chemical wastes and sludge. Also exhibited is the Neptune 700 Series Mechanical, 500/600 Series Hydraulic and PZ Series Electronic diaphragm metering pumps, which are suitable for chemical-feed and chemical injection applications. The Wilden Original (clamped) and Advanced (bolted) Series AODD pumps with innovative Pro-Flo Shift air distribution systems will be presented at the exhibition. Hall A6, Stand 214 —
Pump Solutions Group, Oakbrook Terrace, Ill.
www.psgdover.com
Clamp-on flowmeters localize leaks in water pipelines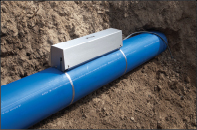 Flexim Flexible Industriemesstechnik
The Fluxus ADM 7407 ultrasonic clamp-on flowmeter is said to be a superior solution for monitoring water-distribution pipelines for leaks. Because the sensors are mounted on the outside pipe wall, the installation of the system does not interrupt the supply. Moreover, the permanent coupling on the pipe, the rugged stainless-steel mounting fixture (Varioflex) and the IP-68-protected sensors themselves ensures safe and longterm stable measurements — even when buried underground. A matched sensor pair combined with powerful measurement algorithms for accurate and reliable signal processing enables the Fluxus to detect even small volume streams with high precision, says the company. A network with multiple measurement points enables leaks in pipelines to be directly localized. Hall B3, Stand 141C — Flexim Flexible Industriemesstechnik GmbH, Berlin, Germany
www.flexim.de
This anaerobic reactor has a mixer and a membrane built in
Unlike conventional anaerobic technologies, the IM-MS (integrated mixer and membrane separator) incorporates a mixer that achieves high circulation velocities. This eliminates the need for external sludge recirculation with a drastic reduction in energy demand, says the manufacturer. Gases, solids and liquids are separated by means of a membrane, which is also integrated into the reactor. The first industrial implementation of this technology has been realized, with a unit capable of treating up to 5,000 m3/d of highly concentrated wastewater. The IM-MS technology also ensures a sustainable operation related to the reduction of very high sulfur loads. Hall 3, Stand 520 — Lenzing Technik GmbH, Lenzing, Austria
www.lenzing.com/engineering
Tailored and turnkey plants to utilize waste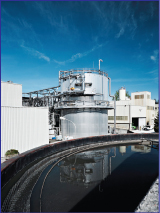 Lenzing Technik
Because the chemical composition of solid residue is heterogeneous with frequent fluctuations, the grate-incineration process has proven itself over many years. This company offers individually designed grate-firing systems for almost all solid fuels, such as rejects, discards, waste with a high calorific value, alternative fuels and secondary fuels. Individually designed boiler systems utilize the energy from the fluegas to generate usable steam. On request, it is also possible to convert the energy from the incineration process to electric power, in waste-to-energy plants. Depending on requirements, both horizontal-pass and vertical-pass boilers can be used. At IFAT, this company is also presenting its know-how regarding turnkey power plants. Hall B3, Stand 271 —
Oschatz GmbH, Essen, Germany
www.oschatz.com
This controller provides precise positions for actuators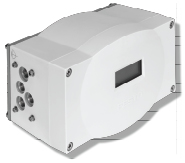 Festo
The position controller CMSX for double-acting, quarter-turn actuators provides a pre-definable safety position for the process valve. The end positions can be defined flexibly via freely configurable analog signals. In the standard variant of the position controller, its microcontroller continuously displays these feedback signals. In closed-loop mode, the CMSX continuously compares the setpoint signal with the actual position of the quarter turn actuator. Any deviations automatically trigger an error message and an emergency stop. If there should be a power supply failure, the process valve can be brought to a previously specified safety position. Hall A1, Stand 335 — Festo AG & Co. KG, Esslingen, Germany
www.festo.com
Innovative oil recovery from plastic waste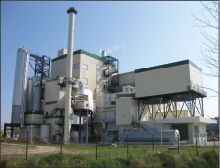 Oschatz
As a manufacturer of specialized reactor solutions, this company has significantly advanced the development of pyrolysis processes for recovering oil from plastic waste. Two pilot projects are currently being implemented at industrial sites. In one, a European company is using a pyrolysis process for processing plastic fluff coming from car recycling. This waste can now be processed in a two-step, batch process under normal pressure to obtain recyclable oil: in the first reaction step the bulk density of the fluff is thermally compacted by a factor of 5 to 10; in the second reaction step installed downstream, a catalytic pyrolysis is performed to obtain recovery of oil. The heating of this reactor is carried out at an input temperature of 500°C by using a salt melt. Another company is recovering oil from recycled plastic using catalytic pyrolysis. For this purpose, a reactor by the exhibiting company is used, in which electric heating (2 MW) heats the machine walls up to 700°C. The product temperature is approximately 500°C in this application. Hall A4, Stand 519 — Gebr. Lödige Maschinenbau GmbH, Paderborn, Germany
www.loedige.de
Gerald Ondrey